It's that time of the year again! MJBizCon 2023 is just around the corner, and the Vape-Jet crew will be exhibiting for the third year in a row. From November 28th to December 1st, the Las Vegas Convention Center will become the epicenter of the industry, hosting the largest cannabis conference and expo. Prepare to be part of a one-of-a-kind experience filled with insights, networking, and the market's most innovative products and technology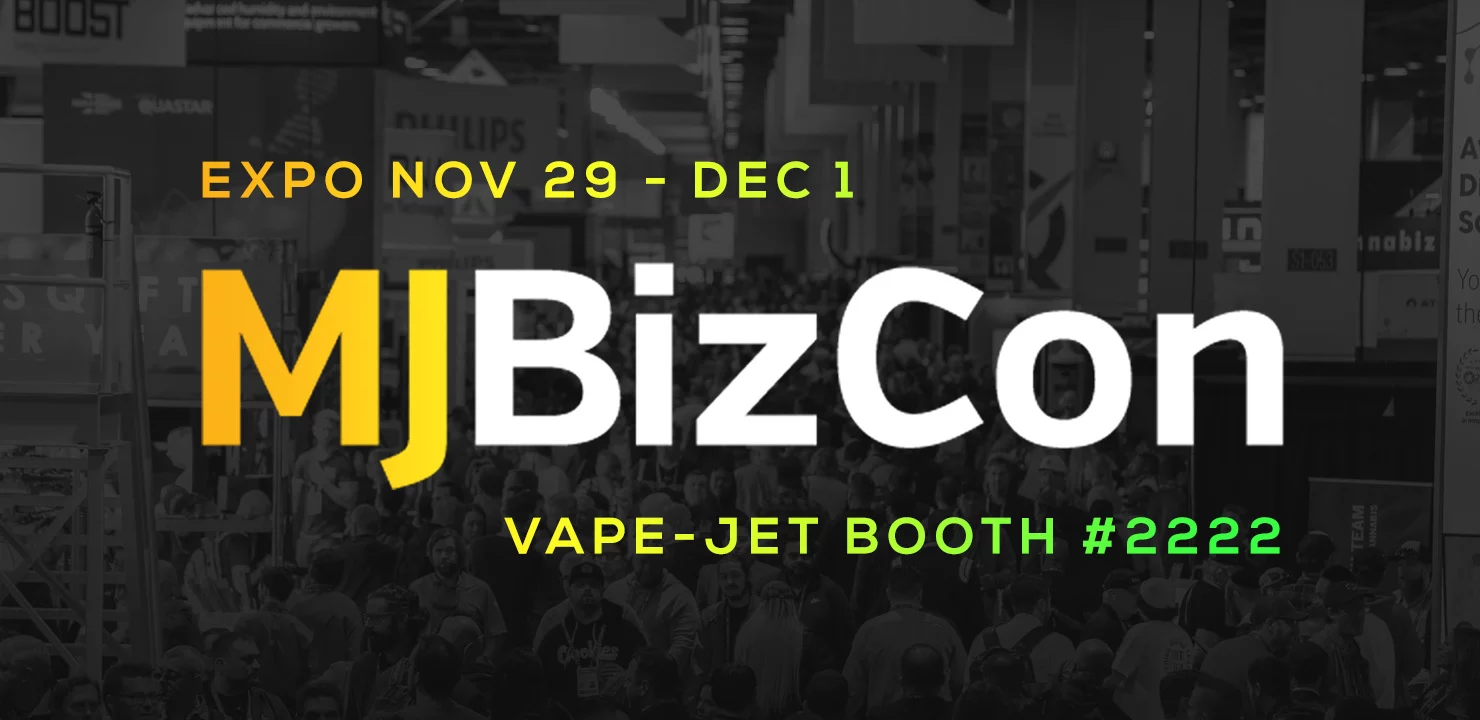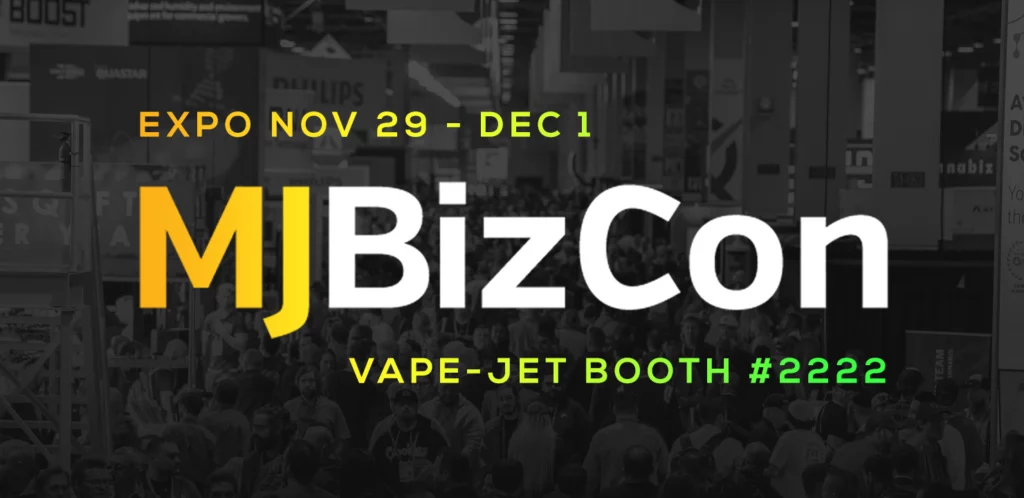 What to Expect at MJBizCon
MJBizCon 2023 promises a comprehensive agenda, covering everything from finance and marketing to science and psychedelics. The event kicks off with pre-show forums on November 28th. The re-designed expo is open November 29th through December 1st, and will feature four segmented pavilions – Cultivation Products & Services, Retail & Dispensary, Business Services, and Processing, Packaging & Lab Services where you'll find us!
The conference, curated by MJBizDaily editors, will span three days, filled with actionable insights to help you navigate the industry's current challenges.
VJ at MJ
We're excited to showcase our latest innovations at booth #2222, located in the Central Hall, just inside from the registration area. From November 29th to December 1st, visit us to see our state-of-the-art equipment including:
Vape-Jet 4.0 fully automatic cartridge and device filling machine

With the lowest labor inputs of any fully automatic machine on the market, this machine can fill between 5,000 and 10,000 cartridges per shift with unlimited saved hardware and oil configuration profiles.

Jet Fueler 3.0 semi-automatic cartridge and device filling machine

Streamline your filling operation with this ergonomic, easy-to-clean machine, capable of filling between 5,000 and 9,000 cartridges per shift with a single operator.

Dab Dispenser extract filling machine

The newest addition to our product line-up, this machine is perfect for dispensing badder, butter, sauce, jam/jelly and more into jars accurately and efficiently.
We will also have all of our latest accessories like the Fuel Injector pre-roll infusion solution, the Flight Deck base cabinet, and the Drop Tank reservoir pre-heater.
Meet the Vape-Jet Crew
Our executive team, including CEO and Founder Ryan Hoitt, CFO and Co-Founder Brian Kuo, and CSO and Co-Founder Devon Reid, will be available throughout the week. Set up a meeting to connect with them or chat with other team members like our Sales Lead Sawyer Sheppard, Product Support Expert Nathan "Nate-Jet" Kinney, and Creative Director Carly Hoitt.
We're excited to have some of our valued customers join us again this year. You'll meet Jonathan Winn (Director of Manufacturing at Inferno), Larry Decristofaro (Director of Processing at Proper Brands), and Demetre Janness (Cannabis Consultant and the founder of Terp Logic). They're not just industry experts; they're machine operators who understand the day-to-day advantages of our Vape-Jet technology.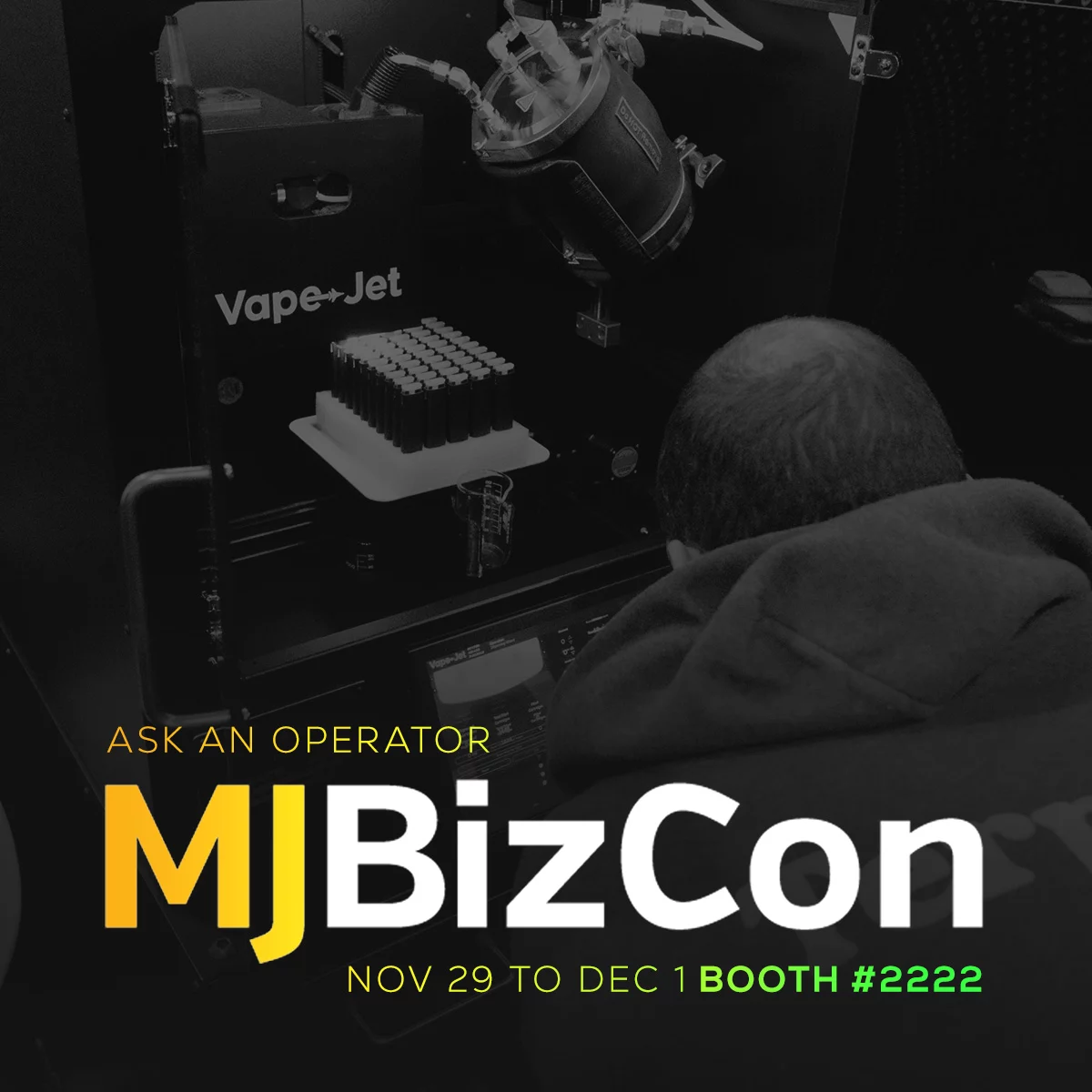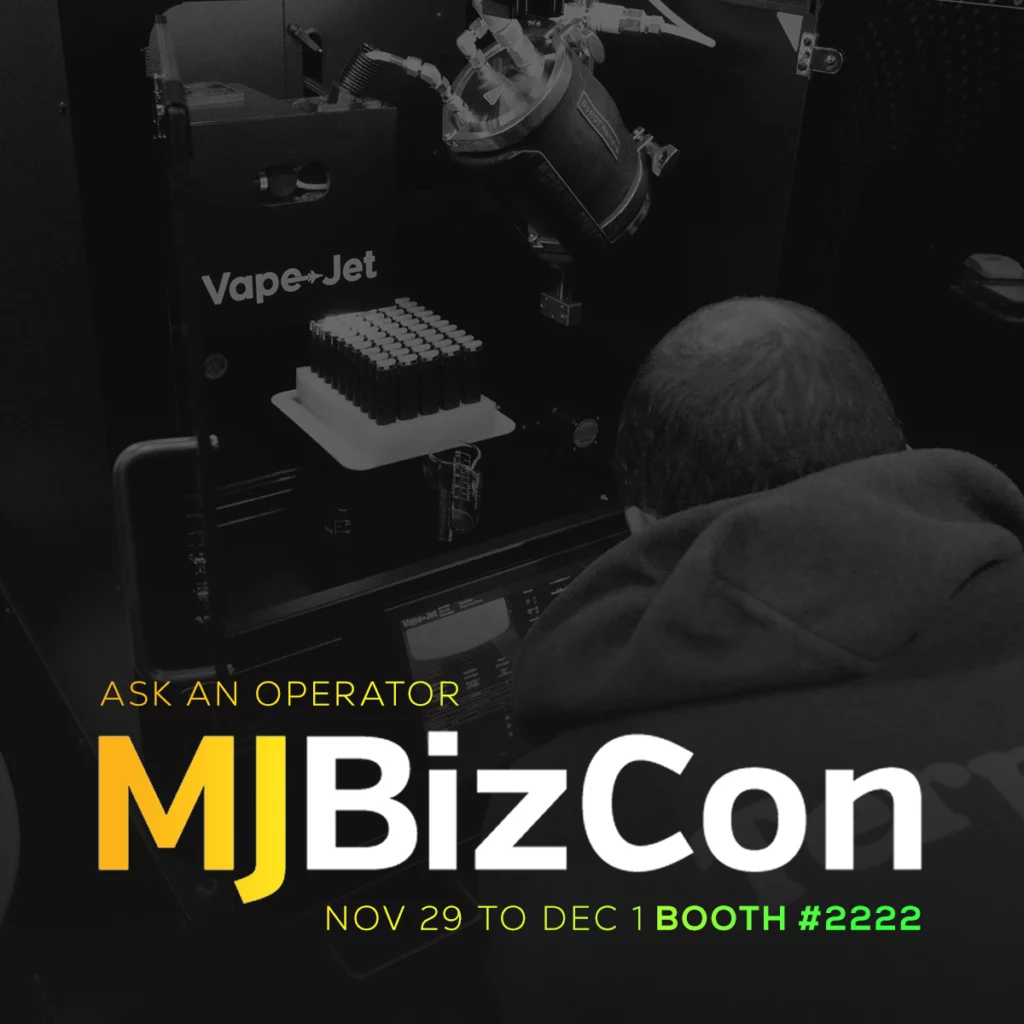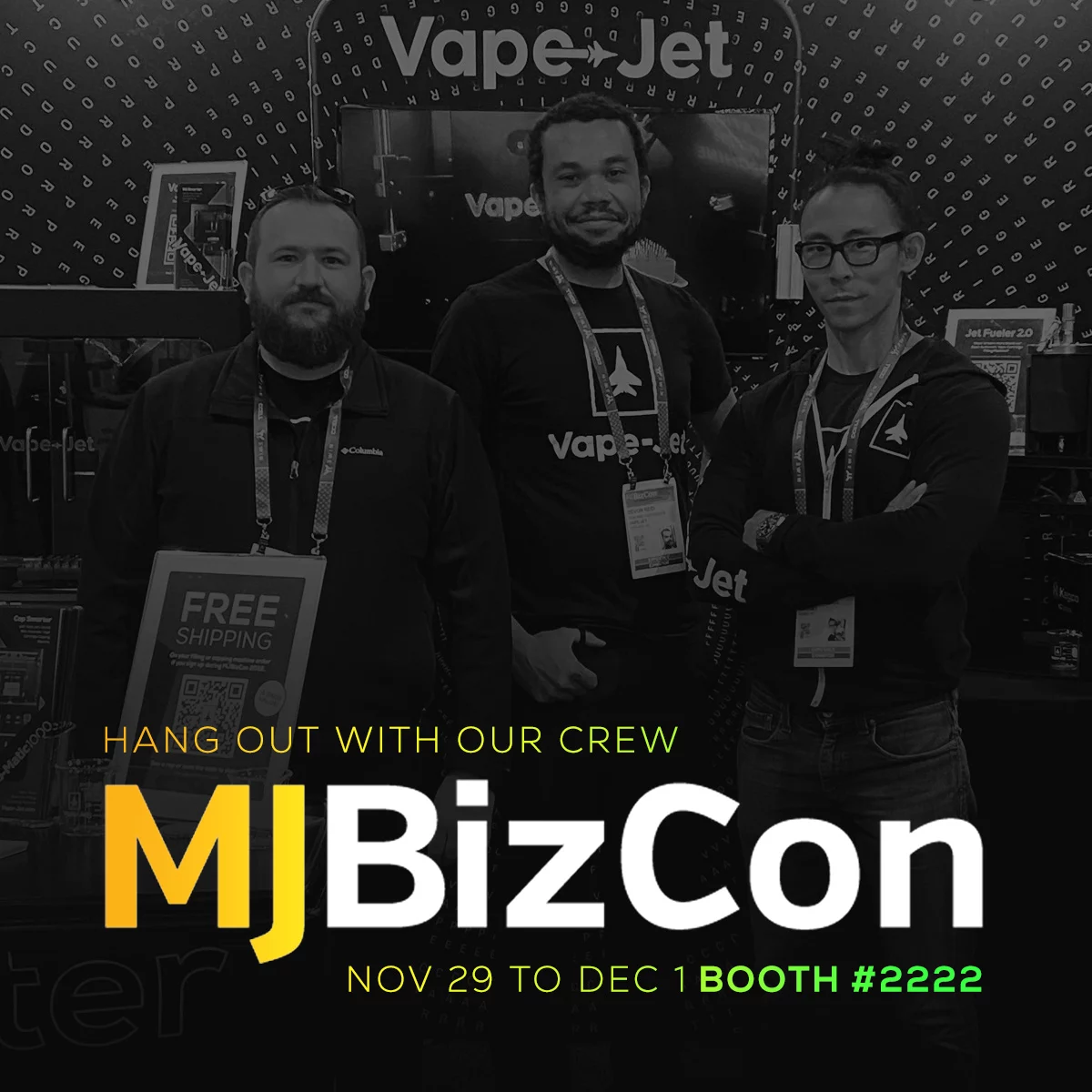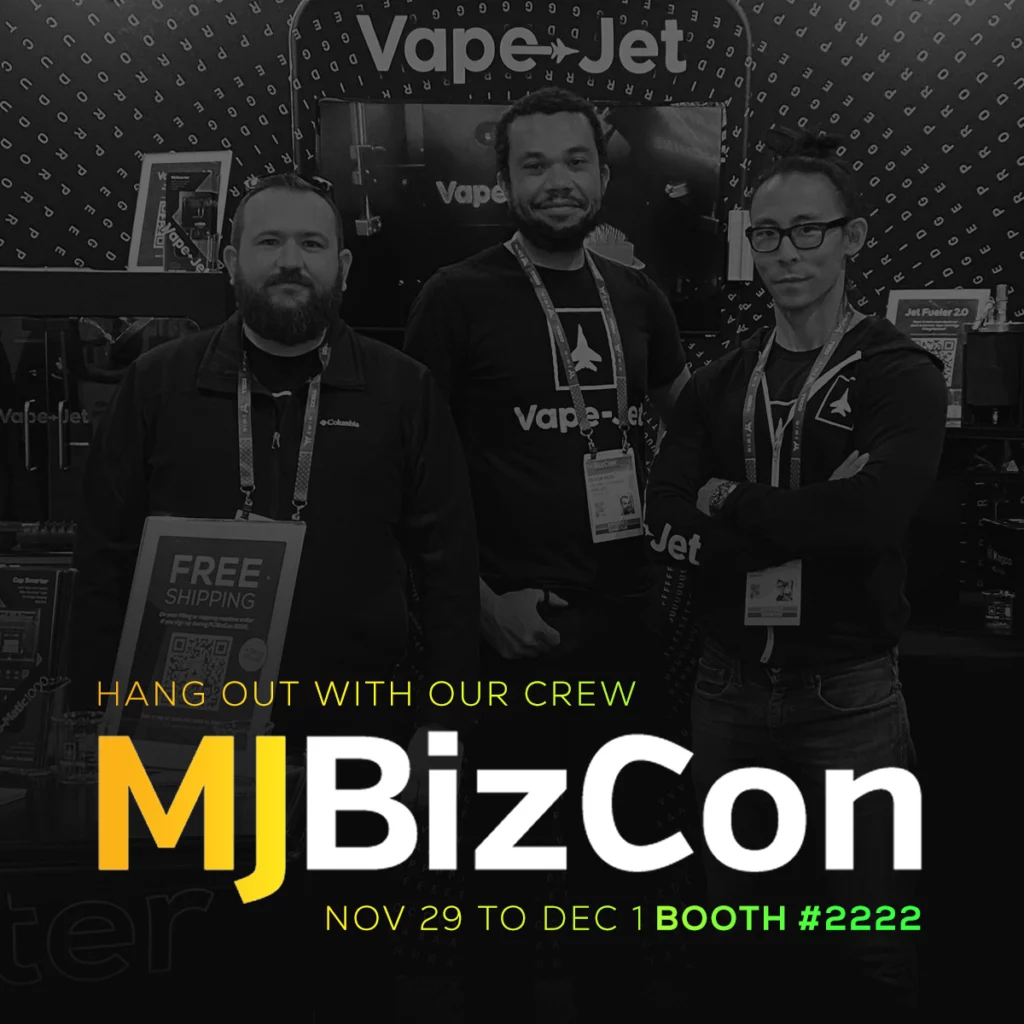 Events and After Hours at MJBizCon
Grab your tickets for Good Life Gang events! This year's theme is "The Path to Profitability," focusing on the best in the business for extraction. Vape-Jet is excited to be a sponsor of the GLG after hours party on Wednesday, November 29th. This annual event is a highlight for extractors, processors, and manufacturers, offering a perfect mix of great food, hash, and networking opportunities.
We're also participating in the GLG MJBizCon Expo Passport event on the show floor, guiding attendees through a curated path of extraction-related products, technologies, and services. And be sure to check out the Path to Profitability Symposium on Thursday, November 30th, featuring industry leaders discussing success strategies in the current extraction market.
Say Hello to Our Partners and Friends
We're proud to be exhibiting alongside leading companies in the industry. Make sure to visit these booths at the show: AVD #6413, Cilicon #5129, iKrusher #7618, Greentank #2419, CCELL #4418, BOLD #5333, RollPros #2224, Abstrax #6311, Good Life Gang #3844, Luna Technologies #4147, Sci Phy Systems #2936, and Dablicator #5608.
See You in Vegas!
Come by booth #2222 to meet the crew, grab some brand new merch items, and find out about our exclusive show floor specials available only at MJBizCon.
Here's a look at last year to get you hyped, we can't wait to catch up!