Where do cultivation, manufacturing, and retail intertwine to create a comprehensive cannabis experience? Proper Brands, a fully vertical marijuana company in Missouri, handles all three, offering a diverse product range that few can match. With product variety, quality, and volume being the most important, Proper trusted Vape-Jet filling machines to do what they do best—fill vape cartridges with industry-leading accuracy.
Proper Brands at a Glance
With an extensive brand catalog consisting of Proper Cannabis, Ratio Vapes & Microdose Mints, Honeybee Edibles, Goodnight gummies and vapes, and vape cartridge operations powered by our semi-automated Jet Fueler 3.0 and fully automated Vape-Jet 4.0, we checked in with Larry Decristofaro, Proper's Director of Processing, to see how things were going.
See what we learned:
Before Vape-Jet Filling Machines
Before they switched to Vape-Jet, Proper used an A10-Hotshot semi-auto filler. As they began manufacturing live resin and rosin, Larry recognized they would have to increase volume.
"On a good day, during an 8-hour shift, we were doing around 2,000 pens for a distillate product," Larry says. As far as capping, Larry recalls using screw tops for a short time, but switching to AVD Eazy Press has made everything easier. "AVD has really changed the game with the Eazy Press," he says.


Switching to Vape-Jet
After switching to Vape-Jet, Proper fills and caps up to 7,500 vape cartridges per shift, with a single operator. That's right, one person using a Vape-Jet (for distillate or live resin SKUs) and a Jet Fueler (for rosin) more than tripled their daily throughput. "The Vape-Jet has been a huge asset in our lab, it's almost like a team member."
What is Proper currently filling?
Distillate with botanical terpene blends
100% live resin blends
Distillate live resin hybrids
100% rosin blends
Distillate and isolate hybrids
What has improved?
"Everything from volume to overall quality, to shot size," Larry says. "Our workers are happier working with [your] machinery. It's also an easier piece of equipment to learn, so I can have more people using it."
"We have really high fill volumes, in my opinion; our shot sizes are super accurate. And our batches are always within 2-3% of what we're reflecting, which is great."
What are Larry's favorite features?
"You can clean the machine with a solvent easily." And the reservoir size, Larry mentions—compared to their last filler, "it's huge by comparison." Larry also notes the nitrogen-pressurized fluid path is helpful for limiting oxidation and assisting with temperature control.
"The amount of work that goes unnoticed on the Vape-Jet vs. the competition is unmatched. Especially being able to hot swap reservoirs on the Vape-Jet; you can fly," Larry says. "We have the Drop Tank, and it's well worth it if you're a high-volume producer."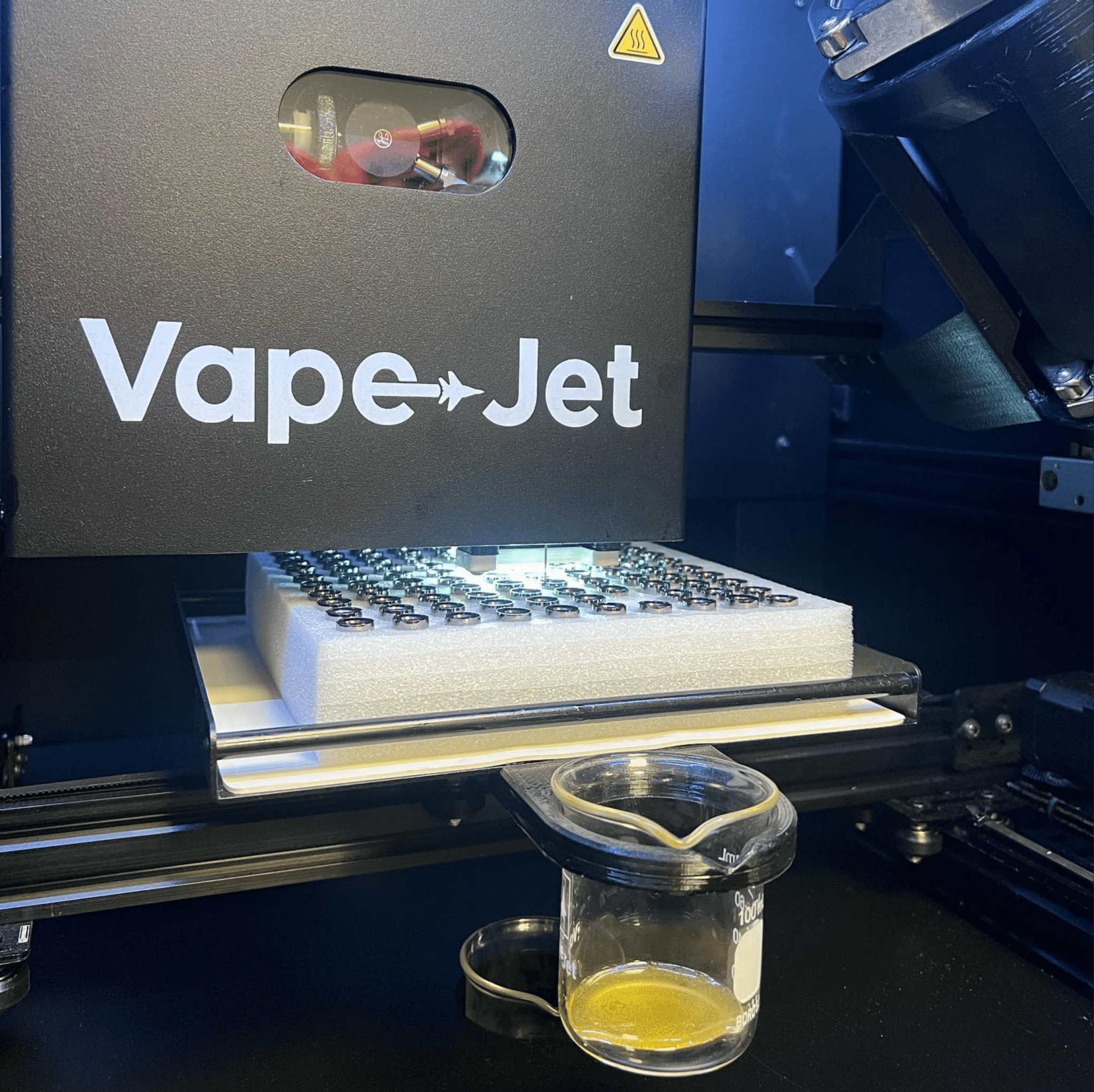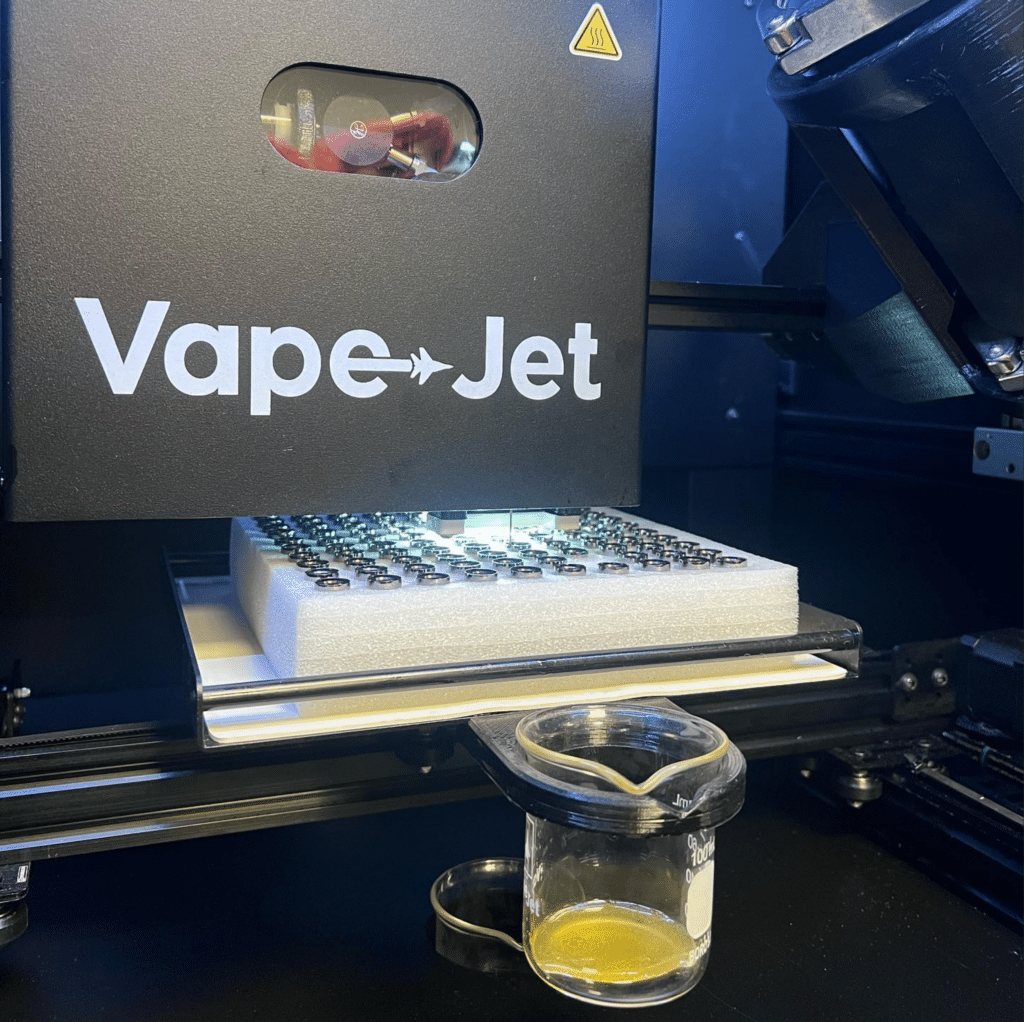 Growing with Vape-Jet Filling Machines
As Proper transitioned from strictly medical markets to recreational cannabis markets, Vape-Jet emerged as the ultimate growth catalyst for expanding production capacity. "We were a 3000-4000 package a week lab," Larry reflects. "Now, we're a 12,000-15,000 package a week lab."
This transition wasn't just about increased production volume; it also empowered Proper with precise control over their vape cartridge automation, allowing for fine-tuned formulations and improved operational procedures. "It's really interesting how [Vape-Jet] has helped us grow. And it's not just helping us grow by the numbers, it's helping us grow in our thought processes," Larry says. "The Vape-Jet really helped put us over the top."
Vape-Jet Support
Vape-Jet's commitment to technical support is critical for bolstering production volume, especially as companies transition to recreational markets. The accessibility of Vape-Jet Support played a crucial role in getting Proper up-to-speed, from machine training to rapid troubleshooting.
Accessible Support
"[With Vape-Jet] you get this incredible support team, which is very valuable," Larry says. "Our whole lab has interacted with most of your team when we were getting trained on the machine."
"So many of these companies are huge one day, then they're not answering phones the next. Vape-Jet's service has been phenomenal. They're going to overnight a part, and they're going to work through it with you."
Remote Installation
"[Vape-Jet] sends you all the tools, stays on the phone the entire time, and has techs that will go out and physically show what you're trying to do."
Improved Uptime
"The other fillers I've had, you had to ship back to the manufacturer if you wanted anything done," Larry says. "You could be out for weeks if they were backed up or if something got messed up in the mail. Vape-Jet overnights you parts, gets you a technician immediately, and you're able to do it yourself."
The Vape-Jet crew understands the potential loss that comes when your vape cartridge filler is down. For example, if you're filling 7,500 vape pens a day and you're down for two weeks, that's 75,000 pens worth of profit lost. Vape-Jet gets you back up and running in no time.


Feedback, Tips, & Tricks from Proper Brands
Since repeatability is at the core of Vape-Jet filling machines, we turn to the expertise of experienced operators like Larry to share insights and time-tested strategies that can be universally applied to elevate your vape cartridge production.
Bubbling
"A lot of people blame their fillers [for] bubbling," Larry begins. "[The issue] often lies in the processes before getting to the filler. The Vape-Jet comes with the nitrogen boost, that's going to kill a lot of those bubbles for you if your oil is right and it's been exposed to temperatures similar to what you're filling at."
Heating
Temperature control plays a pivotal role in the oil filling process, and different oil types require precise temperature controls for premium quality.
In general, the longer your oil is exposed to heat, the more variability.
Distillate, on the other hand, maintains a more consistent viscosity across a range of temperatures.
Vape-Jet Tips
"Our rosin gets put into the Jet Fueler at a higher temperature than we produce the rosin pens at. We've realized that if we put the hopper below the 350g mark, we're able to fill [carts] fast enough that it does not decarb more in the hopper."
"Listen to the people that are teaching you how to use this equipment. A great example I have is on the Vape-Jet when we were first getting started," Larry explains. "One of our techs was using the machine, and we had to take the oil out of the machine for whatever reason. That person disconnected the fluid line before the nitrogen. If you listen, you won't run into major issues."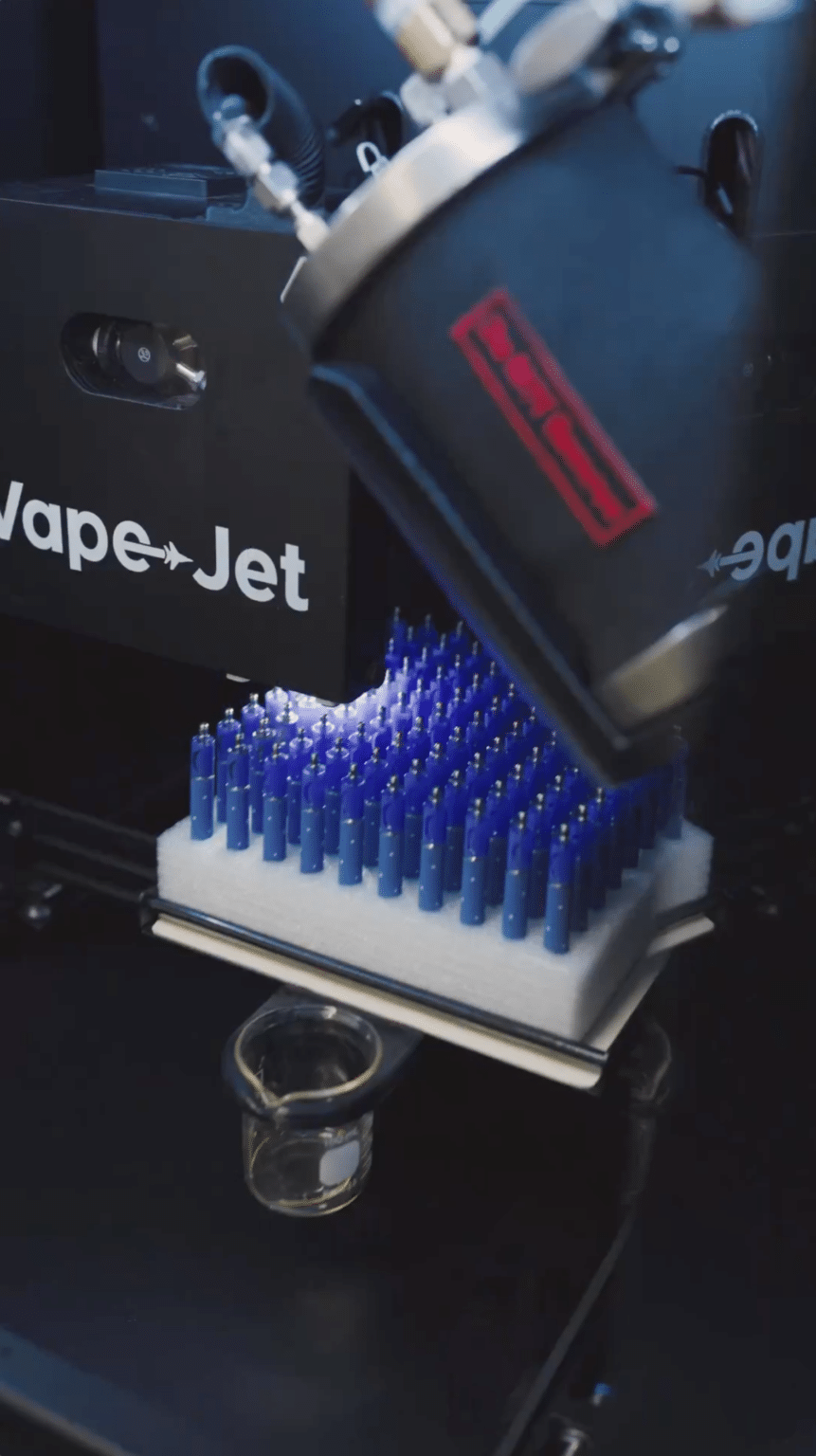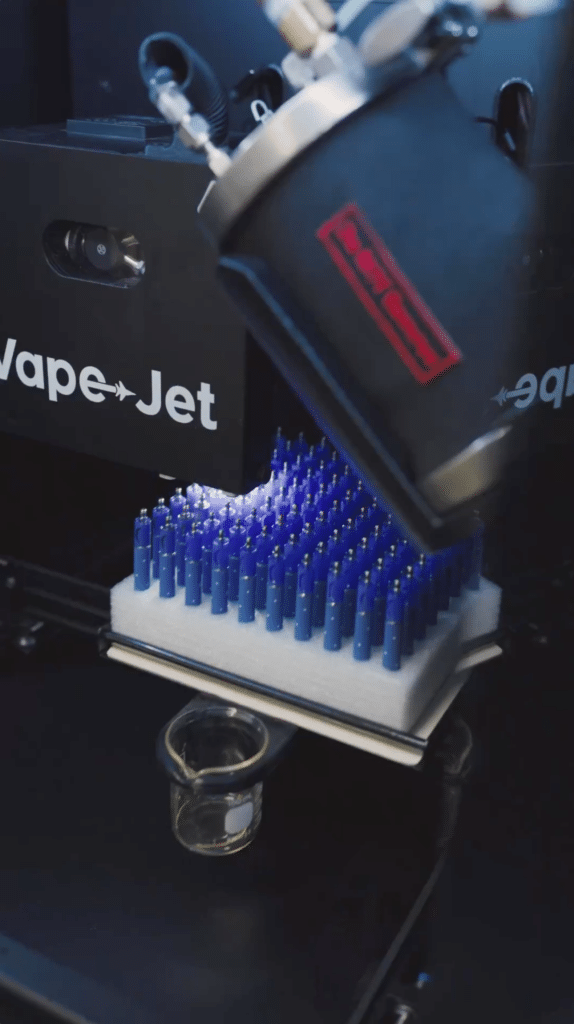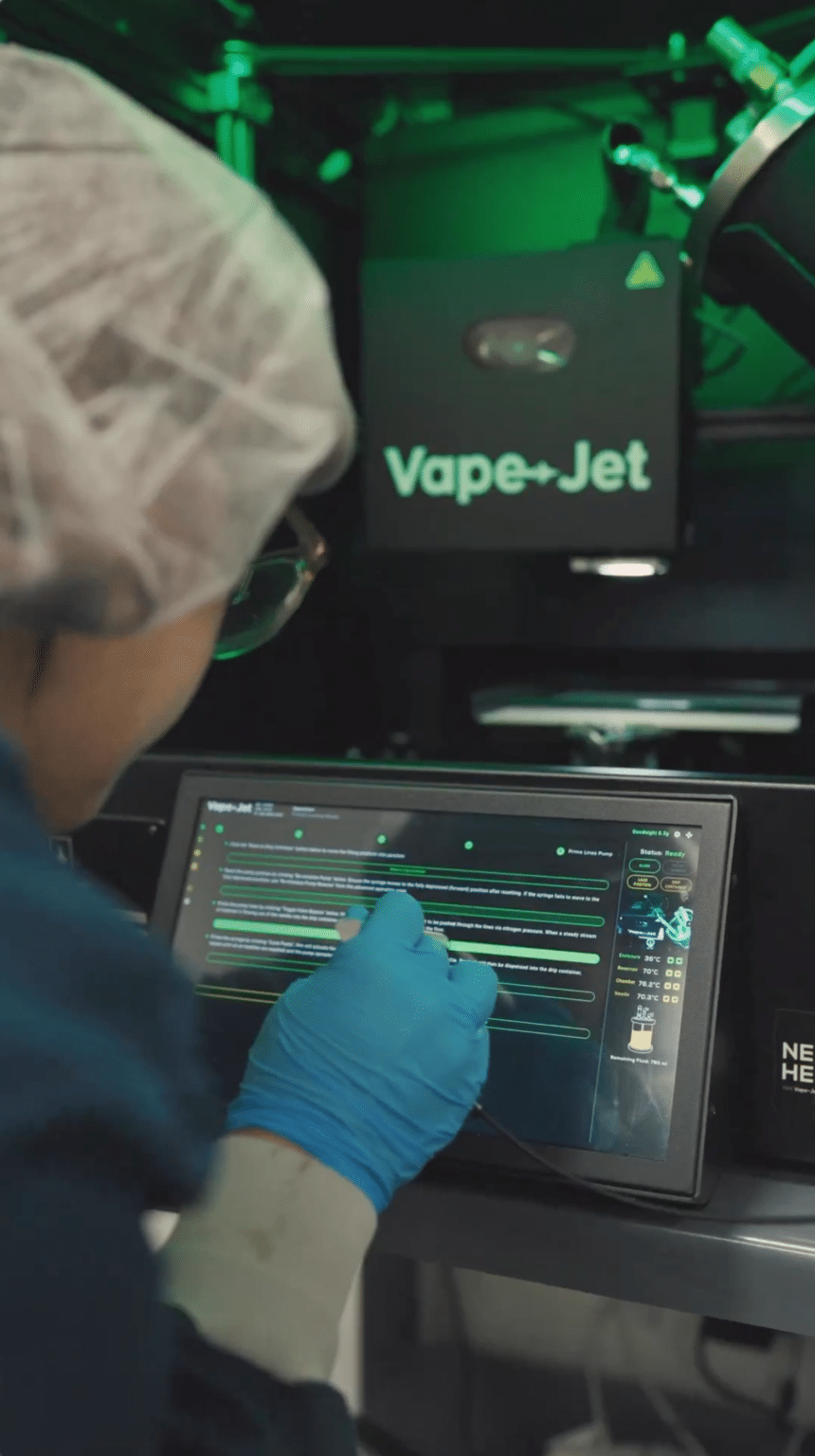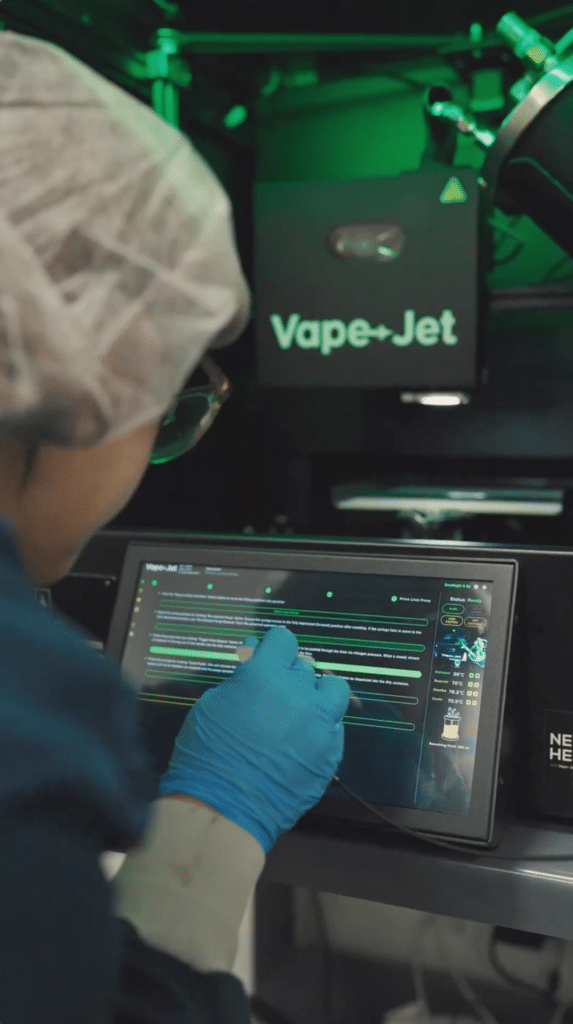 Optimize Your Filling Operations
Whether it's improving from 10,000 vape carts a week to 37,500 or the consistent quality of Vape-Jet filling machines, Larry is excited for what the future holds. "We've only started optimizing processes over the last two weeks," he says. "We haven't fully utilized the Vape-Jet to its fullest extent."
How likely are you to recommend Vape-Jet? "I have always recommended Vape-Jet and will continue to do so," Larry says.
If you want to ramp up production and maintain premium quality products, reach out to our crew, and we'll find the best solution for your business.
Like our customer features? Check out these other success stories:
Don't forget to sign up for our monthly Re:Fill newsletter to get early access to company updates, product releases, and other exciting announcements. Follow us on the essentials, too: Facebook, Instagram, LinkedIn, Twitter and YouTube.