Proudly cultivating, extracting, and manufacturing from the heart of New Mexico, ElevatedRx is a licensed cannabis extraction and manufacturing company raising the bar for premium-quality cannabis products. Guided by a mission to provide superior edibles, wax, and distillate for consumers, the team at ElevatedRx won the "Best Cart" award with Peaches and Dream at the Essie Awards and continues to focus on delivering products with the highest quality, purity, and potency.
With this mission in mind, the next step for ElevatedRx was to ensure every touchpoint in their process was handled with the same care as extraction. When your customers and mission demand perfection, every cartridge fill counts. That's why the ElevatedRx team reached out to the Vape Jet crew and how they got started with the Jet Fueler.
In this customer feature, we spoke with Bobby and Danny who work in the lab at ElevatedRx to see how they have implemented our semi-automatic vape cartridge-filling machine and what tips they would like to pass on to other folks in the cannabis industry looking to elevate their products.
'In the Beginning': Before the Jet Fueler
In the beginning, there was nothing…
Well, not really. In the beginning, there was hand-filling. Bobby and Danny recall the painstaking process of filling distillate by hand (with a syringe gun) the same way many of us remember hard times—lots of character-building, not too much fun.
Filling five vape cartridges at a time by hand meant having to cap each of the cartridges before filling more to ensure oil didn't discolor in the cartridge. It also required a lot of labor, wasn't fast by any means, and introduced variables that invite cartridge failures.
Before the Jet Fueler, ElevatedRx filled about 500 vape cartridges a day with four to five employees dedicated to the task for eight hours each.


'Let There Be Light!': Optimizing Throughput with the Jet Fueler
Switching to the Jet Fueler changed the game, Bobby and Danny agree. "[The Jet Fueler is] a lot more consistent with every single cartridge," Bobby says. "It gives you very consistent carts, and it's a lot cleaner too. I hate having sticky hands and sticky clothes."
Having a Jet Fueler also gave a significant boost to ElevatedRx's QA process. Before, there simply wasn't time to weigh vape cartridges in the thorough way they do things now, Bobby and Danny say. In other words, having a semi-automatic vape cart filler allows them to focus on refining their processes rather than focusing purely on filling.
Now, ElevatedRx is filling much more volume, allowing them to pull more samples for QA to ensure repeatable quality fills. The fills have been a lot more consistent during spot checks, too, Danny says.
After the Jet Fueler, ElevatedRx can fill up to 2,000 vape cartridges a day with a single employee filling and one capping. That's 1,500 more cartridges, quality-filled, and 50-60% less labor! They also switched from steel vape cartridge caps to ceramic AVD cartridges, which have resolved previous capping issues and made the cartridge-filling process much more efficient.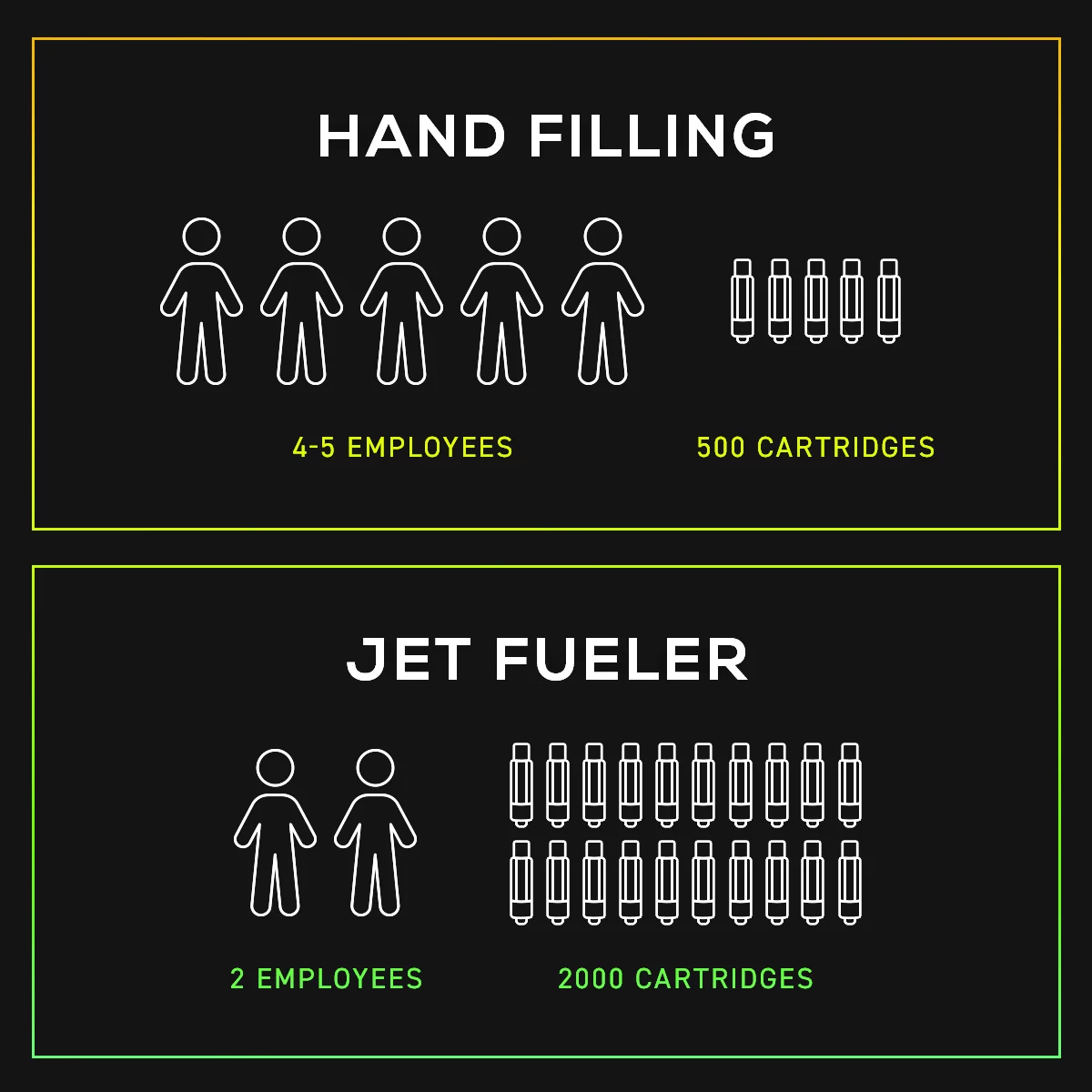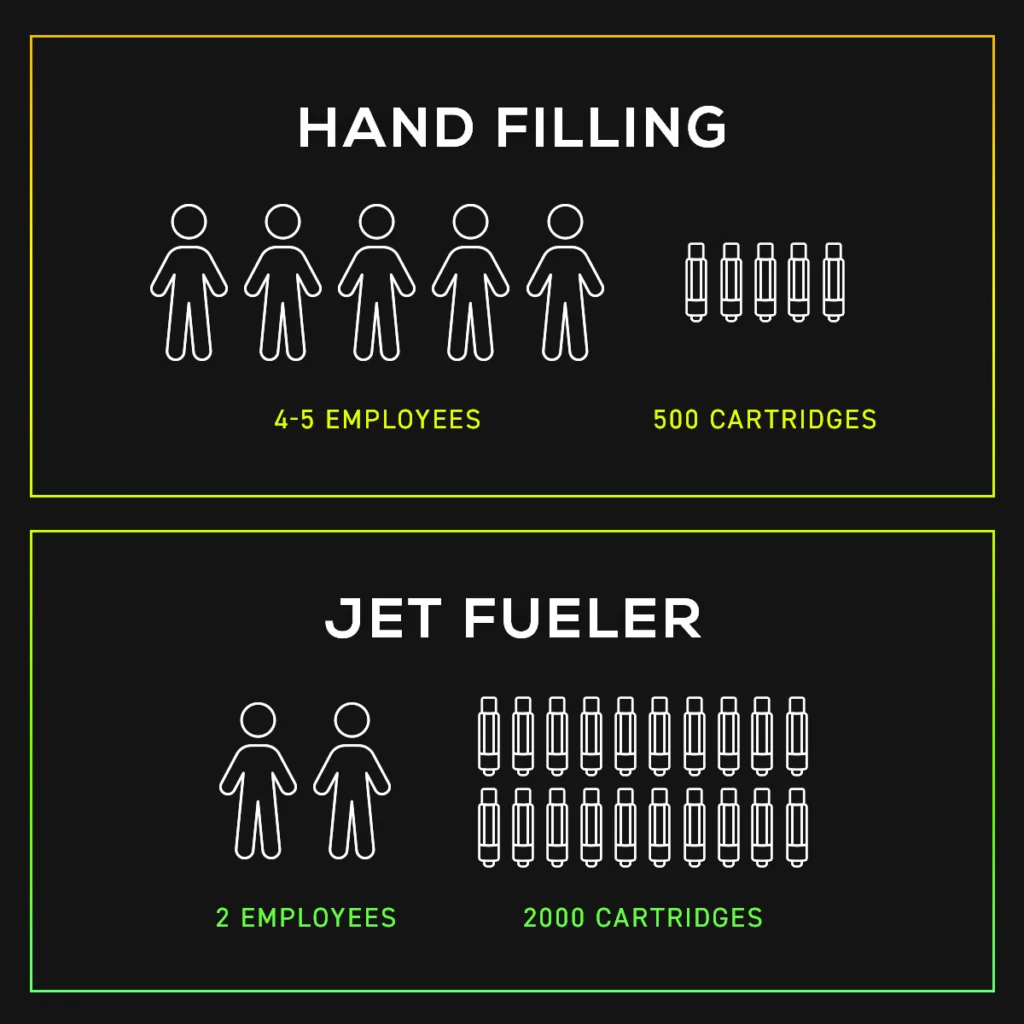 Jet Fueler Love: Tips, Tricks, and Product Support
Bobby and Danny's favorite feature of the Jet Fueler? The heating elements. "The heating elements are really good. Having three separate heaters for the reservoir, needle, and line is very smart and prevents the degradation of your oil from excessive heat."
Another great part about working with Vape-Jet is the industry-leading support team. "I've had nothing but good experiences. [The support team has] always been there for us any time we need anything. I've never encountered someone where I've felt like they were having a 'bad day.' They have always been chipper, nice, and able to help us out fairly promptly."
Asked whether they had any tips and tricks for the Jet Fueler, Bobby and Danny identify a couple of items:
Work with Vape-Jet support to find the perfect target for each cartridge and oil type to ensure consistency.
Use a filter! "We just use a coffee filter, but it fits perfectly on top of the reservoir. I recommend a filter so nothing gets into the reservoir or valve."


Unparalleled Cartridge-Filling Technology + Vape-Jet Support = 10/10
How likely are you to recommend Vape-Jet? "100%—10," Bobby and Danny agree, "especially the price point compared to other machines. The Jet Fueler is super, super on point compared to anything else so far."
At Vape-Jet, we're always looking at how we can cultivate premium experiences for vape cartridge fillers and end users alike. ElevatedRx is a great example of how you can grow your brand, decrease labor and product loss costs, and establish yourself as a quality solution provider by optimizing your vape cartridge-filling workflow.
What's next for ElevatedRx? The sky is the limit. With a new Vape-Jet fully-automatic cart filler in-house, we see more award-winning fills on the horizon. In fact, ElevatedRx just launched a disposable vape cartridge made possible by their Vape-Jet and Jet Fueler cart-filling machines. So, make sure to stay tuned to ElevatedRx to see what they have in store for 2023!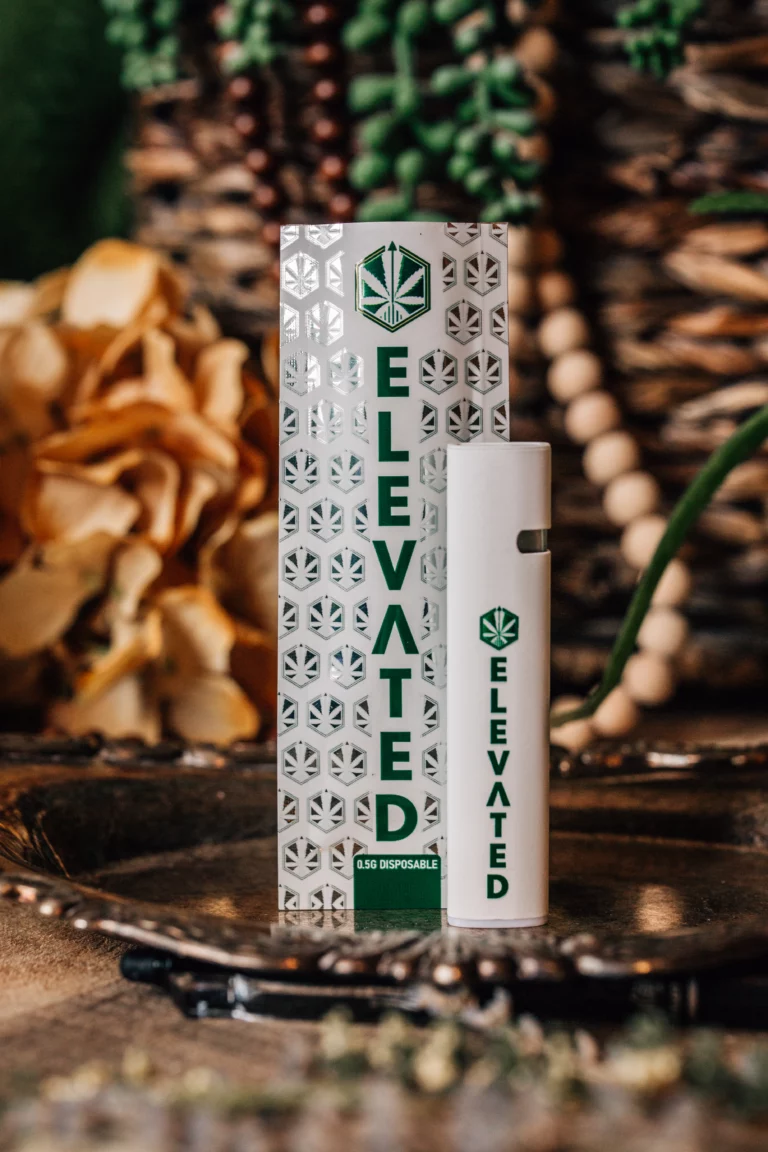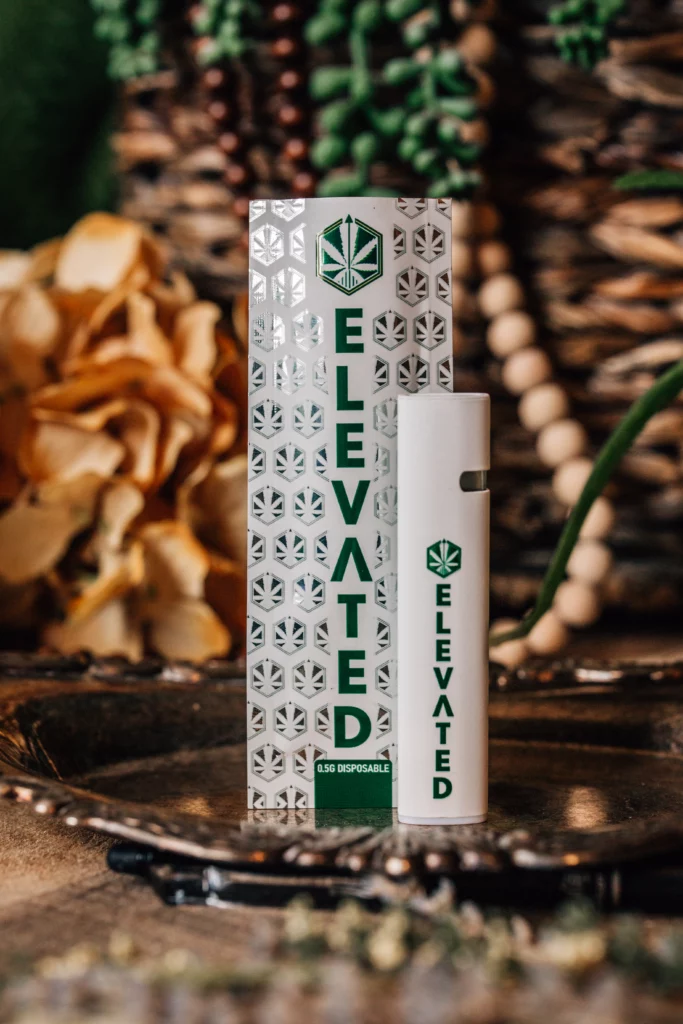 In the meantime, if you want to become another success story, reach out to our crew and we'll find the best solution for your business.
Like our customer features? Check out these other success stories:
Don't forget to sign up for our monthly Re:Fill newsletter to get early access to company updates, product releases, and other exciting announcements. Follow us on the essentials, too: Facebook, Instagram, LinkedIn, Twitter and YouTube.