Discover the Versatility of the Vape-Jet Filling Machine
Whether you are new to our products, or you have been a loyal follower of our brand since day one, you may find yourself surprised by the versatility of our filling machines. We've put countless hours into research and development to design a machine that can handle a wide range of oils and hardware styles. But our dedication doesn't stop there. Our team continuously strives to improve our products and adapt to the ever-evolving landscape of the industry.
In this article, we'll dive deeper into the unique functionalities and capabilities of our fully automatic filling machine. We'll cover everything from the various oil types it can handle to the myriad of hardware styles it can accommodate. We hope to provide a comprehensive understanding of the machine's workings and capabilities, making it easier for you to decide if our solution is the right fit for you.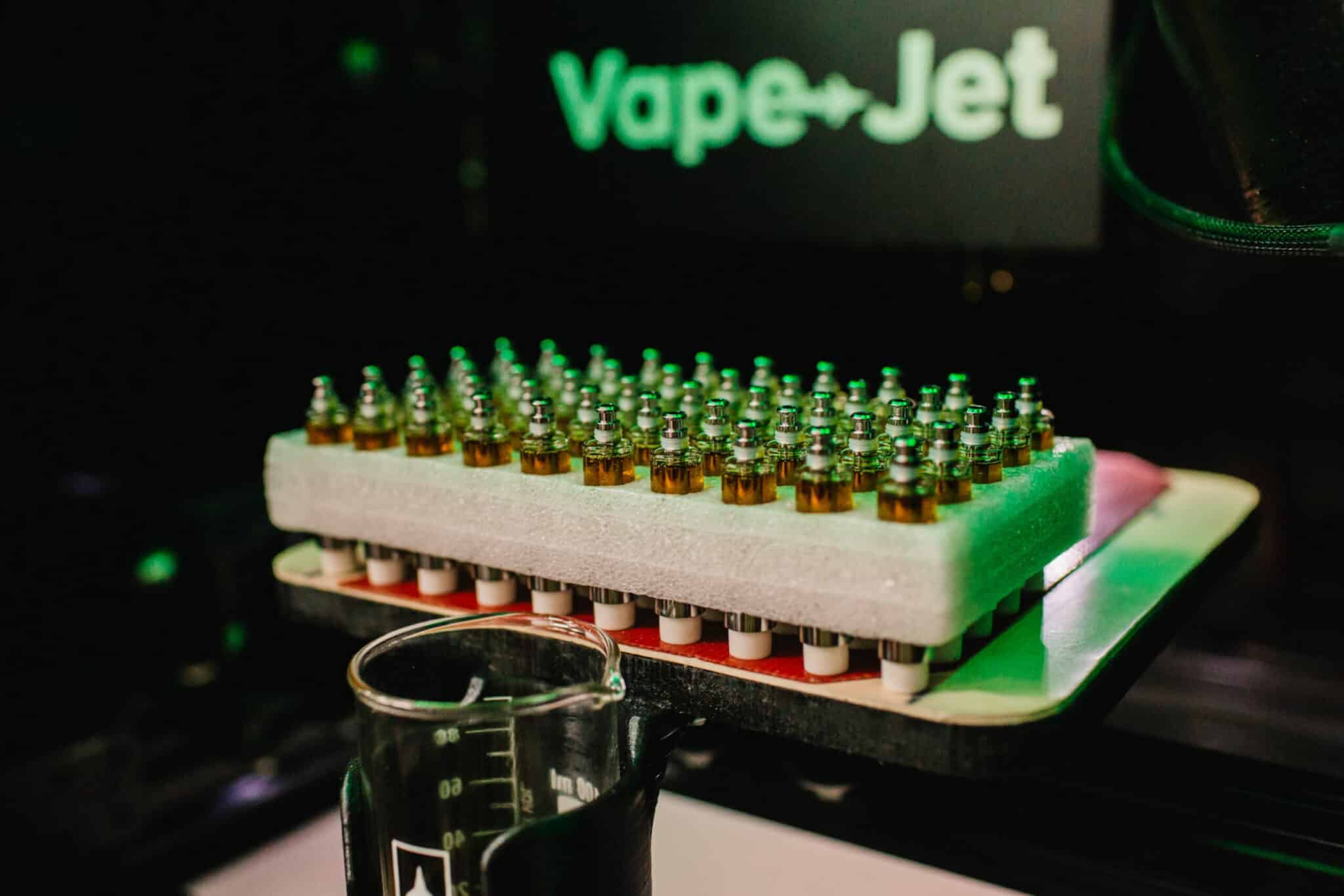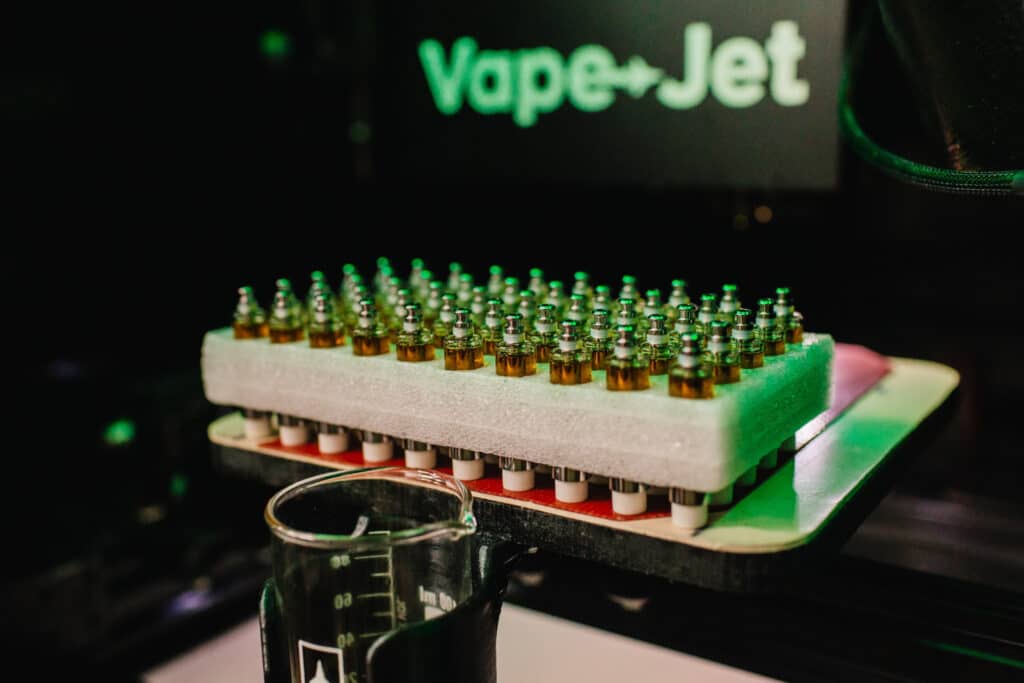 Explore Vape-Jet's Oil Handling Capabilities
The Vape-Jet's pharmaceutical-grade syringe pump is designed to handle an extensive range of oil viscosities and formulations. How do we achieve this? With the help of closed-loop feedback motors for the syringe pump, our software has the ability to detect any stalling caused by particularly thick fluids. Instead of halting, the system internally slows down, applies more torque, and finishes the dispense accurately each time.
Our system integrates nitrogen assistance to push the oil through the fluid path, eliminating the need for it to be pulled through by the pump. This function allows the machine to operate at the lowest possible temperatures across the three independent heating zones located at the reservoir, pump chamber, and needle.
By keeping heat to a minimum during the filling process, your oil is shielded from oxidation, degradation, and contamination. The outcome? A more authentic, flavorful vaping experience that remains true to the original oil formulation.
The types of oil that our Vape-Jet fully automatic filling machine can handle include, but are not limited to:
Delta 9 THC Distillate (Botanical terpenes, Cannabis-derived terpenes, or Sauce)
Live Resin (Liquid Diamonds and Sauce, BHO, Liquid Shatter)
Rosin (Solventless Hash Oil)
CO2 Extract
Delta 8 THC Distillate (Botanical or Hemp-derived terpenes)
CRD (Crystal Resistant Distillate)
Minor Cannabinoids (HHC, THCv, THC-O, CBN)
Full-Extract Cannabis Oil (RSO)
Tincture
We have developed a detailed recommended settings guide to help Vape-Jet operators identify the optimal parameters for filling different oil viscosities. If you ever find yourself in need of assistance, our support team is always standing by to guide you through the process of configuring your machine for a new type of oil.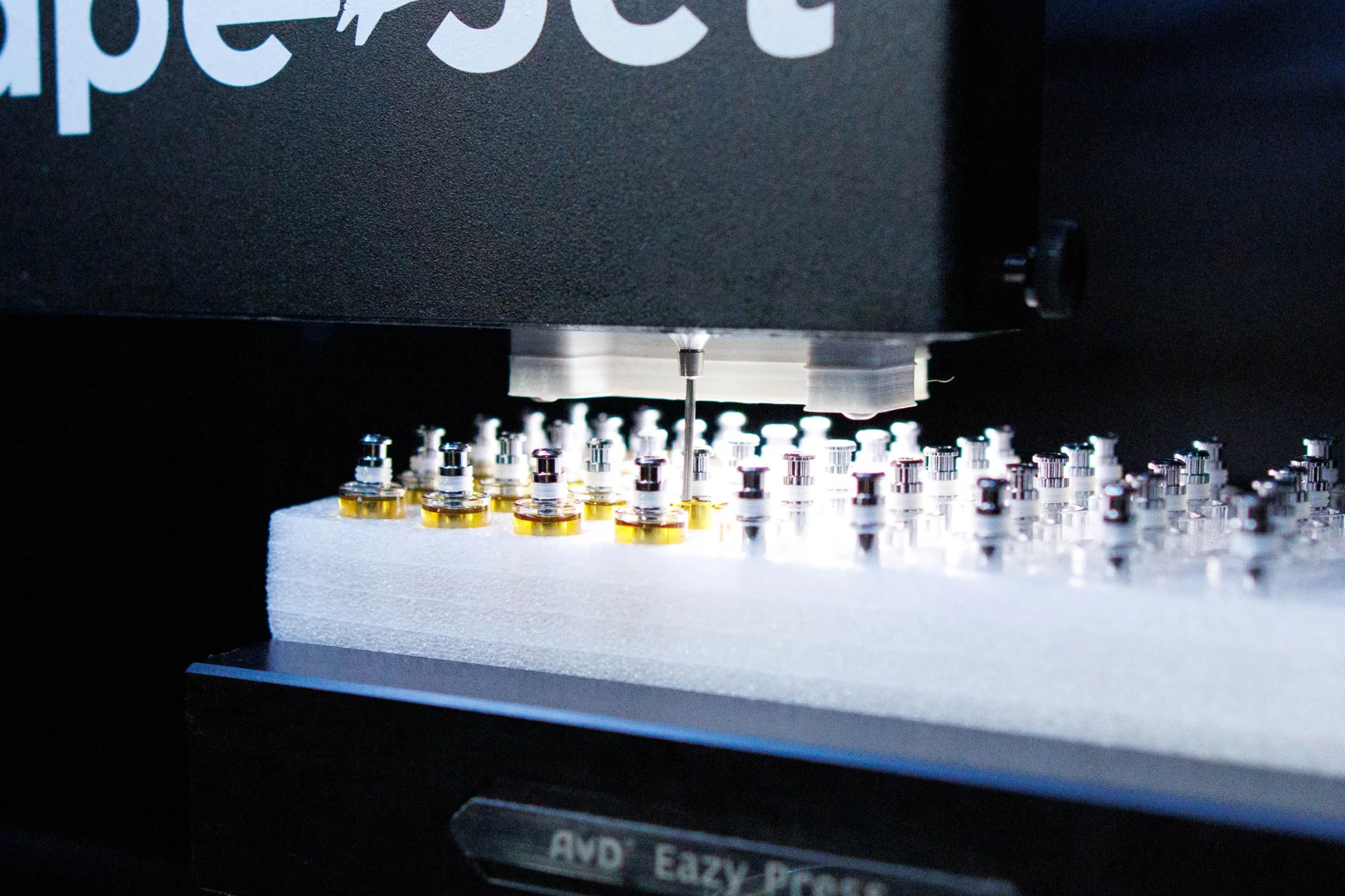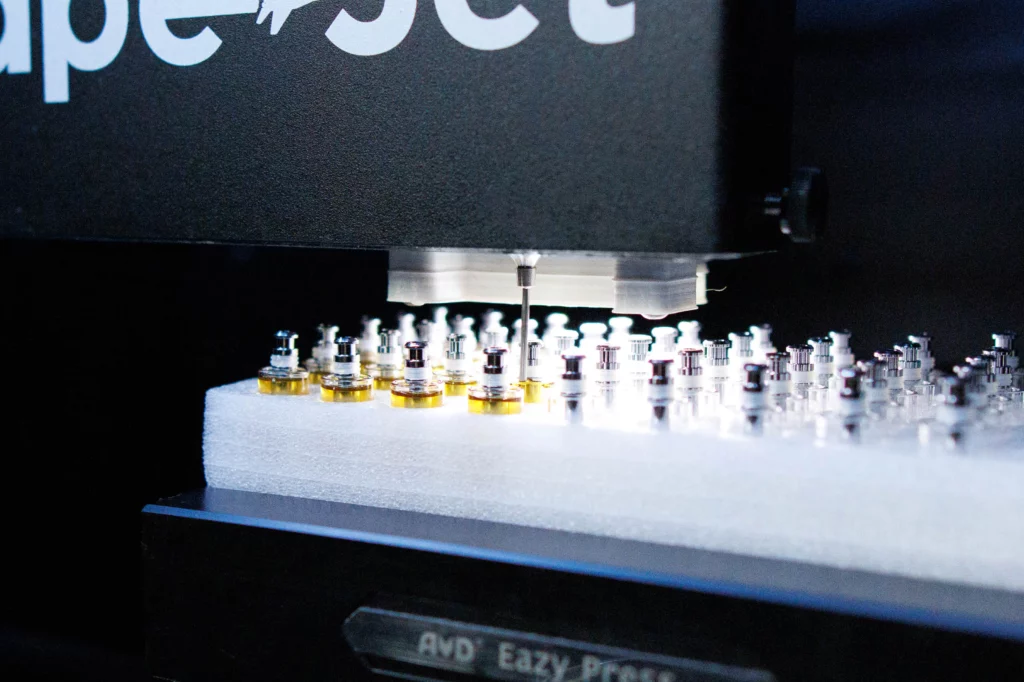 Redefine Adaptability with Vape-Jet's Hardware Solutions
Our Vape-Jet fully automatic filling machine features an automated machine vision system. This advanced technology analyzes the hardware, aligns the needle over the ideal filling position, and fills each piece of hardware with unparalleled accuracy and repeatability, to within ±0.25%.
This system relies on a software-based machine vision algorithm that uses the shape of the hardware and operator-provided information to accurately insert the needle into the specified opening. (Ex. The widest point between the center post and the outer wall of a circular cartridge, inside one or both of the oil tank openings of a double-sided pod, the center of a bottle or capsule) Thanks to the machine vision system and adjustable camera and needle heights, the Vape-Jet can be configured to fill a wide array of products of varying sizes and shapes without the need for physical retooling or additional alignment jigs.
Types of hardware that our Vape-Jet fully automatic filling machine can accommodate include:
Vape Cartridges
Vape All-in-One Devices (Disposables)
Vape Pod Systems
Syringes
Dablicator Oil Applicators*
Capsules
Sauce Jars
Tincture Bottles
COMING SOON Pre-Roll Infusion (details below)
With our third-party calibrated and certified pumping mechanism, we can swiftly and accurately fill any volume from 0.001ml to 5.0ml into your chosen hardware. Most cartridges and all-in-one devices come in trays of 50-100 from the manufacturer that can be placed directly onto the filling platform, eliminating the need for manual transfer and saving hundreds of touch points per tray.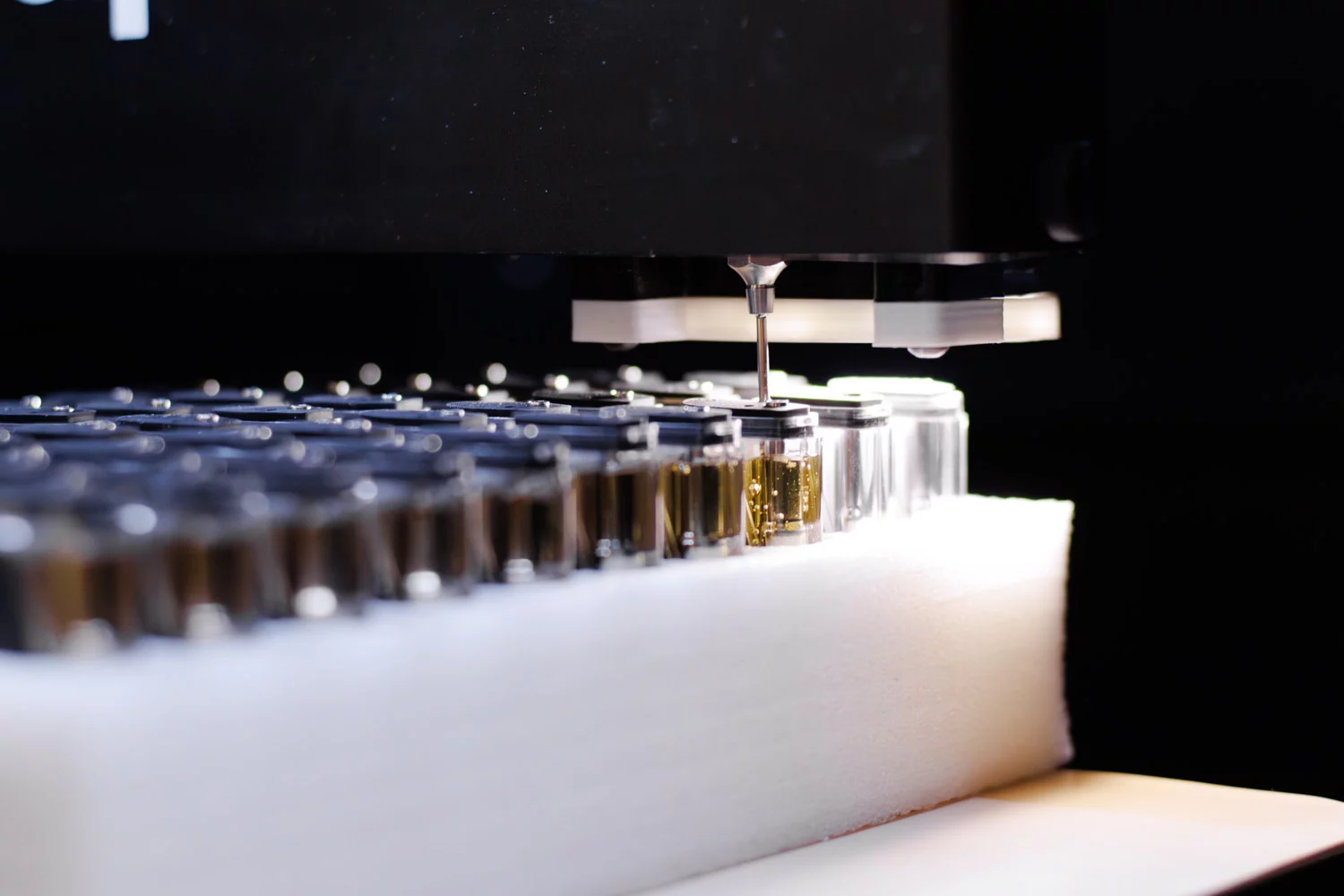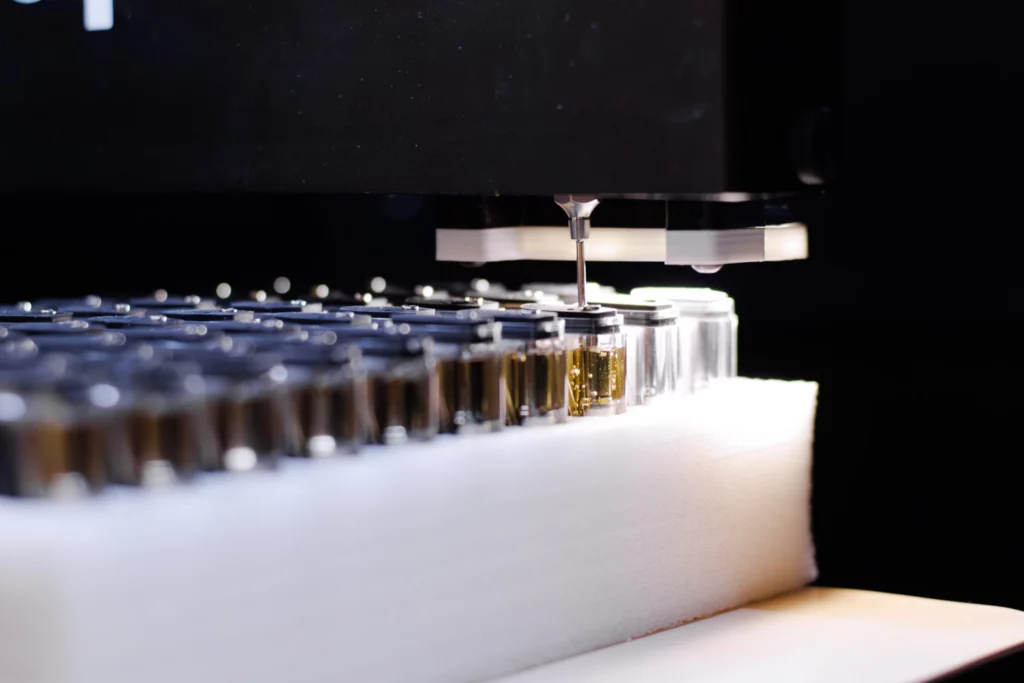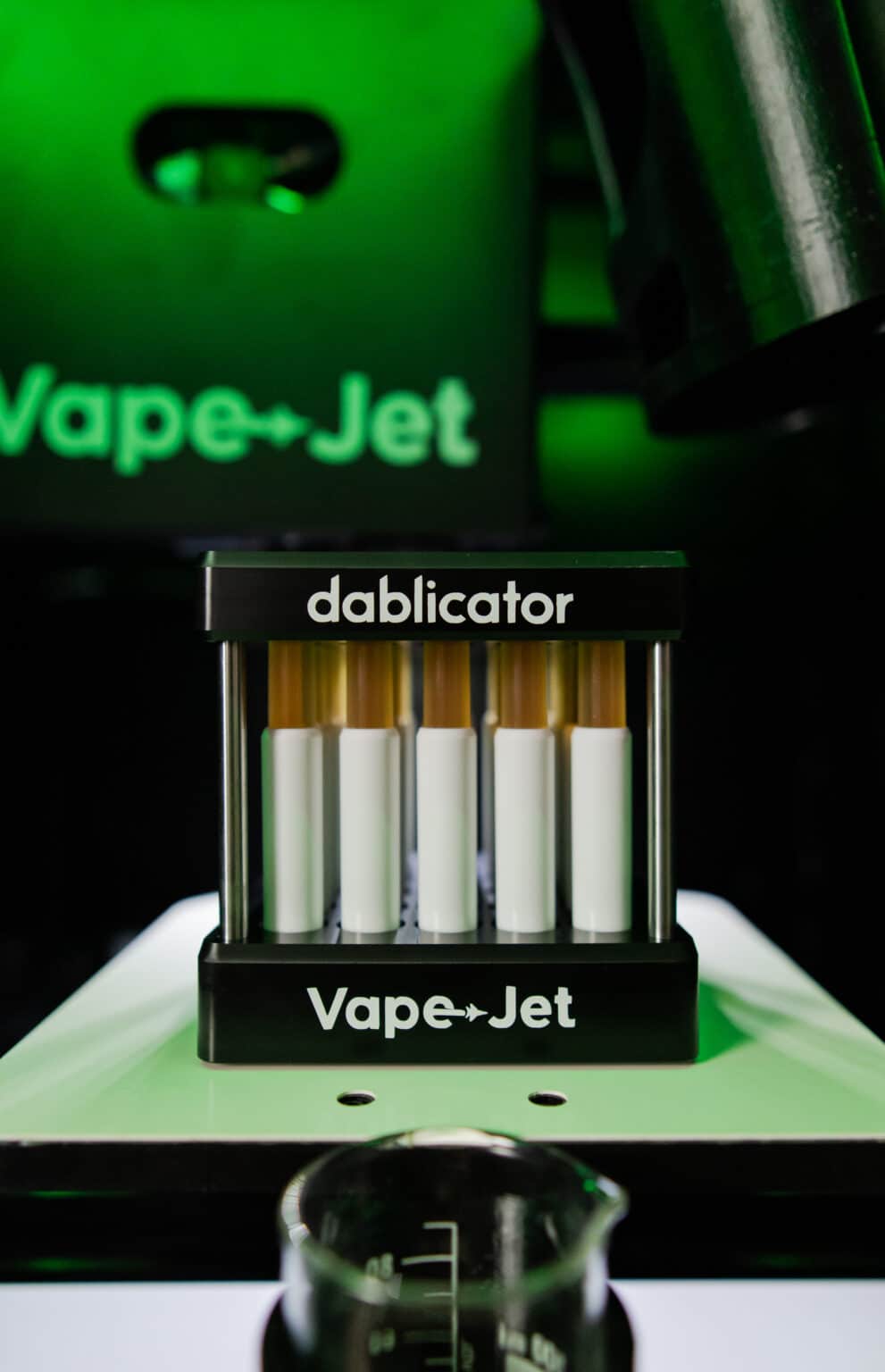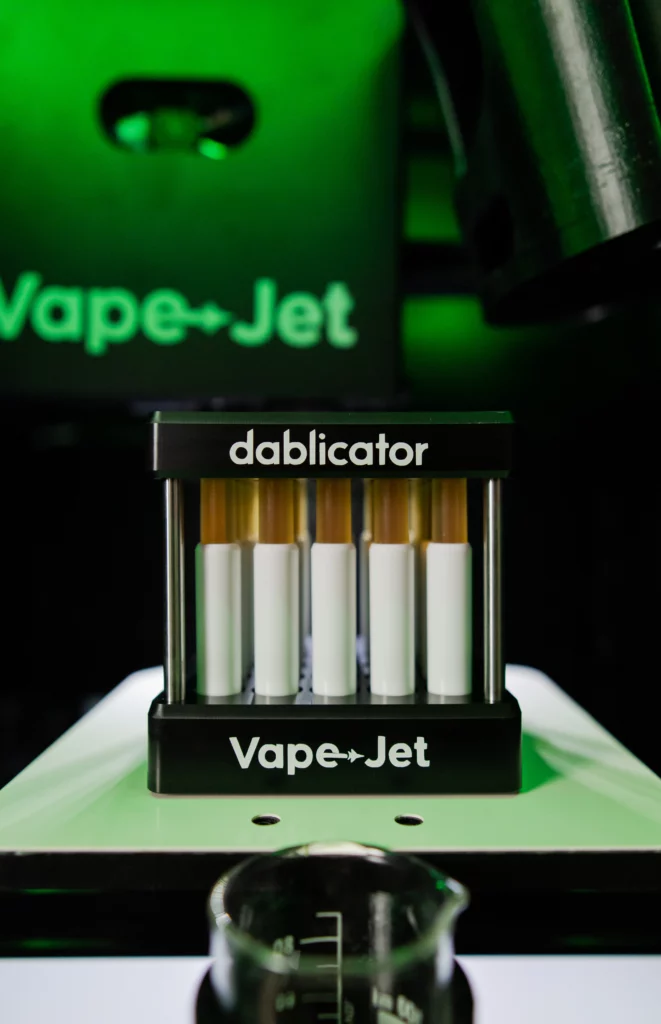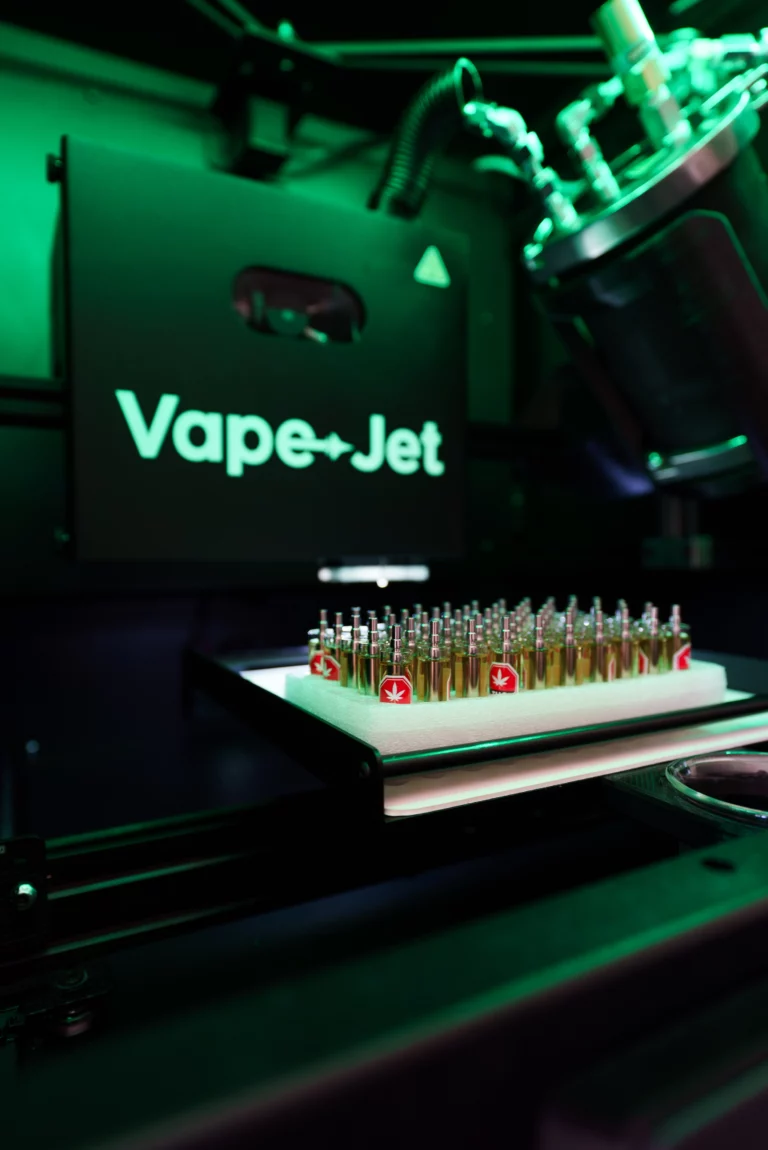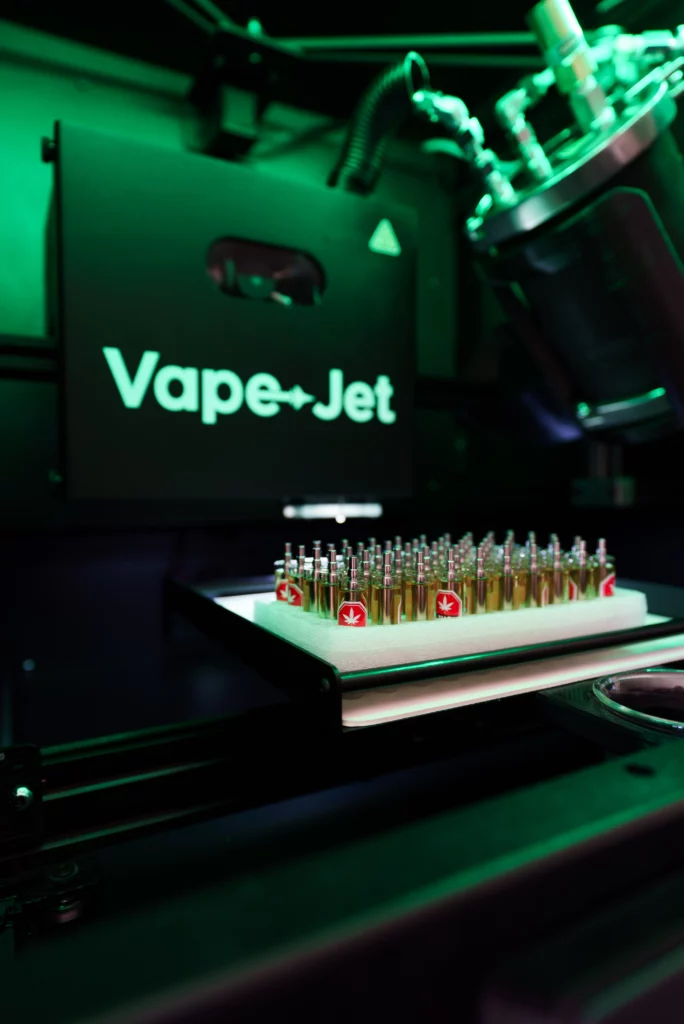 Coming Soon: The Fuel Injector, Vape Jet's Joint Infusion Solution
Exciting developments are underway at Vape-Jet. Get ready for the Fuel Injector, our pre-roll alignment device. This innovative solution utilizes custom 3D printed components and a food-grade silicone jig to secure 24 pre-packed and twisted cones in place. The standard Vape-Jet needle is swapped out for a sharp stainless-steel needle which pierces and injects oil into each joint using the same machine vision technology deployed during cartridge filling. During the dispense, the needle retracts to evenly distribute oil throughout, leaving a precise line of oil down the center. The newest addition to our line of Vape-Jet accessories delivers on our goal to offer the most adaptable and robust filling solution available.
As the Fuel Injector is nearing the end of the research and development stage, we will be sharing more details and specifications in the coming weeks. Be sure to stay tuned to our blog and sign up for our monthly Re:Fill newsletter to be the first to know when new products drop.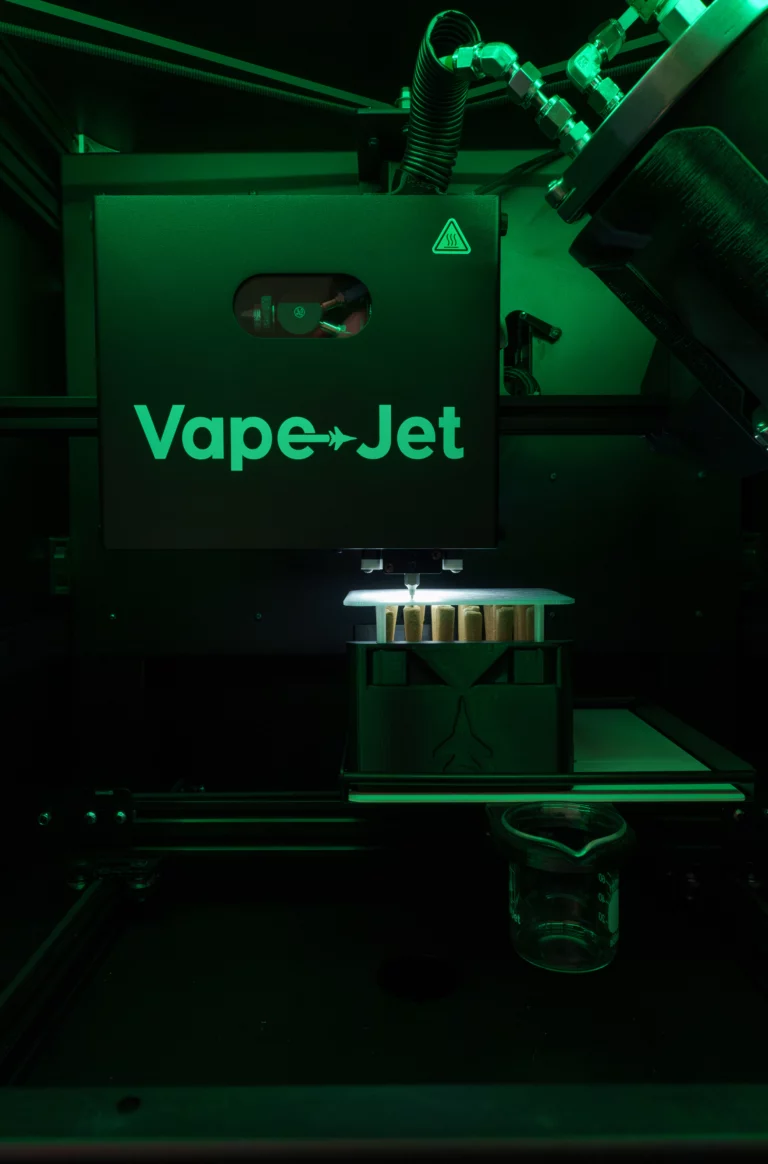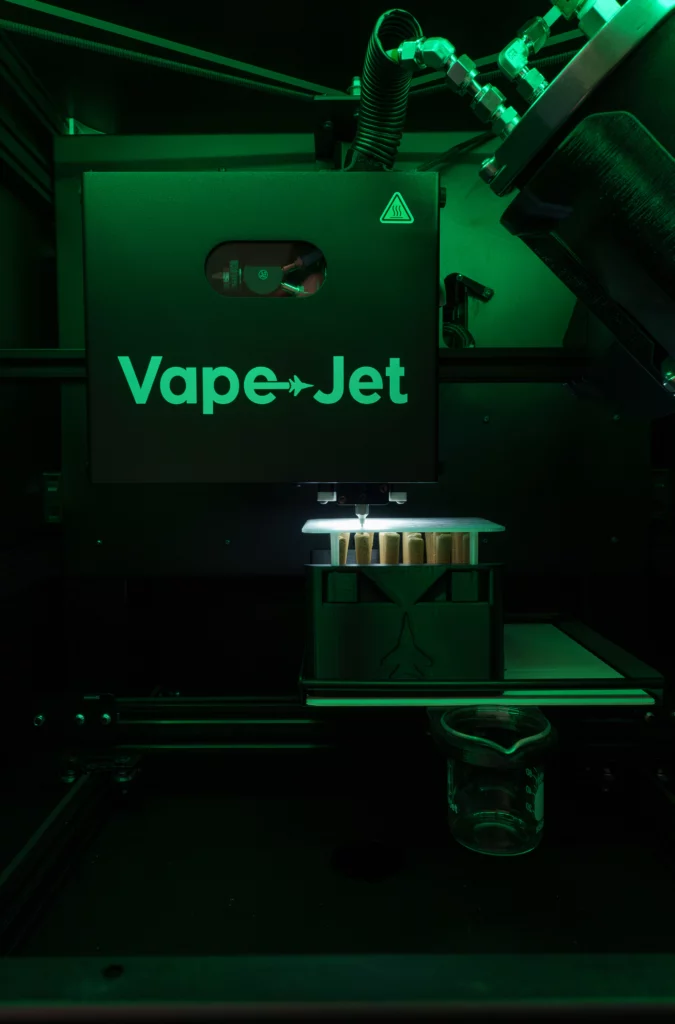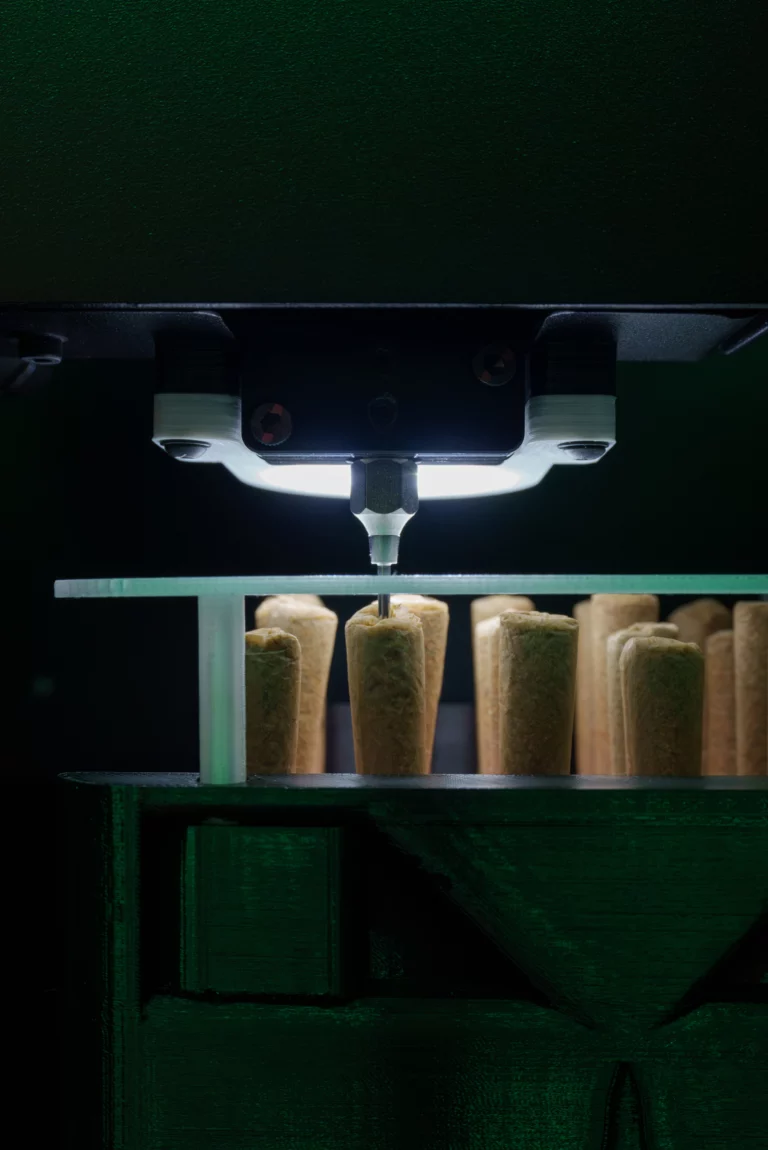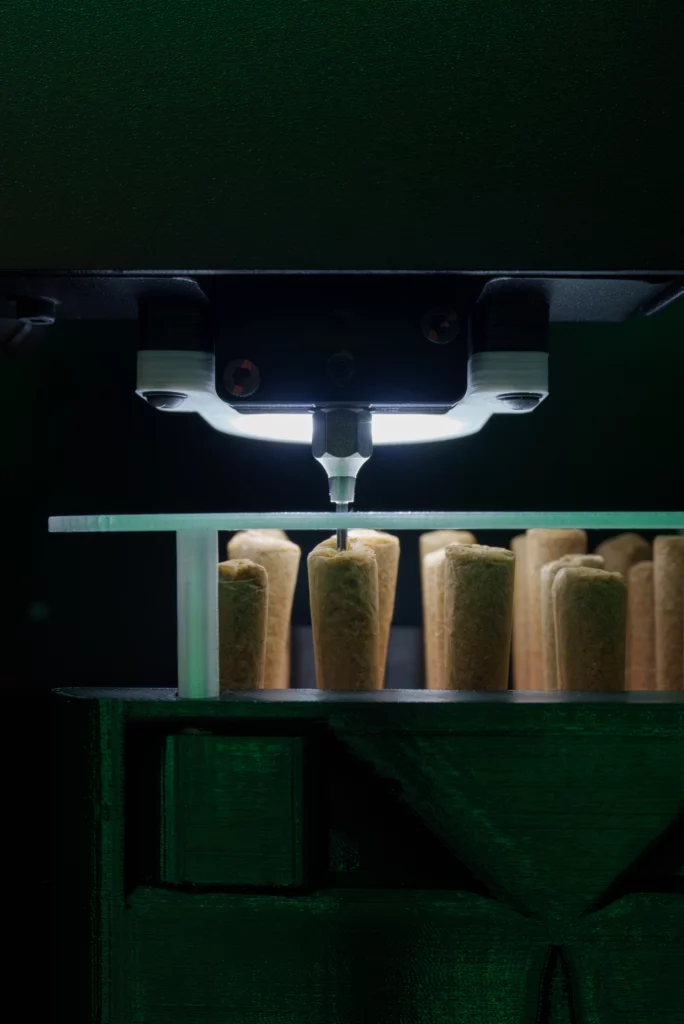 Confirm Your Hardware Compatibility
Want to know if your hardware is compatible with ours? Our support team offers complimentary testing to ensure our machines can accommodate your products. Simply open a ticket at the Vape-Jet HelpDesk, send a full tray to the specified address, and we'll send back a detailed report. If an occlusion jig is needed, our engineers can design, fabricate and validate one in house for your specific hardware.
*Requires Dablicator alignment jig for filling, available to purchase directly from Vape-Jet (Current Vape-Jet customers save $90)
Embrace the Future of Vape Cartridge Production
As the industry continues to evolve, consumer habits change, and new vape products are developed, we assure you that our team will keep pace with these changes. Our software-based platform and unique ability to actively deploy updates to our machines in the field ensure our fully automatic fleet will continue to adapt and innovate.
If your operation isn't quite ready to invest in a fully automated system, we provide an upgrade path from our semi-automatic filling machine. By purchasing a Jet Fueler now, we offer a discount on a Vape-Jet machine when your business is ready to scale. The best part is that you get to keep your Jet Fueler unit and expand your fleet for ultimate filling flexibility.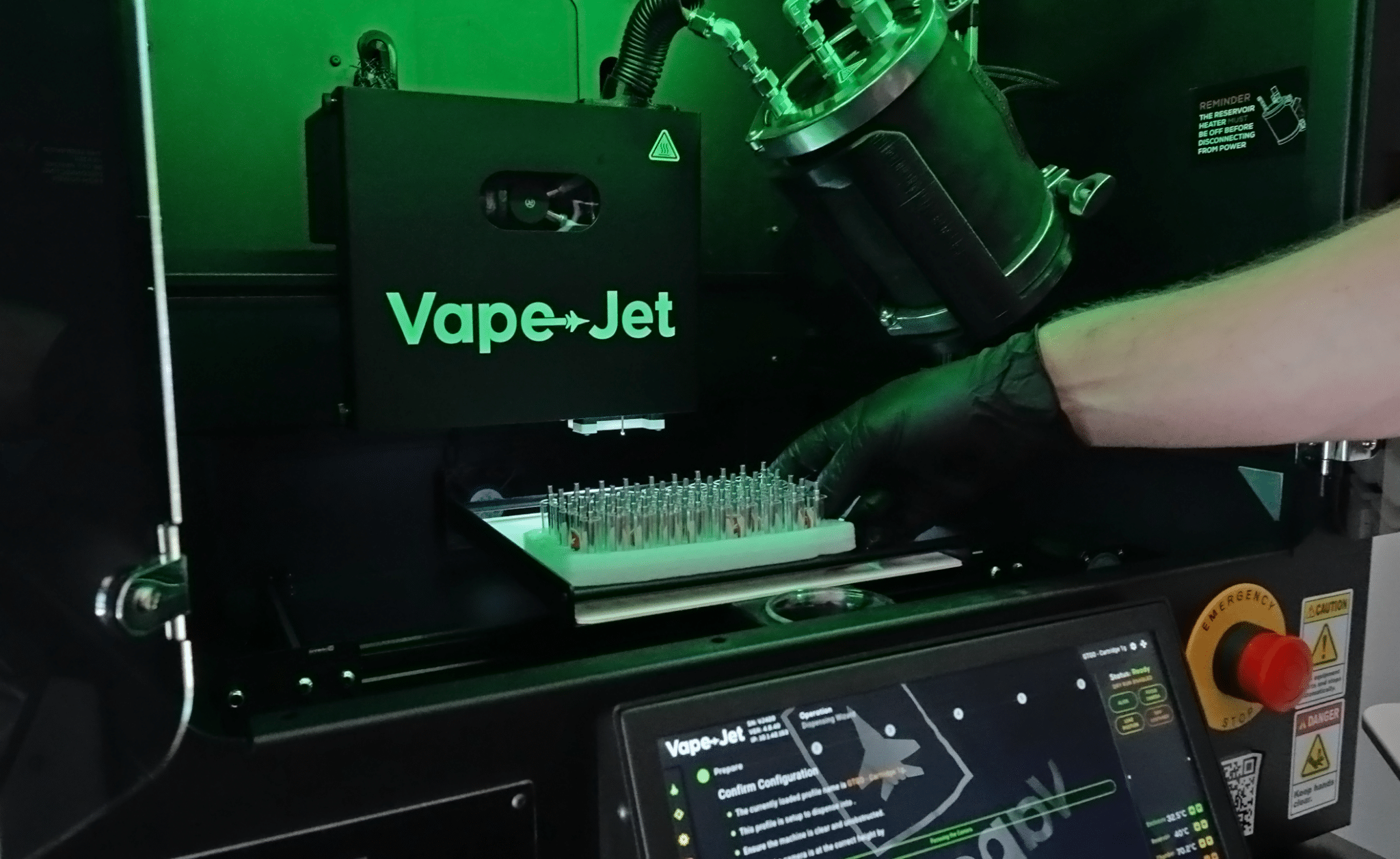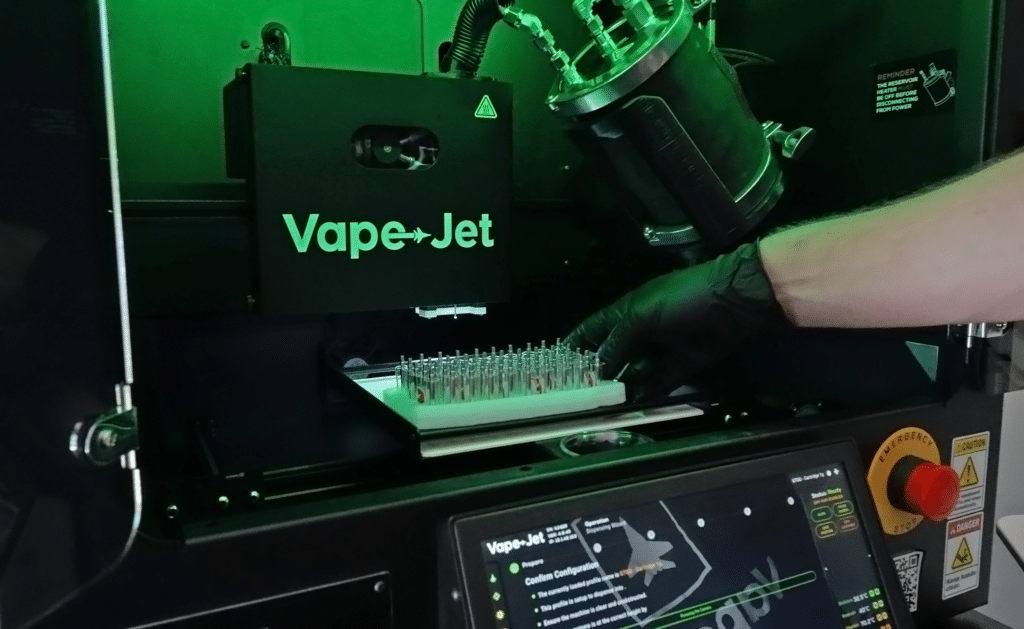 Have Questions? We've Got the Answers 
Curious to find out if your hardware is compatible with ours? Submit a ticket to our HelpDesk for complimentary testing.
Interested in hearing from customers who are actively using our machines? Browse our blog.
Want to learn more about our filling solutions and their features and benefits? Reach out to our sales team.
Don't forget to sign up for our monthly Re:Fill newsletter to get early access to company updates, product releases, and other exciting announcements. Follow us on the essentials, too: Facebook, Instagram, LinkedIn, Twitter, and YouTube.
Think Automation is a Thing of the Future?
This article was developed by an AI copywriter. The future is now, so join the revolution or risk getting stuck in the past. If you're ready to integrate automation into your workflow reach out to our crew with your questions to see what Vape-Jet automation solutions can do for you.