As vape cartridge markets mature and consumers develop more discerning tastes, manufacturers are switching from botanical terpene flavored distillate to true-to-strain cannabis-derived terpene, "live resin" formulations. While this might seem like an easy switch, producing live resin is a complex process that demands, like everything cannabis, we follow best practices.
Who am I to discuss such complexities? Vape-Jet COO Devon Reid, at your service. I am a chemist and engineer with a passion for optimizing workflows and fostering better customer experiences with science.
With the release of our brand-new Vape-Jet 4.0, making vape cartridge filling easier than ever (and since preparing quality cannabis products is my area of expertise), I'm using this space to guide you through the switch to live resin. If you want to produce some pure, Walter White-esque, cannabis cartridges with your Vape-Jet, you've come to the right place.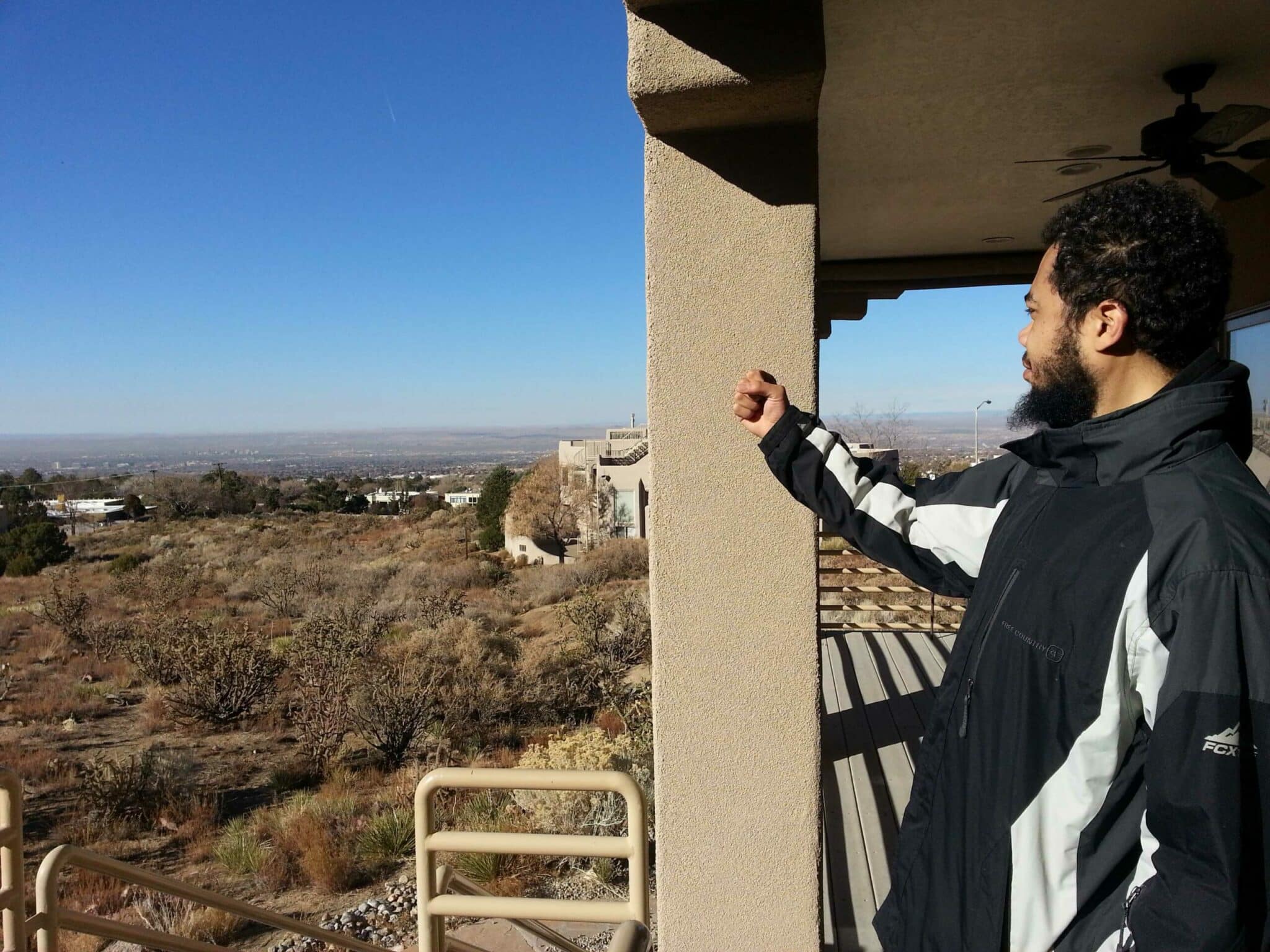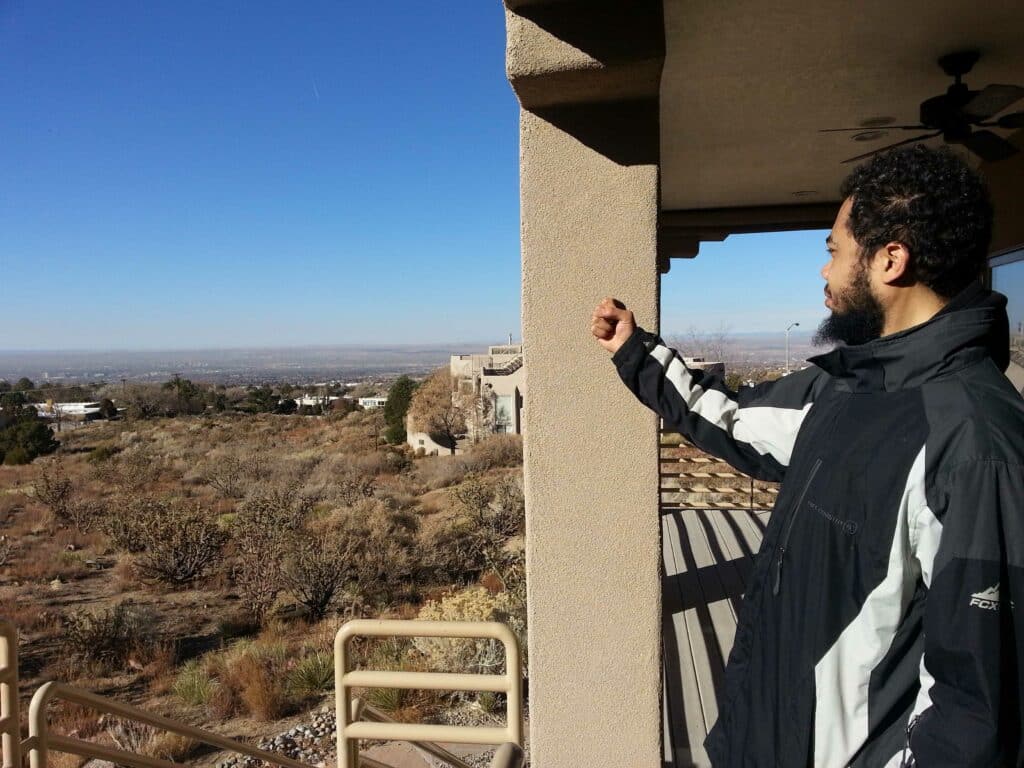 Let's talk chemistry.
Common Problems When Switching to Live Resin
If a manufacturer already produces traditional extract products in-house—via hydrocarbon (BHO) or rosin extraction—the switch to using these products as a feedstock for live resin or sauce cartridges seems simple. Unfortunately, compared to cartridges filled with pure distillate and isolated terpene blends, preparing live resin extracts for vape cartridge production presents unique challenges.


Why are pure distillate operations easier than live resin formulations?
When filled with a Vape-Jet, distillate-based formulations are a breeze. Since THC distillate is incredibly pure (typically over 90%), it performs reliably from batch to batch, especially when formulated with known quantities of isolated, botanical terpene blends. Why? Because THC distillate contains few extraction byproducts, making it thermally and chemically stable.
In short, when we mix distillate with isolated terpenes, there is not much else in the formulation that can change how it behaves under heat and pressure. As a result, the formulation is chemically simple, which is why distillate performs so well during filling.
Because of chemical simplicity and process predictability, Vape-Jet operators can use as little as 50C of heat and 50 to 60PSI of nitrogen pressure. This is almost half as much heat as other vape cartridge fillers, which cannot operate under pressure. With the ideal filling conditions made possible by a Vape-Jet, cannabinoids and terpenes are preserved from thermal degradation and oxidation, ensuring consistent product quality and filling speed.
Unlike simple distillate, live resin and rosin extracts are unrefined, containing a complex mixture of extraction byproducts like lipids, phospholipids, chlorophyll, and carotenoids (in addition to cannabinoids and terpenes). These extraction byproducts result in a highly variable mixture depending on batch, strain, growing conditions, and extraction variables—never a good thing for quality control or scaling your production process.
Why can't you just decarboxylate the extract and start filling?
First, we'll start with the basics. Decarboxylation is the process of removing a carboxyl group from the cannabinoid, converting THCa to THC. Removal typically takes place before or during the distillation process during which vacuum conditions efficiently remove the carboxyl group, in the form of CO2, from the oil.
While it is certainly possible to just decarboxylate bulk extract and fill cartridges, optimal filling parameters will be wildly different because of the variability in batches and strains discussed above. Some cons could be degraded terpenes (burnt taste), degraded cannabinoids (reddish or dark appearance), and reduced filling throughput. In the extreme case, several critical dispensing errors—from pump stalling to bubbly cartridges and lost product—can result.
Can I decarboxylate bulk, unrefined extract without vacuum pressure?
Not a great idea. Without a vacuum, you'll need a very long stirring and heating process to remove CO2. This usually means a substantial loss of terpenes to evaporation and oxidation, muting the flavor and darkening the color of the vape cartridges.
Because cannabinoids are degraded and terpenes are lost, increased oil viscosity results in slower fill times. Furthermore, if this "no-vacuum-decarboxylation process" is rushed, CO2 left in the solution will be agitated during the filling process, potentially leaving cartridges riddled with bubbles in the best case and spilling out of the cartridge in the worst case.
The Solution: Upstream Changes
The complexity of live resin formulations, especially rosin, makes them less predictable than distillate and isolated terpene formulations. For example, live resin formulations with terpene concentrations over 10% are more susceptible to nitrogen absorption under pressure, potentially resulting in bubbly cartridges. As such, it is crucial to implement some upstream processes to prepare unrefined extracts for filling. Such processes control the formulation constituents and reduce variability, resulting in high-quality cartridges with a premium taste and better customer experiences.
Implementing Production Changes: Hydrocarbon Workflows
Since hydrocarbon producers usually have all the equipment for traditional wax, shatter, or diamonds-in-sauce extract production, they are well prepared to implement upstream changes. Yet some of our customers who produce hydrocarbon extract might not be familiar with the "liquid diamonds" approach to preparing extracts for vape cartridge filling machines, a multi-step solution with profound benefits.
Producing Liquid Diamonds
Winterize during extraction to reduce lipids present in the bulk extract. A bit of color remediation media (such as carbon or silica) aids in reducing unwanted compounds in the bulk extract. Processed in this way, THCa crystallizes and separates from the "sauce" (made of terpenes and other compounds). The resulting crystals can be greater than 95% pure (CC: Walter White).
Separate the crystals from the sauce with gravity or assistance from a centrifuge.
Decarboxylate and purge the crystals simultaneously under a hard vacuum, yielding a liquid purer than distillate refined with a wiped film apparatus.
Preserve terpenes by purging the sauce portion of hydrocarbons with low heat and vacuum.
Mix the liquid diamonds and sauce in known proportions (perhaps, 90/10 or 95/5).
A quick note on vacuum purging: as with all vacuum purging processes, when purging hydrocarbons from the separated sauce and decarboxylating isolated diamonds, closely monitor heat and vacuum to prevent foaming and loss of product.
My suggestion: when decarboxylating the diamonds, start at a lower temperature and vacuum pressure until carbon dioxide begins to bubble. Once you have bubbling, slowly increase the temperature and vacuum pressure; the bubbling will start to subside until it ceases entirely. When purging the sauce, use low vacuum pressure and low temperature until the hydrocarbons are below the testing limit; slow and steady wins this race.
What is the filling process like?
When loaded into a Vape-Jet, this formulation behaves much more like a refined distillate and botanical terpene formulation. Why? Because when we separate the sauce and process the diamonds separately, we gain control of terpene content; we reduce batch and strain variability.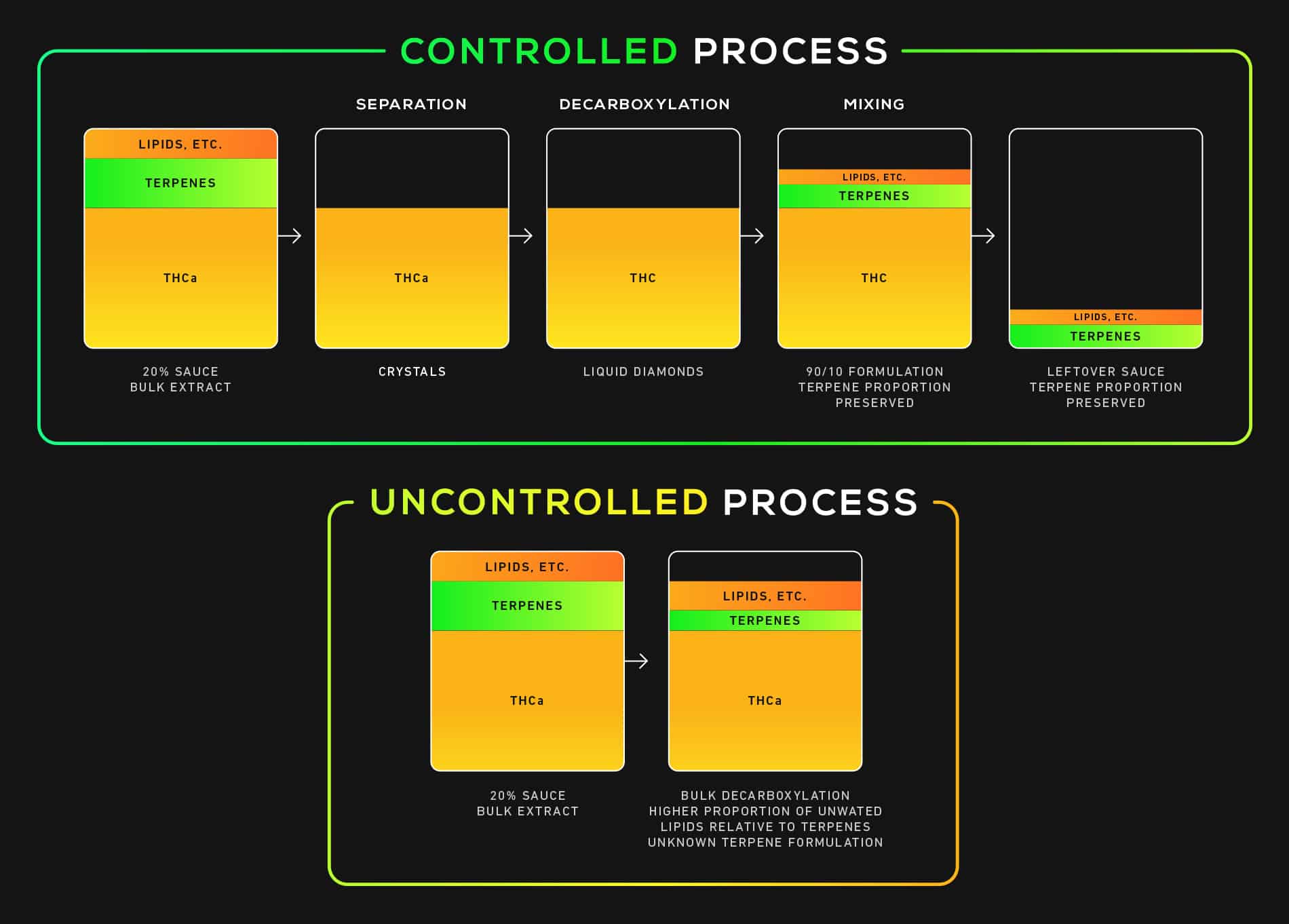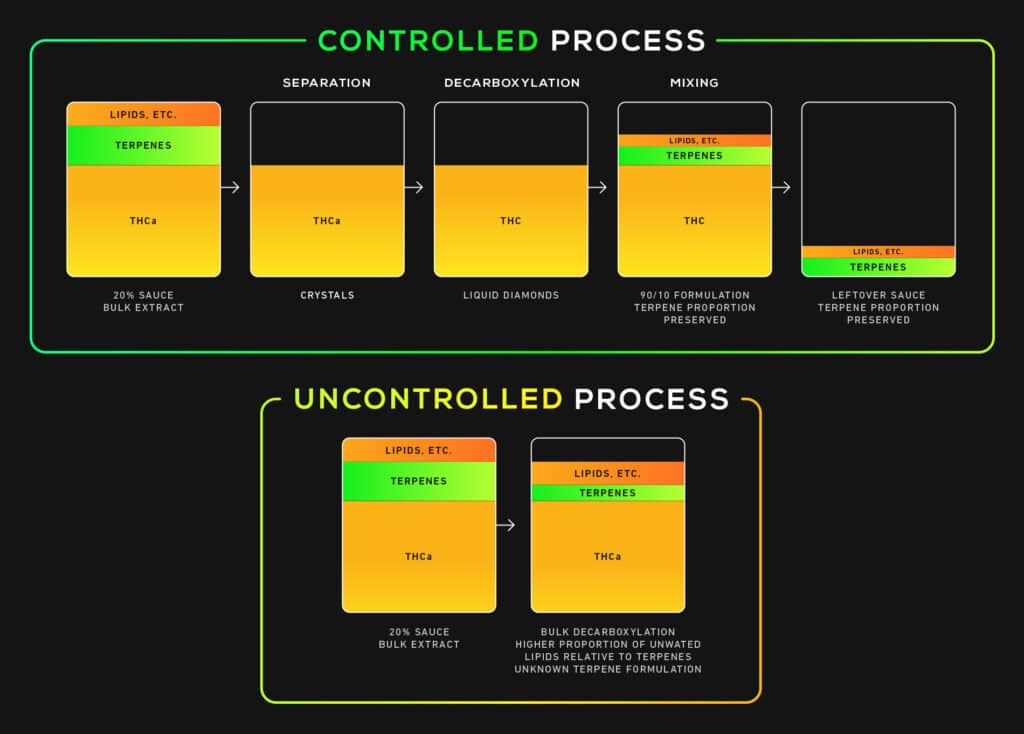 The filling parameters on your Vape-Jet can be milder as well, resulting in a more flavorful and true-to-strain vape cartridge for connoisseur cannabis consumers. The leftover sauce can even be used to flavor more easily sourced cannabis distillates, generating options for a value-oriented SKU targeted toward more budget-conscious consumers.
Distillate-with-sauce cartridges offer huge flavor improvements over botanically flavored distillate vape cartridges and are cheaper to produce than liquid-diamond-with-sauce vape carts. You can also use the leftover sauce in an MCT or coconut oil mixture to make strain-specific, precision-filled edible capsules with your Vape-Jet.
Rosin Workflows
Unlike hydrocarbon producers, rosin producers may have to obtain equipment (like a precision-heated vacuum oven and a centrifuge) that is not common to their process. However, despite needing some equipment, rosin manufacturers can absolutely benefit from implementing a similar methodology for filling vape cartridges.
Are there other differences between hydrocarbon and rosin workflows besides equipment needs?
Since there are no added solvents in rosin (only terpenes), the primary difference is the time needed to crystallize THCa. Due to strain variability, some rosin extracts will crash to crystals faster than others.
Okay, we have our equipment. Now what?
Generally speaking, you should heat bulk rosin under pressure (Rosin Jar Tech) until it begins to liquify and separate. Rather than whipping the extract to a batter-like consistency, process it to obtain larger crystals.
As rosin producers know, rosin-based extracts contain more lipids than hydrocarbon extracts. This is why a centrifuge is especially useful for separating crystals from the sauce. Once separated, the process is similar to the hydrocarbon extraction we outlined above. To recap: fully decarboxylate THCa crystals under vacuum and mix the sauce into the liquid diamonds in known proportions. Since there are no hydrocarbon solvents in rosin, the sauce does not need to be heated or purged after separation.
Now, you can start filling with precision and confidence on your Vape-Jet, knowing your customers will receive a reliable, quality product that will satisfy all cannabis connoisseurs.
Start Filling
Coupled with our Vape-Jet, fully-automatic vape cartridge-filling machine, you can easily fill a variety of high-quality, great-tasting, and highly efficacious cannabis-derived vape cartridges, capsules, Dablicators, and precision-sauce-dosed diamond extracts.
Sound good? I think so too, so why not contact us and optimize your vape cartridge production with the best filling machine in the game.
Don't forget to keep up-to-date by signing up for our monthly Re:Fill newsletter to get early access to company updates, product releases, and other exciting announcements. While you're at it, follow us on Facebook, Instagram, and Linkedin for updates, friendship, and cats.