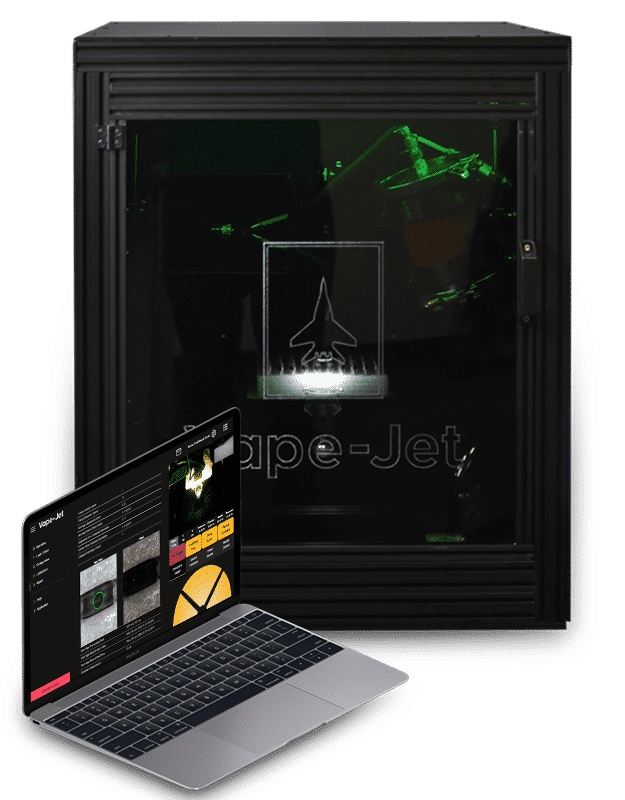 The
Most Advanced

Automatic Vape Cartridge Filling System
The Vape-Jet merges a pharmaceutical grade fluid handling system with advanced machine vision alignment. Able to automatically fill over 500 vape cartridges per hour, with minimal labor input. 
Low Temperature Dispense
Vape-Jet achieves unrivaled temperature control of product with 3 independently programmable heat zones, preserving terpenes and reducing degradation of your distillate, rosin, CO2 or other extracts. Proportional-integral-derivative (PID) algorithms eliminate temperature variations during the vape cart filling process.
Nitrogen Assisted Pharmaceutical Pump
Pressurized nitrogen enables the fluid-handling system of Vape-Jet to easily dispense even the highest viscosity products. Third-party calibrated and certified, the pumping mechanism can quickly and accurately fill any volume from 0.001ml to 5.0ml into your vape cartridges, pods, or capsules.
The Vape-Jet system can be fully cleaned in place using your choice of solvents. Simply fill the reservoir with your cleaning solution, and run the cleaning wizard through the GUI. The full cleanup process takes less than 10 minutes, and is almost fully software automated.
Direct to Tray Filling
The Vape-Jet fluid path is made entirely from PTFE, PCTFE, Viton, Borosilicate glass, stainless steel, and ceramic. Swagelok fitting are used for all connections, and the pump dispensing valve is precision machined ceramic.
Machine Learning
The Vape-Jet is the smartest vape filling device on the planet. Using collected cartridge data and photos, the Vape-Jet automatic vape cart filling software visually inspects for cartridge defects prior to filling, providing traceability down to individual cartridge verification.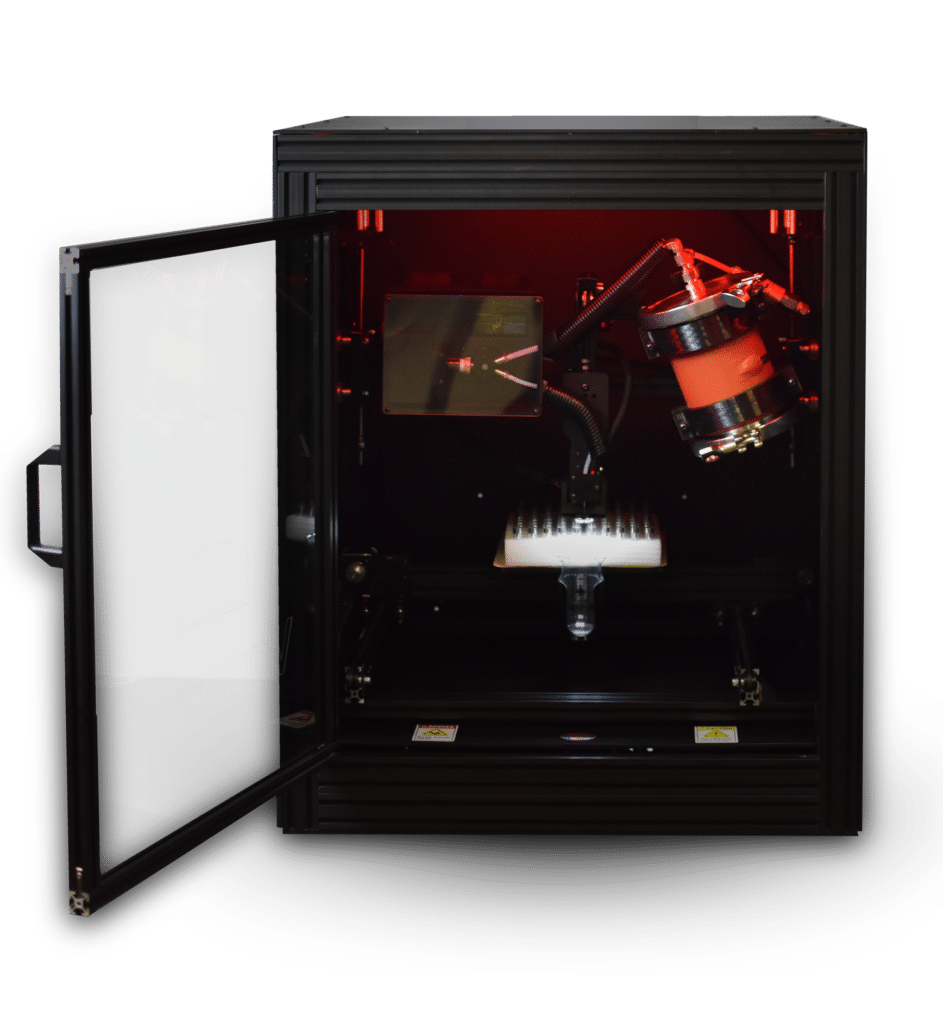 Our expert team of in-house engineers are available for support via live chat from inside the GUI, phone, and email. Our advanced fluid handling system can fill the thickest distillate cartridges. As your company and goals evolve, we will adapt with your vision. We create customized support and maintenance packages to align with current initiatives, and future growth.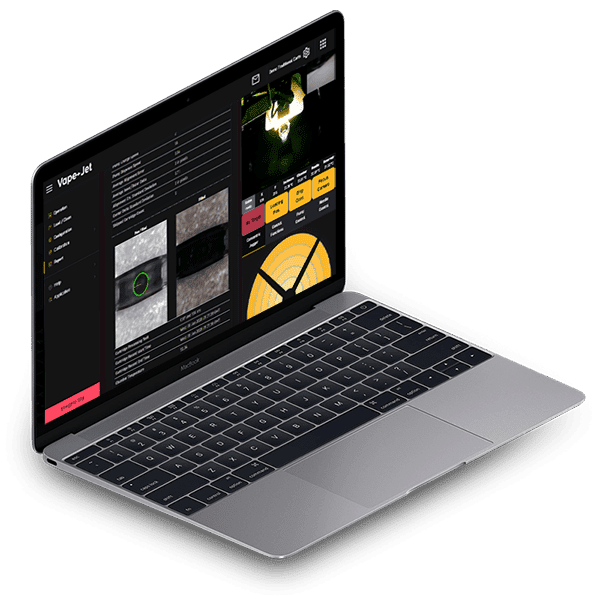 Multiple Configurations
The Vape-Jet system is capable of saving 1,000 different configurations. A master of efficiency, the Vape-Jet system allows each configuration to loaded or updated as needed. Switching between different profiles is simple – and accommodates different product attributes and vape cart styles.
Machine Vision Alignment
The Vape-Jet eliminates the need for costly and time consuming manual labor processes, reducing labor costs. Using our patent-pending machine vision alignment system, you can fill distillate vape carts directly into foam shipping trays. The machine vision system is fully software configurable, and is compatible with a wide variety of cartridges. Optional center-post avoidance identifies the optimal fill location for every cartridge, and decreases labor needed for pre-inspection/alignment.
Data Reporting
Batch tracking and traceability are vitally important in today's rapidly changing environment. Vape-Jet's robust reporting and inspection capabilities are included out-of-the-box. Cartridge filling operations, and pre and post fill inspection photos can be recorded and viewed as necessary.
Live Support
Help and support are built directly into the Vape-Jet interface. The GUI includes a live-chat window that connects you directly with the Vape-Jet engineer support team. At your request, the Vape-Jet support team can remotely view system configurations, operational data, and error logs to quickly troubleshoot issues.
Web Interface
The Vape-Jet system is operated from any internet capable device, including MacOS and Windows desktops, laptops, tablets and phones (iPhone & Android). Multiple Vape-Jet systems can be run from a single device – allowing a single operator to keep up to five systems going at full capacity.
Active Deployment
Every aspect of the Vape-Jet is software-controlled, and improvements are available via internet updates. The Vape-Jet team regularly adds new features and custom modifications to the software system – including those received as direct customer feedback.
Center Post Avoidance
Pre-Inspection of cartridges is now obsolete, Vape-Jet easily detects and avoids bent center posts. The Vape-Jet can even be configured to flag and skip over vape cartridges that are out of specifications.