What better way to enjoy New England's Fall foliage than paying a visit to our good friends at Fernway in Northampton, Massachusetts? As creators of Massachusetts' 1st recyclable cannabis vape—The Traveler—and long-time Vape-Jet customers, it was only fitting that we caught up during the changing of the seasons to discuss—well, change.
Vape-Jet CEO, Developer, and Founder, Ryan Hoitt sat down with Fernway's COO and co-founder, Kevin Wu, to see how things are going. Read on to learn about Vape-Jet and Fernway's ongoing collaboration, the move to sustainable industry practices, Vape-Jet tips and tricks, and more:
The Vape-Jet Experience
Since their founding in February 2021, Fernway has used Vape-Jet cartridge-filling machines to ensure they maintain high QA standards and have scalable technology to grow with their business. Starting with our Jet Fueler semi-automatic vape cart filler in 2021, Fernway is now up to five Vape-Jet fully-automatic cartridge-filling machines, four of which operate side-by-side in their Northampton facility.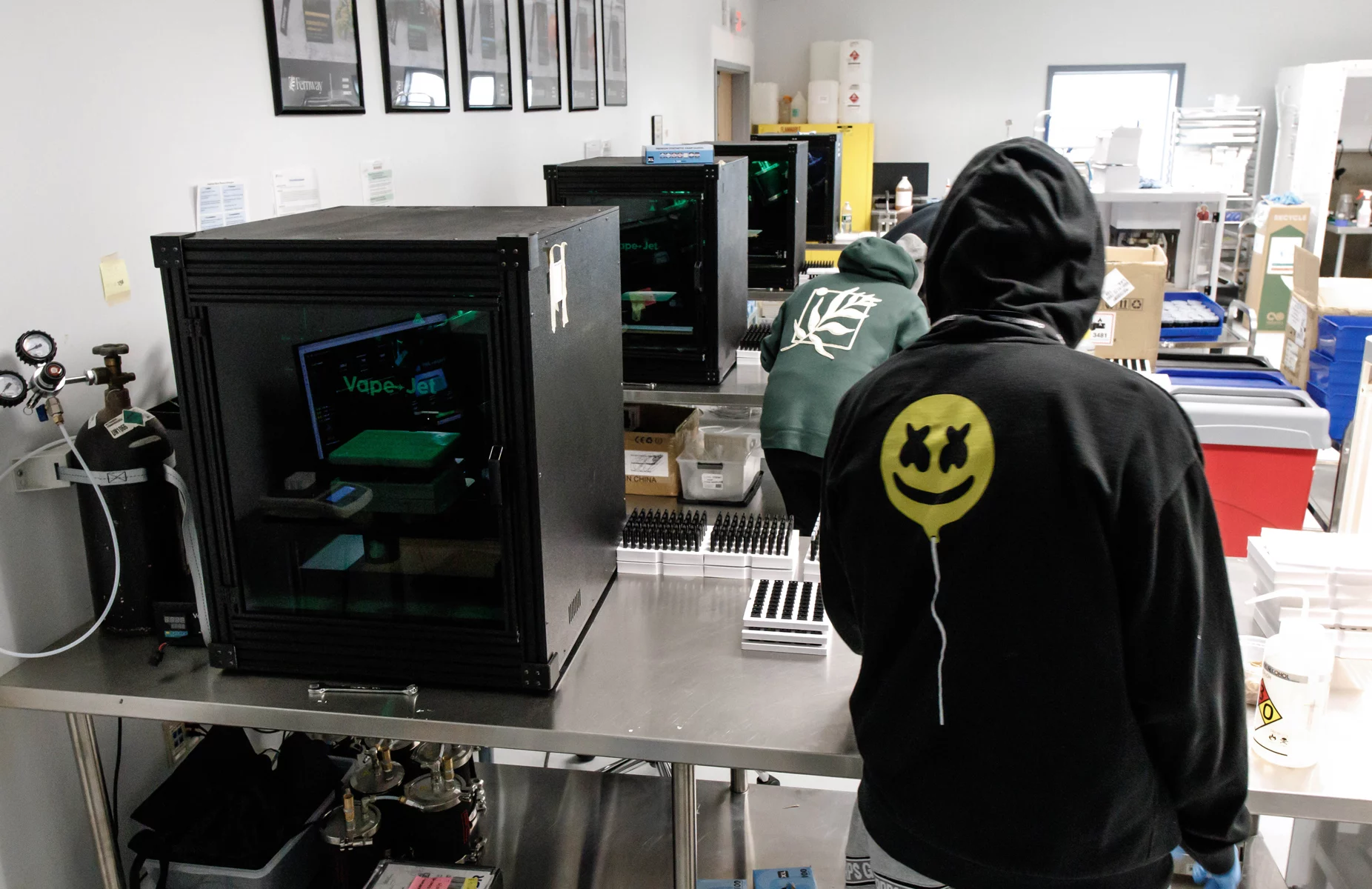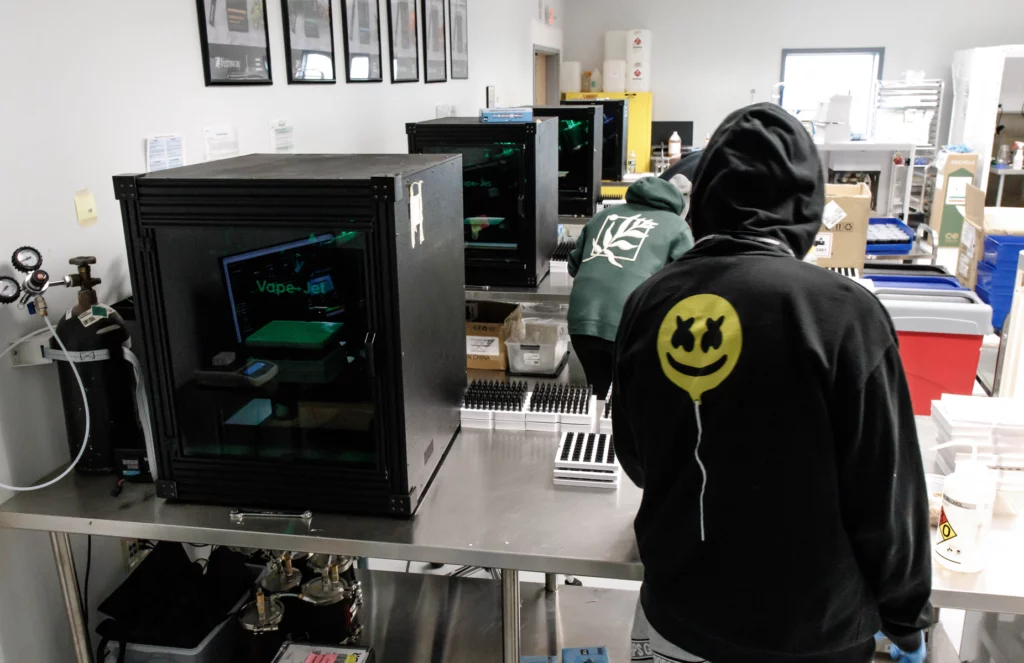 "How did you learn about Vape-Jet?"
"It must have been on the internet somewhere… We were just four guys in a house at that time, and we didn't have the money to spend on a fully automated, big fancy machine," Kevin says. After testing and evaluating almost every machine on the market, Kevin came across the Jet Fueler — "It was a perfect fit for what we needed and a great machine to learn about oil paths and how distillate and cannabis oil can move through PTFE lines and reservoirs."
During those early days, Vape-Jet and Fernway went through the growing pains of high-throughput manufacturing together, allowing both businesses to grow and learn from one another. "You gave us a lot of feedback on things that needed improvement," Ryan says.
"Yeah, I think you make it sound a little worse than it was," Kevin jokes. "I will say that the [Jet Fueler] was repeatable and that was key for us because we wanted to bring a high-quality, consistent vape product to market."
When Fernway did run into an issue, Kevin opened a support ticket, and the Vape-Jet support team would stay on the phone until they resolved the issue. "That gave us a lot of peace of mind," Kevin adds. "If there was an issue with the machine, we wouldn't be left stranded."
"In my opinion, we've had a really collaborative relationship," Ryan says. "A lot of our recent software upgrades—in terms of data reporting, batch records, and whatnot—were direct suggestions from you."
"I see us as fellow travelers and kindred spirits in that our products and companies are becoming larger and more sophisticated, and we have to grow together," Kevin says. "That can only happen if we're sharing information back and forth."
After eventually scaling to three Jet Fuelers, Fernway upgraded to the fully-automatic Vape-Jet. "Now, we have five of them," Kevin says.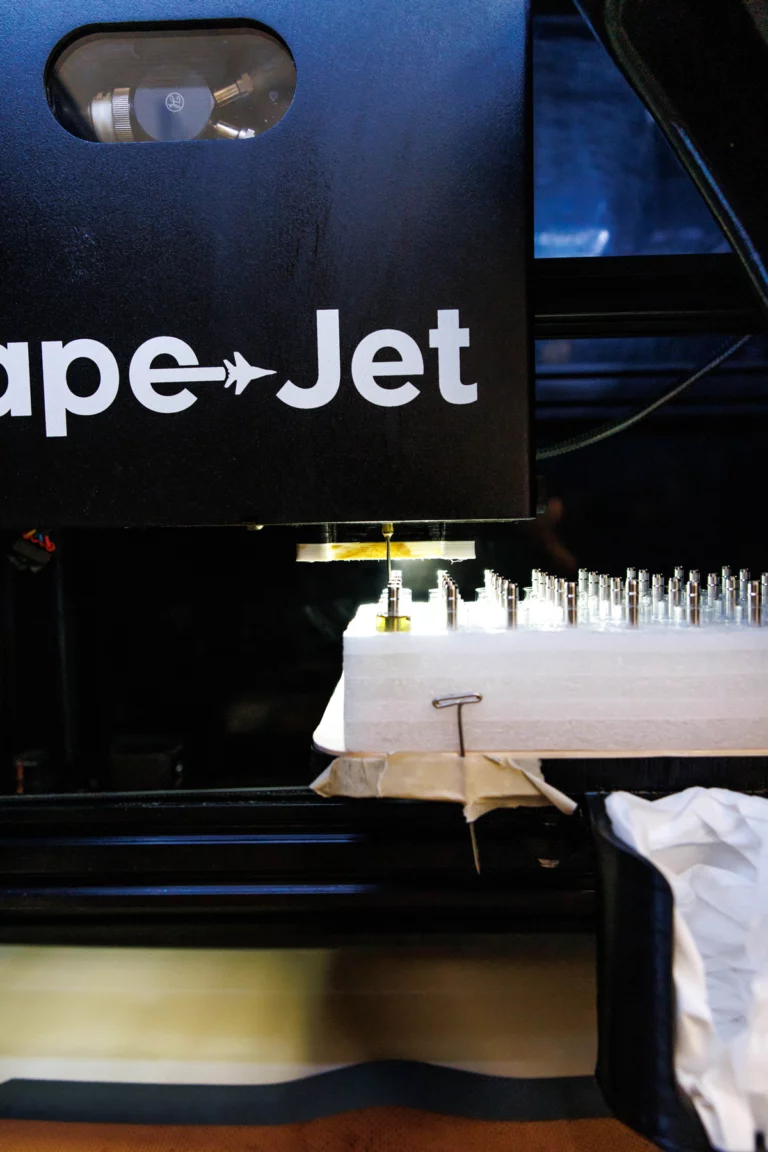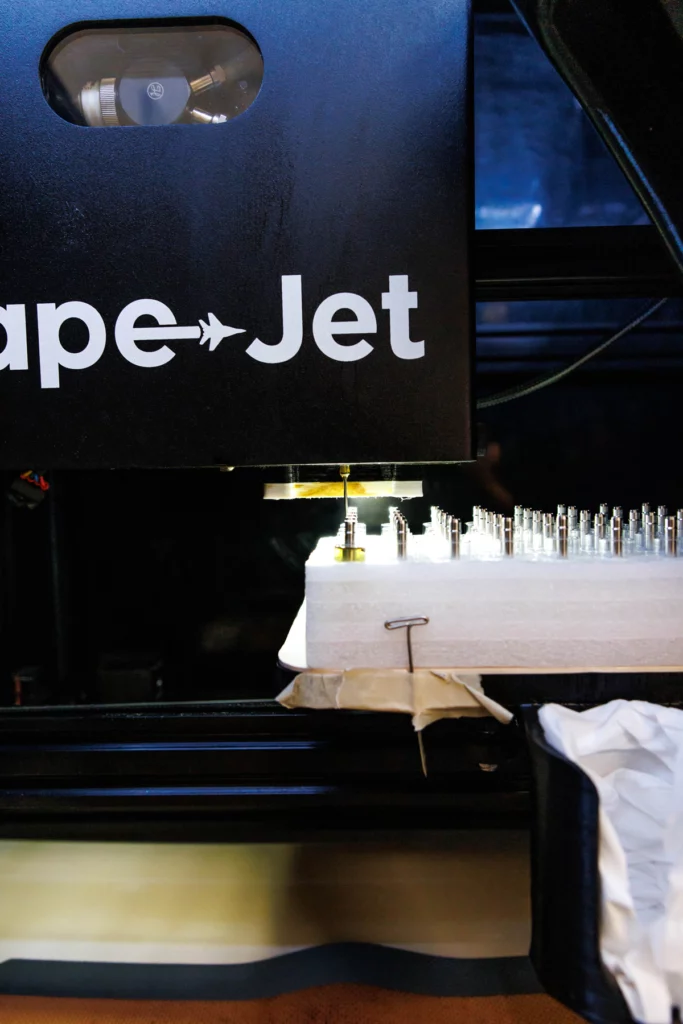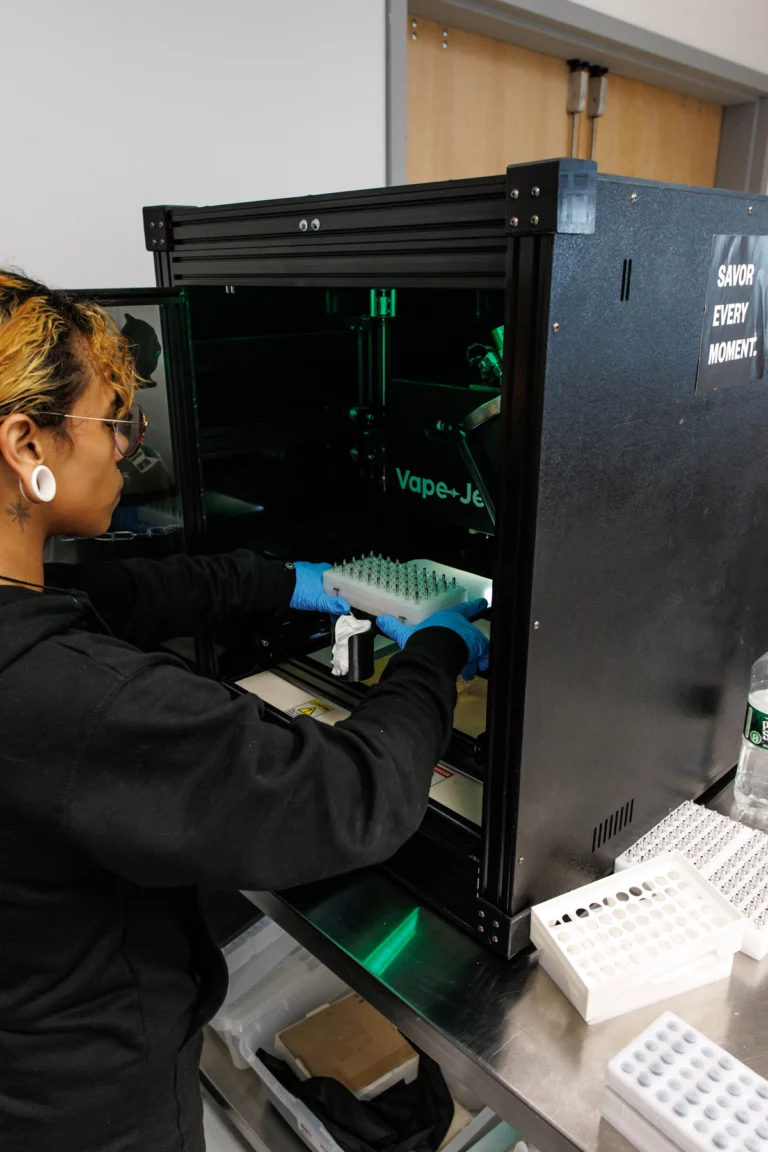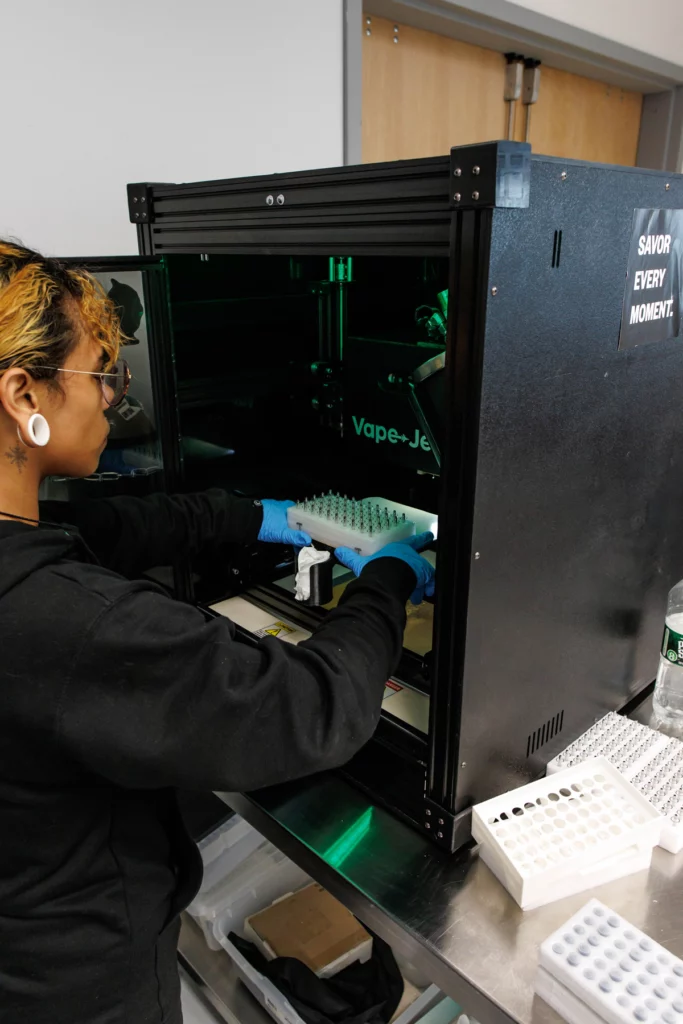 Growing Together: Switching to a Fully-Automated Workflow
After realizing their business was scaling too quickly to fill every vape cartridge manually under a needle, the Fernway team realized it was time for some automated assistance.
"The transition was actually fairly easy because of how familiar we were with the Jet Fuelers," Kevin says. "The Vape-Jet team helped create profiles that are unique to each piece of our hardware." So, whether Fernway is filling their 510 half-gram vape cartridges or one of their Traveler sizes, a customized hardware profile is ready to quickly and accurately fill to spec.
"Beyond setting up those initial profiles, the process of loading the reservoir into the machine, pressurizing the machine with the nitrogen assist, [and] setting the temperature zones was all very familiar to us," Kevin continues. "It was big relief when we saw that platform and the needle moving around, and we knew we didn't have to fill those cartridges one by one anymore."


Scaling and Sustainability—Friends at Last
Now selling half and full-gram 510 vape cartridges and Massachussettes' first recyclable vape cartridge, the Traveler (available in 0.3 and 0.7-gram sizes), Fernway is moving the industry toward more sustainable practices that consumers demand.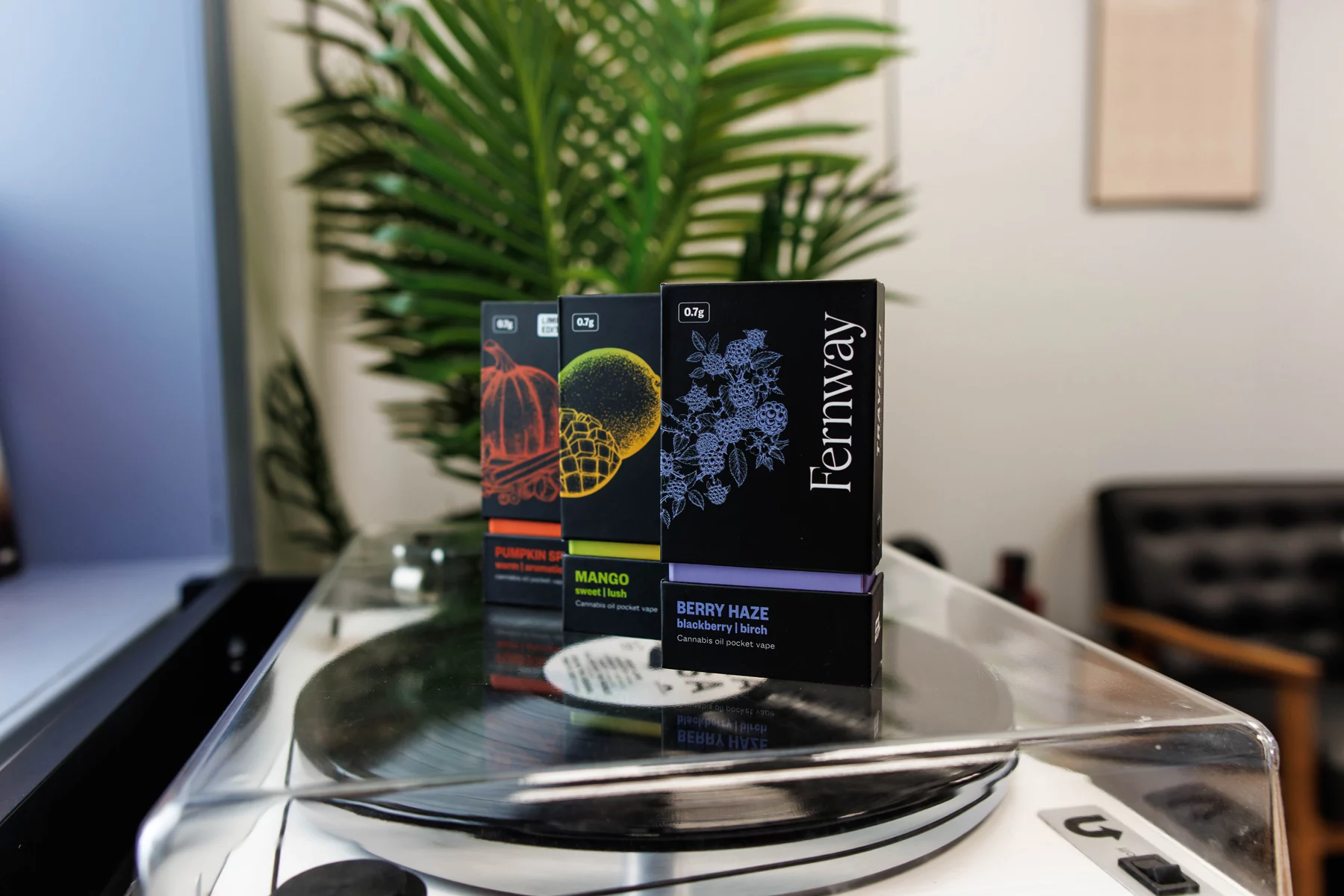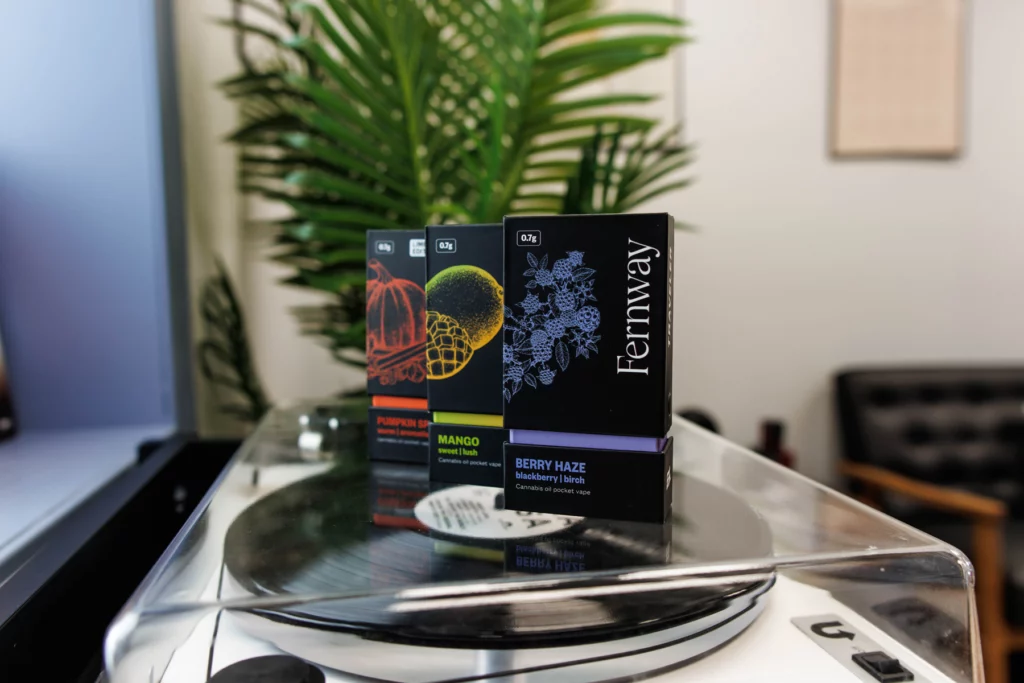 "We've been seeing a lot of movement in the market away from 510s toward more disposable packaging," Ryan Hoitt says. "Could you tell me the challenges involved with setting [the Traveler] up?"
"We saw the same [trends] you did," Kevin Wu agrees. "Customers really enjoy the all-in-one form factor with the oil and the battery connected, but we didn't like the environmental impact of that product form."
The solution? Fernway found a recycling partner. "After one of our recyclable [vape cartridges] are spent, [and] the oil is consumed, the customer can bring [the Traveler] back to where they purchased it and deposit it in a recycling box."
A few times a year, after the Fernway team collects all the recycled Traveler vapes in their facility, their recycling partner collects the spent devices, dips them into liquid nitrogen, then pulverizes them. "Then they heat it to recover different materials found in the devices," Kevin says.


An Innovative Trio: Vape-Jet, Fernway, and Cilicon
"So, I know with the Traveler you've been working with Cilicon as the hardware manufacturer," Ryan says. "Can you describe the experience of developing and launching that product with such a tight feedback loop between their team, the Vape-Jet team, and yourself?"
"We selected Cilicon as our all-in-one hardware vendor almost a year ago," Kevin explains. "We went through several rounds of testing and decided that the performance and the profile of [their] product was exactly what we wanted. The missing piece was 'how are we going to fill these at scale?' That's when we reached out to you."
When Fernway decided to launch the Traveler, they sent photos of the device and asked if our team could get a Vape-Jet to fill them. "To my surprise—and to our good luck—you were already in contact with [Cilicon] and we were able to design a custom jig which was rapidly prototyped by the Vape-Jet team," Kevin says. Within a week of that discussion, Fernway validated their new product's workflow with Vape-Jet automation, ensuring they would not have to invest in additional equipment.
A few months later when the devices arrived, they came with additional jigs based on Vape-Jet's initial prototype. "Now, we're selling tens of thousands a month," Kevin says. "I would categorize [the Traveler] launch as smooth as [a product launch] could possibly go. So I think that's a credit to you and a credit to the Cilicon team."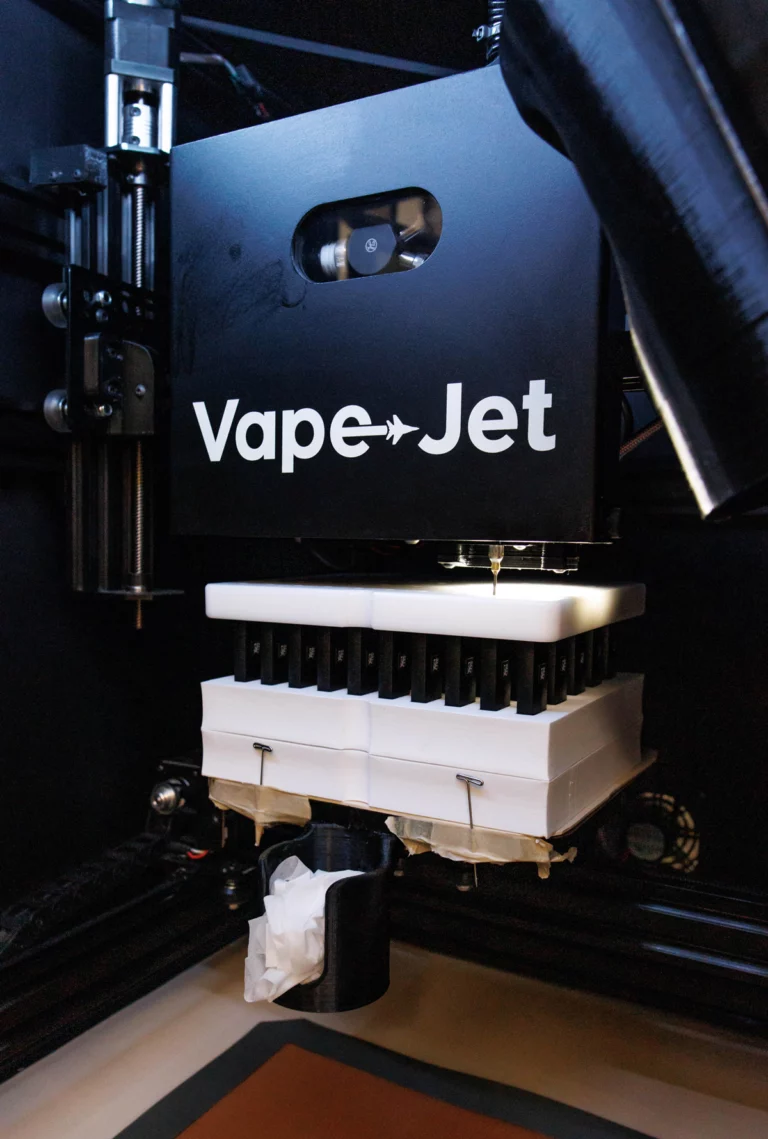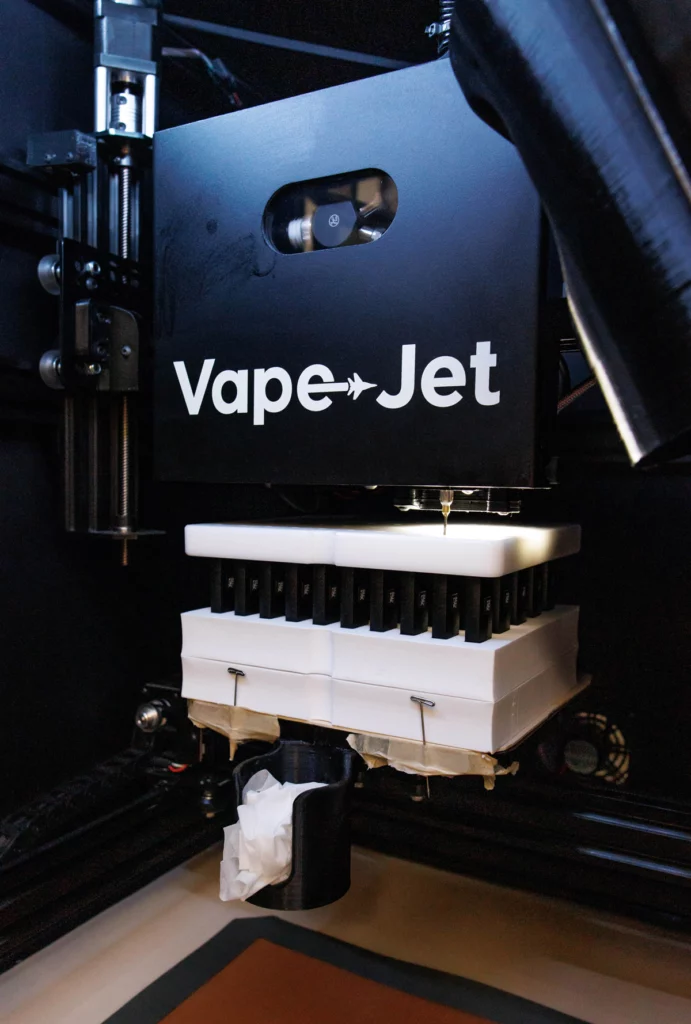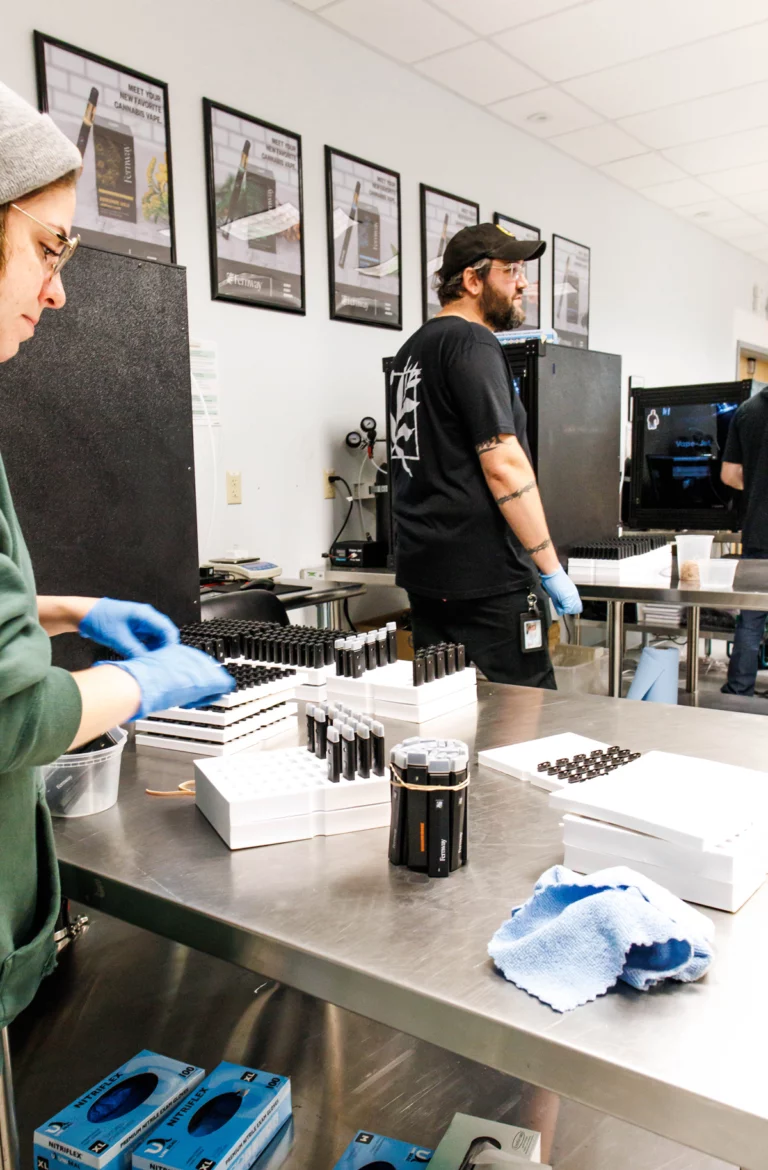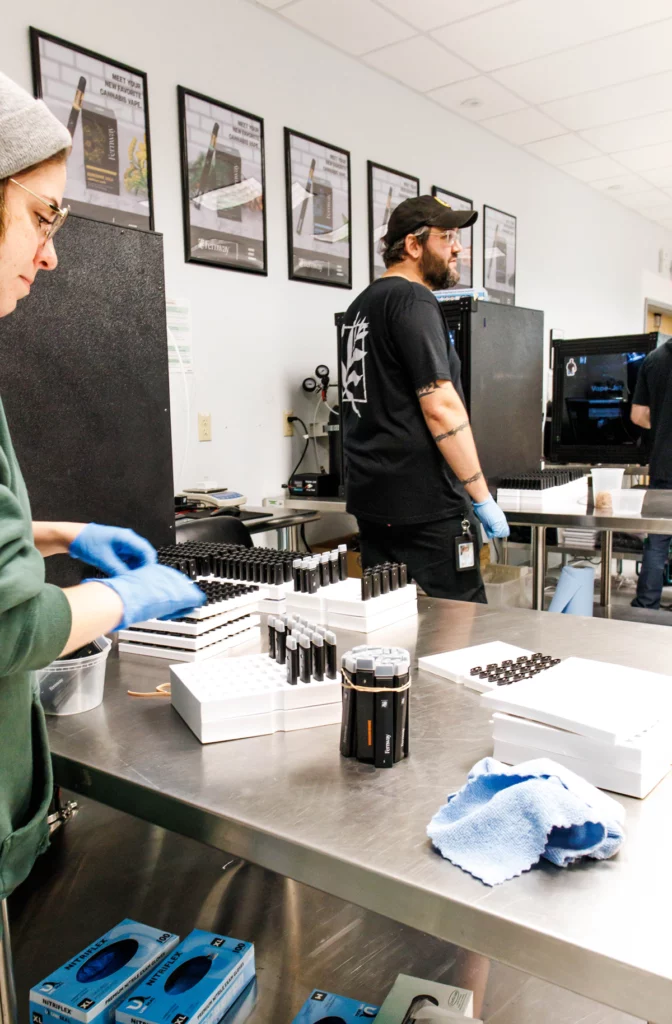 Kevin's Vape-Jet Tips and Tricks
'Keep the machines clean!': "Make sure you're fully cleaning out the reservoirs after every batch." Kevin highlights the importance of running isopropyl alcohol through the PTFE lines to ensure operators won't encounter residual oil from the previous batch.

'Take it slow!': "Once the [Vape-Jet] is up and running, it's filling a tray of 100 vape cartridges in five or six minutes. There's no reason to rush the manual parts of the process along."
The Power of Partnership
"I really do appreciate our partnership here. I feel like, even though you're across the country, we've got a partner that's not going to leave us stranded. If we have a problem, I know someone on your team will help us, and you'll take the time and clear out the schedule. That's so rare to find out in the market."
"It's been amazing to watch your business grow," Ryan says. "It's been one of the highlights of my career to be able to be that partner in this and just work with you guys. And yeah, we're a solutions provider, but that feedback loop and the connections we've made over the past couple of years… it's been a highlight of my career, so I really appreciate it.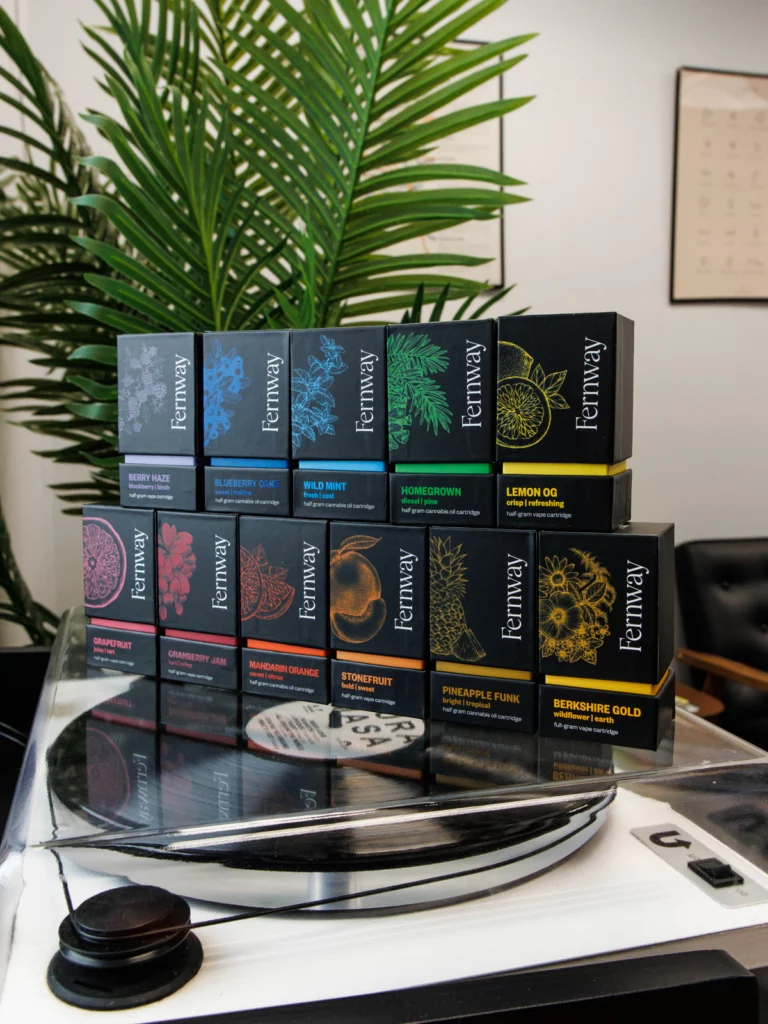 What's next for Fernway?
Kevin mentions a new seasonal pumpkin spice flavor for their Traveler (released in October) and launching a line of live resin vape cartridges for the ultimate cannabis experience.
Want to share your Vape-Jet story?
Reach out to our crew and let them know you're ready for your customer feature. Check out our other customer success stories: C3 Industries, True North Collective, Terrapin Care Station.
If you are interested in providing the highest-quality product for your customers, reach out to our crew to learn how Vape-Jet can provide next-level products for your customers.
While you're at it, don't forget to sign up for our monthly Re:Fill newsletter to get early access to company updates, product releases, and other exciting announcements. Follow us on the essentials, too: Facebook, Instagram, and LinkedIn.