Introducing the Vape-Jet Hardware Partner Program
At Vape-Jet, our team has spent the last four years developing our filling technology to create the most versatile, advanced vape cartridge-filling machine on the market. With compatibility being a major demand in the industry, we've focused on delivering the ultimate freedom of choice for our customers. That's why our filling machines work with many styles of 510 cartridges, pods, and disposables, so our customers can make their vape hardware selections with confidence.
But why stop there?
So far, we've chosen to recommend hardware manufacturers based solely on our customers' experiences. And while our customers provide valuable feedback, we decided to take things a step further and really dial in compatible hardware vendors to assure the highest quality filling operation for Vape-Jet users. With the new Vape-Jet Partner Program, we've done just that.
Vape-Jet hardware partners are thoroughly vetted by our team, extensively QA-tested in the field, and are dedicated to optimizing their hardware to run seamlessly on our equipment. With this program, we will provide a comprehensive, one-stop solution for all your vape production needs, from hardware to filling to capping. This is the future of vape cartridge production.
Our First Official Vape Hardware Partner: CILICON
What makes a true partnership work? A shared set of values and the desire to achieve more together. By partnering with CILICON, we recognize a company with a similar drive for innovation and technology that made our equipment so successful in the field. Equally as important, CILICON shares our belief that by working together, rather than competing, we can do more to help our customers achieve success.
By focusing our efforts on collaboration, we combine our industry-leading automated filling machines with CILICON's extensive product catalog and enhanced market analysis to inform future hardware designs. But that's not all. With guaranteed hardware compatibility and standard operating procedures, your vape-filling experience has never been easier or more efficient.
Together, CILICON and Vape-Jet provide an Integrated Vape-Filling Solution.
Elevating Your Vape Cartridge Production Together
Vape-Jet
Premier vape-filling automation technology
Innovation driven product design and development
Industry-leading proactive product support, data analytics, and fleet management
Vape-Jet x CILICON
Driven by Technology—two businesses built on a foundation of independently-developed equipment and informed by real-world data analysis.
Cannabis Synergy—end-to-end vape cartridge services.
Customer Focus—market research and hardware alignment solve equipment problems faster and make your life easier.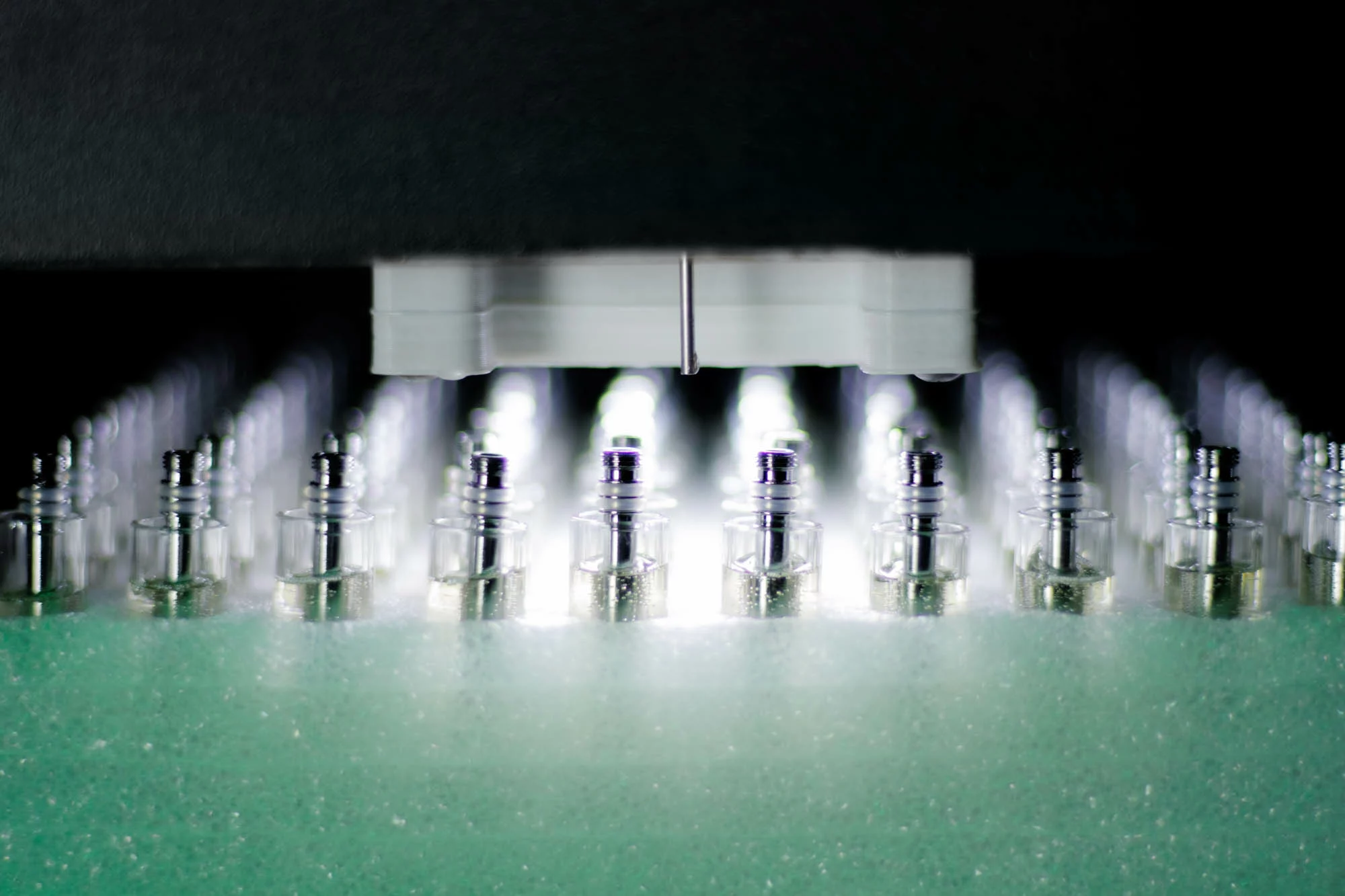 Work Smarter by Working Together
Integrated Services: Comprehensive product solutions
Optimize your vape-filling process with confidence using Vape-Jet x CILICON as a one-stop solution for all your production needs, from filling to capping, with the flexibility of choosing a fully-automatic Vape-Jet or semi-automatic Jet Fueler.
Streamlined Workflow: Reduced communication, manufacturing, and labor costs
Cutting out the middleman and working together directly creates the ultimate cost-effective workflow with fewer delays and lower communication, manufacturing, and labor costs.
Guaranteed Compatibility: Confirmed hardware integration
Our teams have worked tirelessly to set and confirm optimal hardware compatibility, so you don't have to. See compatible hardware.
Standardized Operating Procedures: Tailored hardware support
Effortless filling begins with automated workflows and precise documentation specifically for each hardware type.
Unified Mission: Collaboration over competition
Why waste time and energy competing when we can achieve better results together? As strategic partners, our sole focus is customer success.
Cutting-Edge Innovation: Driven by technology
Two businesses built on a foundation of independently developed equipment and informed by real-world data analysis.
How Vape-Jet x CILICON Supported Fernway's "Traveler Collection"
At Vape-Jet, we want the best results for our customers. That's why real-world success is one of the most important components of our new Hardware Partner Program. Recently, we worked with CILICON on the successful release of Fernway's new Traveler collection.
Who is Fernway? Fernway is a cannabis oil and hardware provider located in Northampton, Massachusetts. Partnering with CILICON to design the ultimate recyclable, all-in-one cannabis vape makes perfect sense when you consider Fernway's emphasis on providing high-quality cannabis products. Since Fernway is also a devoted Vape-Jet user (we said they 'emphasized providing high-quality cannabis products,' right?), we reached out to get the inside scoop.
Q. What product launch did you develop with CILICON and Vape-Jet?
A. "This month, Fernway launched the Traveler Collection, Massachusetts' first recyclable all-in-one vape product, available in 0.3g and 0.7g sizes."
Q. What challenges did you face during this process, and how did these brands work together to help you overcome them?
A. "Despite the new form factor, the CILICON and Vape-Jet teams worked together to rapidly design and produce a custom filling solution that allows us to fill the TRAVELER devices just as efficiently as our 510 cartridges."
Q. What was your customer experience while bringing this product to market?
A. "CILICON and Vape-Jet have both supported Fernway with excellent customer service by being responsive to issues and proactively working with us to improve our product and processes. Any time we have an issue with our equipment, the Vape-Jet team is just a phone call/video call away to resolve our issues, and their ability to remote into the machines from their office has proved invaluable to diagnose new issues."
"By having Vape-Jet and CILICON work together to launch the Traveler, we were able to shorten our launch schedule by more than 6 weeks."
#notadroptowaste
As your integrated vape-filling solution provider, CILICON x Vape-Jet are determined to protect your oil with the finest hardware because, when it comes to filling oil, there is #notadroptowaste.
If you are interested in becoming another success story and providing the highest-quality product for your customers, reach out to our crew to learn how CILICON and Vape-Jet can work together to elevate your vape-filling operation.
While you're at it, don't forget to sign up for our monthly Re:Fill newsletter to get early access to company updates, product releases, and other exciting announcements including more CILICON x Vape-Jet customer features to come. Follow us on the essentials, too: Facebook, Instagram, and LinkedIn.