Optimizing Your Cartridge-Filler with Our Six Star Service
When it comes to investing in technology, especially automated technology, it can be difficult to put a price on product support. In the cannabis industry, moving to vape cartridge automation can feel like a big step with many unknowns. Luckily, with Vape-Jet, you're never flying solo.
With our Six Star approach to product service and support, we work with our customers to improve their workflows, troubleshoot issues, predict maintenance needs, and even integrate their design suggestions into our machines. We believe pairing our advanced cartridge-filling technology with fast, accessible product support is the best way to ensure every person involved, from vape producer to end-user, is satisfied.
See how our Six Star approach affects our customers and streamlines post-sales support:
Consultative Approach
Sales
What is a consultative approach? For us, it means building an informed relationship with our customers that takes a holistic view of their operation. This relationship begins with our sales process, which focuses on your business's particular needs. In fact, we won't suggest investing in a Vape-Jet fully automatic cartridge-filling machine unless it's the right fit for your production demands.
As part of our consultative approach, we leverage the combined knowledge and experience of our team to discuss not only your filling and packaging needs but your hardware challenges and process bottlenecks. Our aim—through our vape cartridge-filling machines and industry experience—is always to increase the efficiency of your entire production. Our resident cannabis chemist, Devon Reid, will even diagnose your product formulations or extraction process and offer suggestions for improvement.
Post Sales
Shipping your brand new fully-automatic Vape-Jet, semi-automatic Jet Fueler, or Squish-o-Matic 1000 is only half our sales process. The other half begins when the equipment ships to your facility.
Our dedicated product support team will guide you through onboarding and shipping. So, when your machine arrives, your team is prepped and ready for installation.
The Vape-Jet HelpDesk allows you to submit support tickets, coordinate remote installations, request hardware compatibility reports, report errors, schedule meetings, and more.
You'll receive unlimited training and hardware calibration assistance
Did we mention that our industry-leading Vape-Jet support team boasts same-day response times? And that's just the beginning of getting your filling process on the right track.
Remote Access
There is nothing quite like hands-on technical support when you need it most. That's why—in addition to its machine vision alignment camera—each Vape-Jet fully-automatic cartridge-filler comes equipped with an internal system overview camera.
Using the system overview camera in conjunction with Microsoft Teams, our engineers will walk you through installation, training, machine calibration (per your specific oil needs), and any support needs as if they were physically by your side. That means no matter where your operation is located, our expert team of in-house engineers can diagnose and troubleshoot machine errors and misconfigurations.
Proactive Maintenance
When it comes to automation, you want to partner with a business that cares about constantly improving their machines in the field. With advanced platforms like our Vape-Jet fully-automatic and Jet Fueler semi-automatic cartridge-filler, our technical team can actively manage and support our entire fleet of machines from HQ. This means we are constantly reviewing data reports, analyzing equipment configurations, looking out for repeat errors, and guiding businesses on how they can optimize the performance of their machine. In short, with proactive guidance, our team saves your operators from wasting time and product.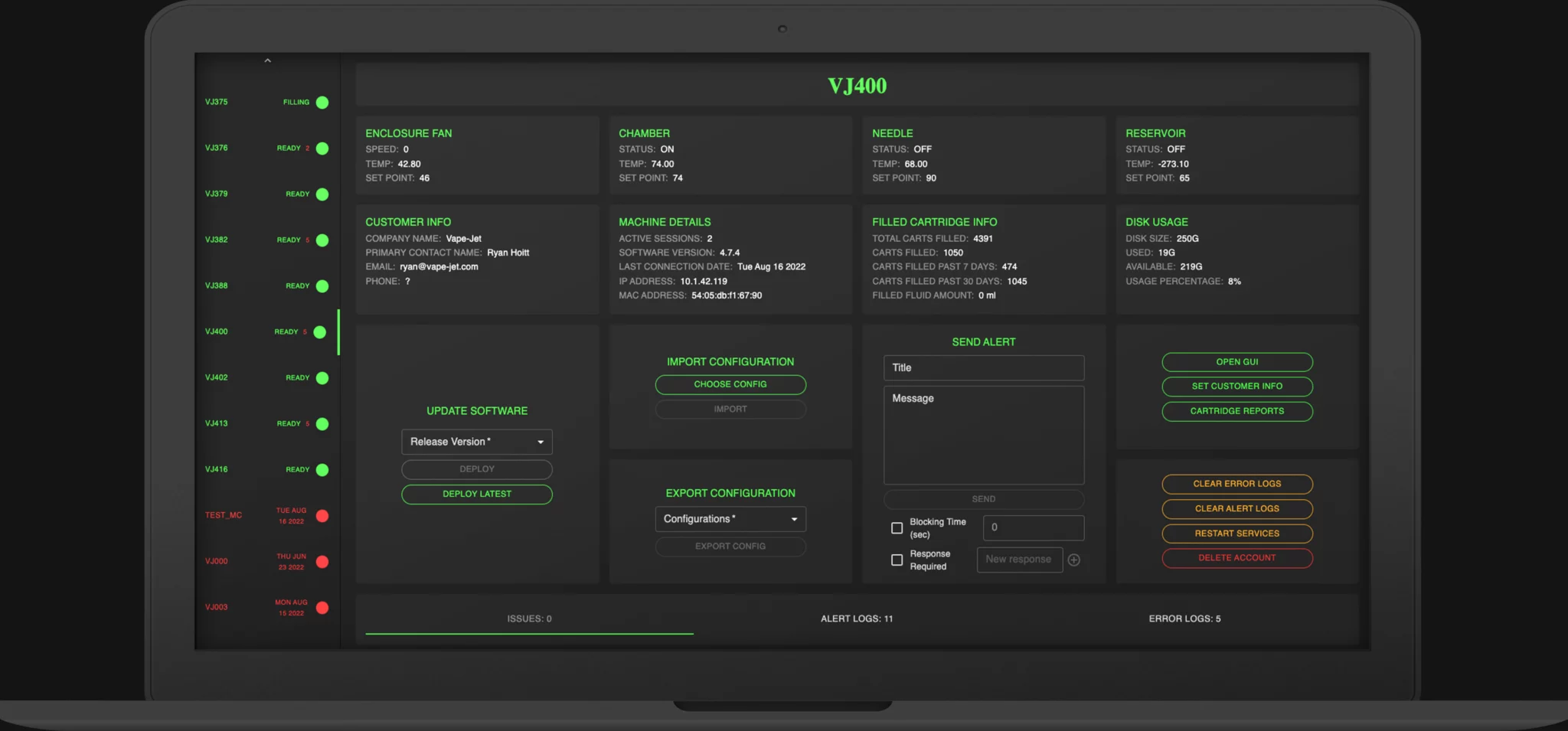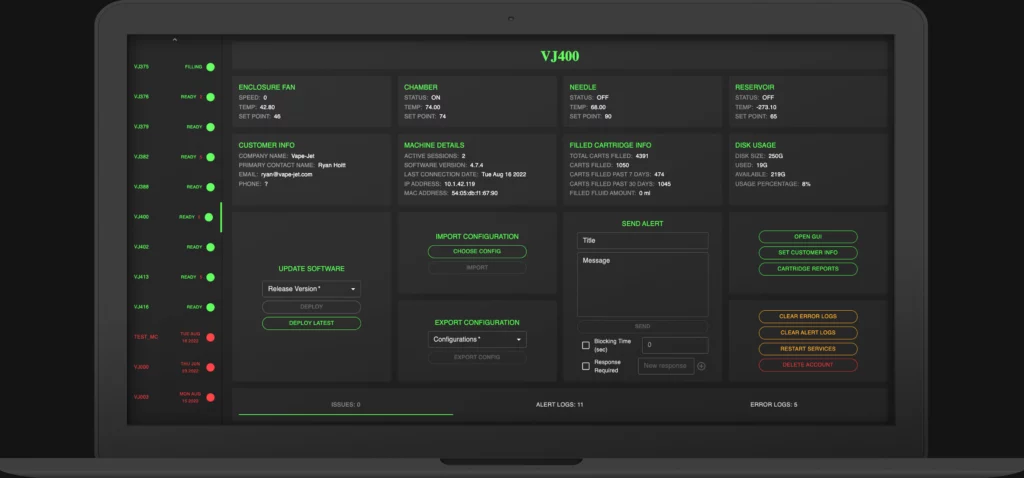 What is Active Deployment?
Active deployment means we are constantly working to improve our software based on customer feedback. As a partnership focused on quality vape cartridge production, we listen to our customers, regularly adding new features, custom modifications, and software updates to ensure your vape cartridge-filling machine runs as efficiently and smoothly as possible.
Vape-Jet Service Warranty & Response Times
We know how important it is to keep your machines running at their best so you can continue offering optimal solutions for your customers. That's why all Vape-Jet filling and capping machines include a renewable one-year warranty with a service level agreement. This agreement includes access to our dedicated support team, free troubleshooting and how-to articles, self-guided repair and maintenance documentation (including manuals for our Vape-Jet, Jet Fueler, and Squish-o-Matic), and so much more.
Need urgent support? Our support response times are as quick as 15 minutes and always the same business day. As Joey Stutz from True North Collective MI explains, "Anytime we have an issue, I go online or send a support message, and they're on it within a day. If it's super time-sensitive. Just the other day, we had an issue with the needle, and they got on within 30-45 minutes. Customer service is great."
We will also provide free overnight shipping for any materials or parts you need to get your operation back online as swiftly as possible. "You guys are very responsive and get parts overnighted," Kimberly Long from Terrapin Care Station says. "I come in and fix [the Vape-Jet], and we get things going."
Customer Feedback Integration
We recognize that our customers are the best resource we have for improving our machines. In fact, several features of our vape cartridge-filling machines are the result of customer feedback, including:
Automated workflow improvements
Multi-shot dispensing options for tinctures
Non-standard fill pattern optimization for irregular trays
Want to read more about our customers' experiences and interactions with the Vape-Jet crew? Check out our customer features: Terrapin Care Station, True North Collective-MI, C3 Industries.
See How Six Star Service and Support Benefits You
"Best filling machine out there, not just because of the technology and efficiency of the machines, but because of the people in this company and the support they continuously provide. You can't put a price on what you get with Vape-Jet." – Vertical Supply Company
If you're looking for an automated vape cartridge-filling solution provider that embraces achieving more together, then you should see how we can optimize your operation for the long haul and contact our sales team today.
While you're at it, don't forget to sign up for our monthly Re:Fill newsletter to get early access to company updates, product releases, and other exciting announcements. Follow us on the essentials, too: Facebook, Instagram, and LinkedIn.
Interested in our new partner program? Learn more here.