Always Innovating
Vape-Jet has never been about watching change happen. In a fast-paced automation space, we're always looking for ways to revamp our machines and lead the cutting-edge of vape cartridge production. Our mission is simple: build the best possible product by continually optimizing our software and refining our in-house manufacturing process.
Ever since the release of the first prototype Vape-Jet system in 2019, our team has been in the lab perfecting our process and improving on the best fully-automatic vape cartridge-filling machine on the market. The result of all this work? Introducing the brand new Vape-Jet 4.0.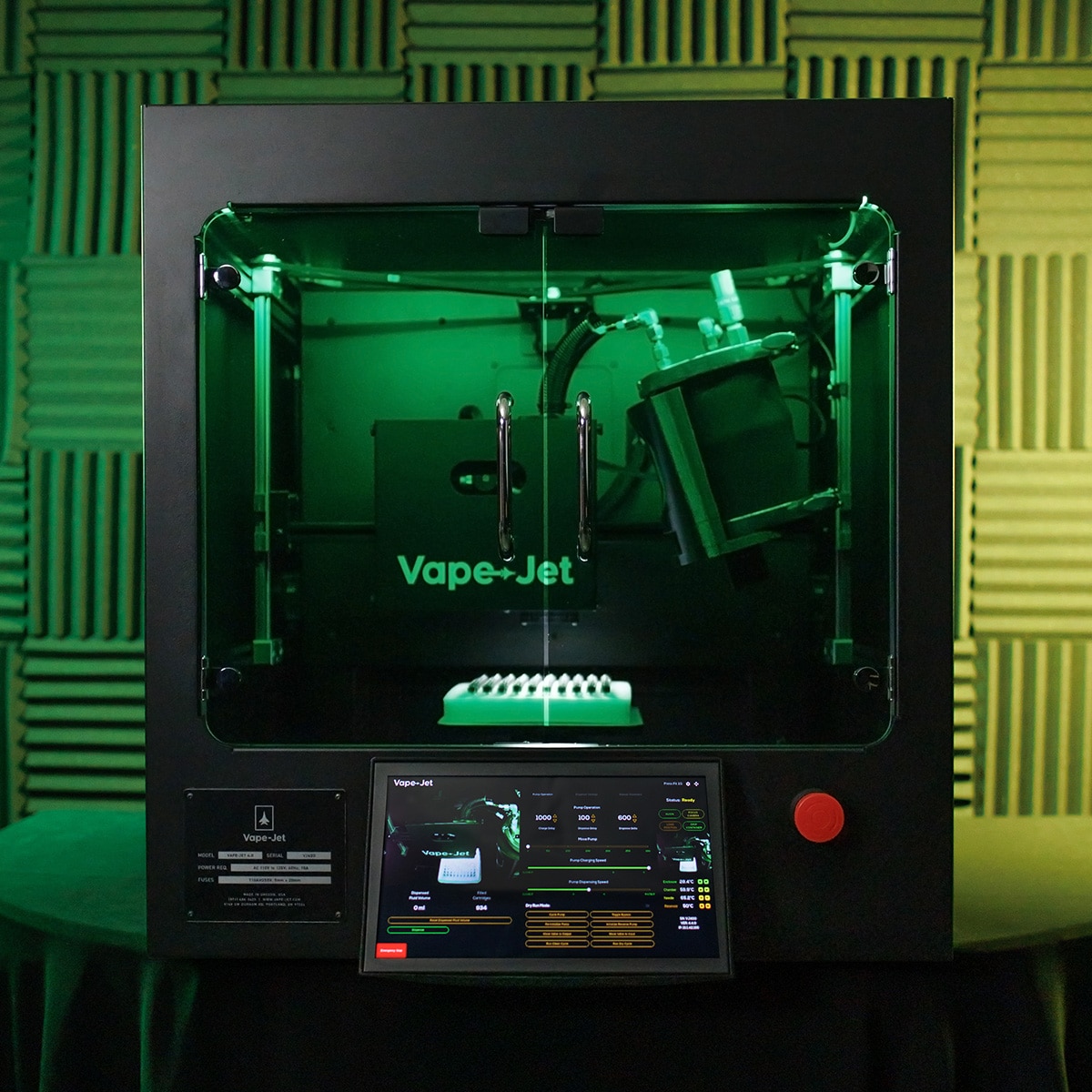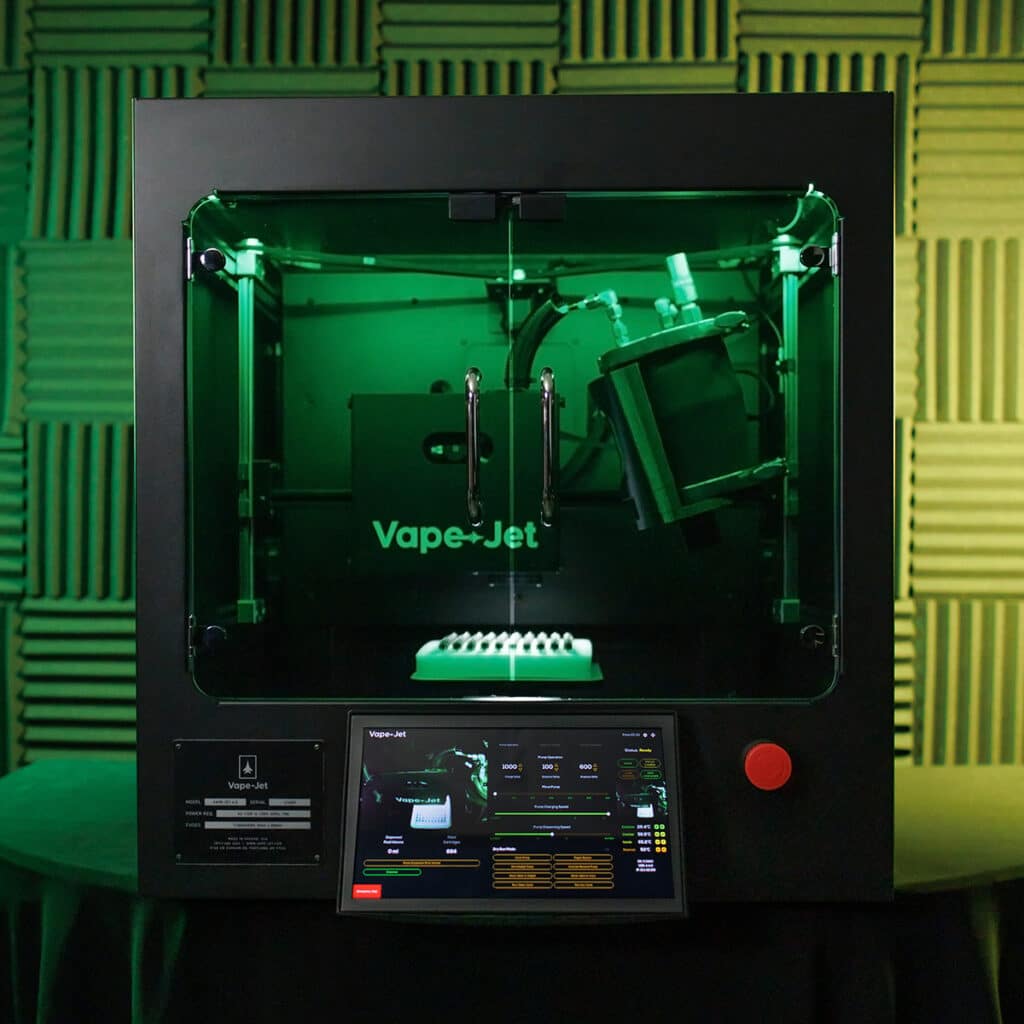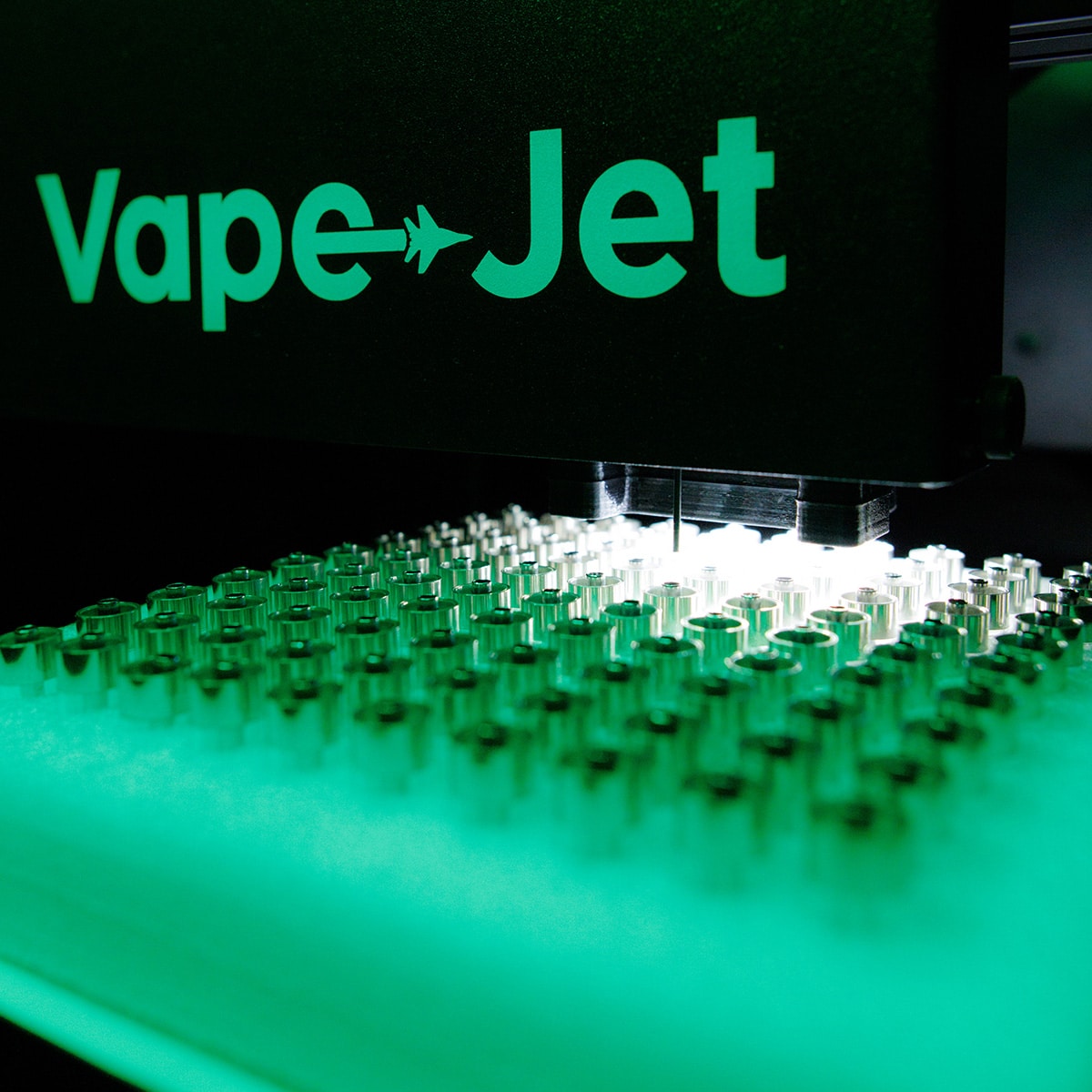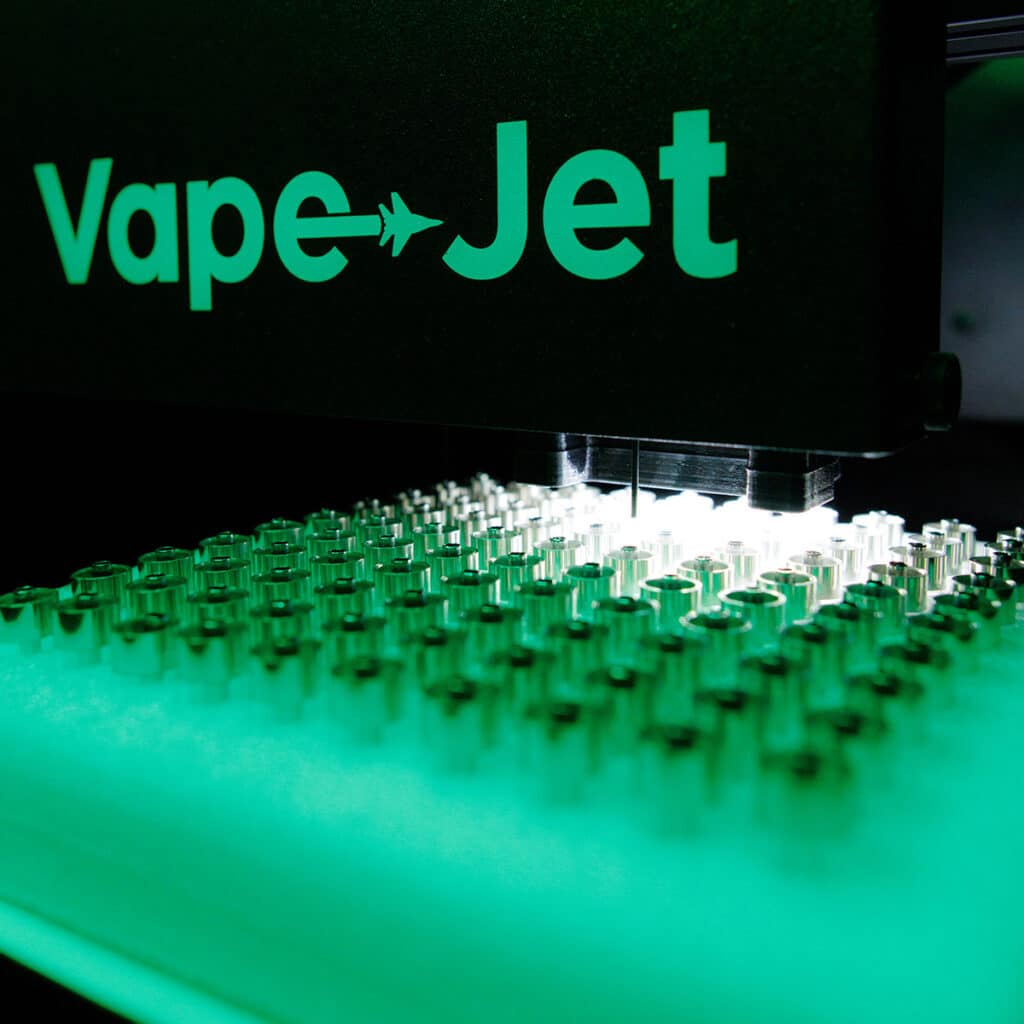 Powered by our advanced MARVIN software, faster user response times, and an upgraded central processing unit (CPU), the Vape-Jet 4.0 will have you filling carts quicker and more efficiently than ever before. Complemented by upgraded hardware designed to increase longevity and meet ever-growing demand, the 4.0 is truly the future of vape cartridge production.
Let's initiate the launch countdown:
3—New Software That Smokes the Competition
2—Hardware Straight Off the Millenium Falcon
1—Time Tested Components
3—New Software That Smokes the Competition
Take command. A world-class machine requires the most powerful software available.
Faster Processes: A new CPU makes the Vape-Jet 4.0 run much faster than before, ensuring swifter machine boot-up, better UI response times, and, most importantly, faster processing across the board. Complemented by the power of the MARVIN platform, users can easily customize and fine-tune their production process to run as smooth as budder.
Updated Interface: With an ultra-responsive 11.8" touch screen, you can operate your vape cartridge-filling machine without a secondary device (unless you want to).
Instant Support: Access HelpDesk documentation on the spot from your machine's display.
Keep with the Times: Simply install software updates from your home screen and get back to filling.
2—Hardware Straight Off the Millenium Falcon
Reimagine production possibilities. Sleek design meets improved modularity.
Superior Electronic Components
Quiet operation with increased temperature stability, all driven by the new upgraded CPU.
Additional inputs and sensors for better operation and fault detection.
Built-in thermostats.
Built to Last
All-metal heat box and powder-coated aluminum external panels by Oregon's Black Label Metal bring more stability while allowing easier cleanup than the previous HDPE plastic sheeting.
A larger platform accommodates trays and jigs of all sizes so you can fill more vape cartridges in each run.
An improved vertical axis helps you switch between configurations reliably with stable IGUS motion components.
Thermal fuses and thermostats on every heater meet even the most stringent compliance requirements.
Dispensing Optimization
A new long-life syringe from MK Fluidics in Nevada with a specialized UHMWPE plunger reduces the need for repairs.
Ceramic on ceramic valve—specifically manufactured for cannabis oil applications by our friends, IVEK, in New Hampshire—allows higher flow rates.
Improved Modularity
Two-door access makes it easier to swap reservoirs, change trays, and perform repairs. Quicker component swap-outs = less downtime and better workflow.


1—Time-Tested Components
Built for the future. What makes a Vape-Jet a Vape-Jet? Powerful software and innovative hardware, of course. But it's also the feeling you get walking into work and knowing that you have the ultimate equipment for the job.
Born in the USA
Stainless steel reservoir by our pals in Oregon, NB Oler.   
Idaho-based Bridgeview Manufacturing cables and electrical components
TUTCO environmental control PID heaters from South Carolina.
And, of course, all Vape-Jets are built by hand in Portland, Oregon.
Strict Quality Control
Fully-enclosed operation and filtered air system keeps contaminants out of your vape cartridges.
Fluid path made entirely from fluoropolymers, Viton, Borosilicate glass, stainless steel, and ceramic.
Easy to use clean-in-place procedure.
Renowned Software Capabilities
Machine vision alignment system with optional center post avoidance.
Customizable user configurations and profiles.
Data reporting and analytics to fine-tune your production.
And don't forget that every Vape-Jet product comes with our industry-leading product support.
0—Ignition
See what the multiverse is talking about and join the Vape-Jet revolution!
Contact us and launch your vape cartridge production with the best vape-cartridge filling machine in the game.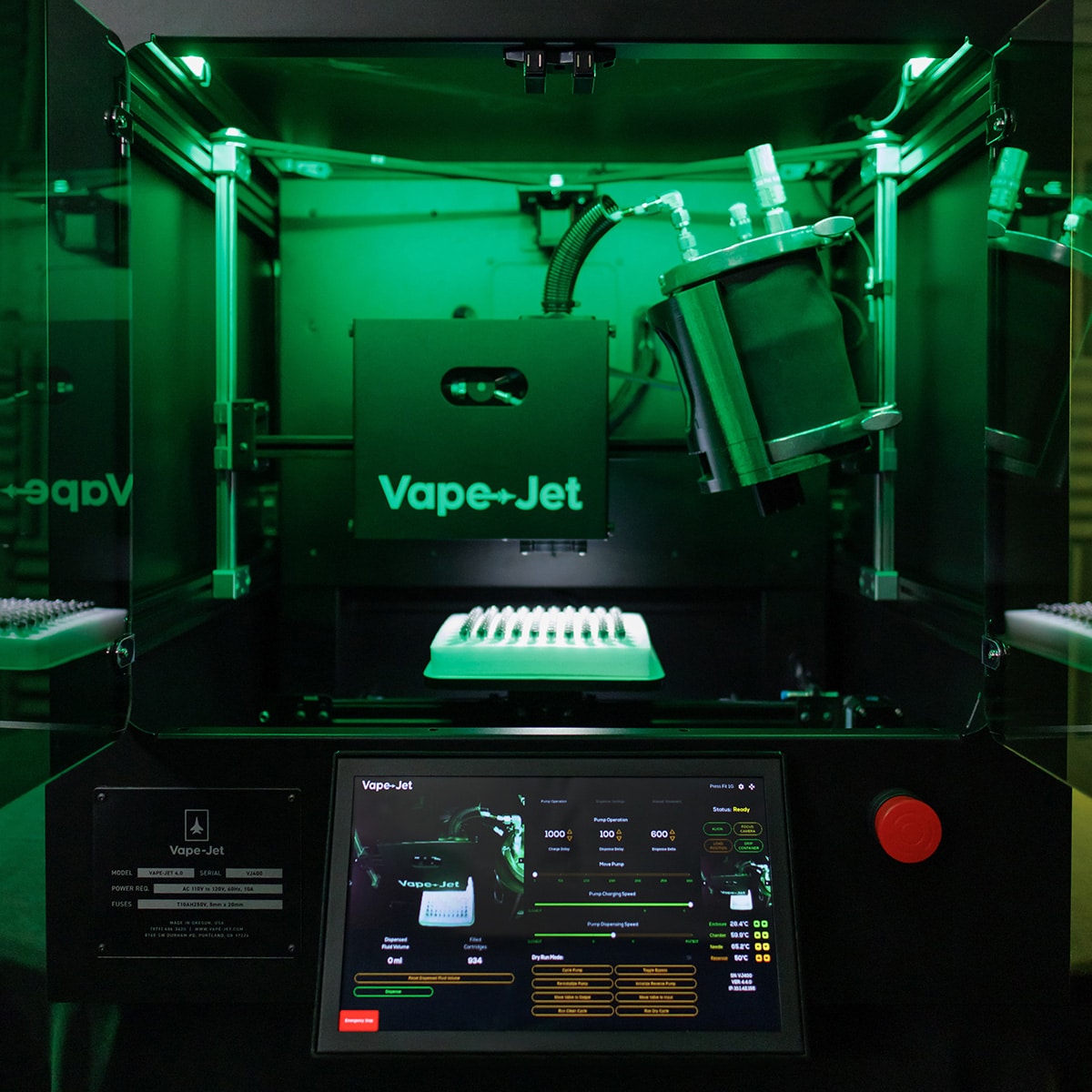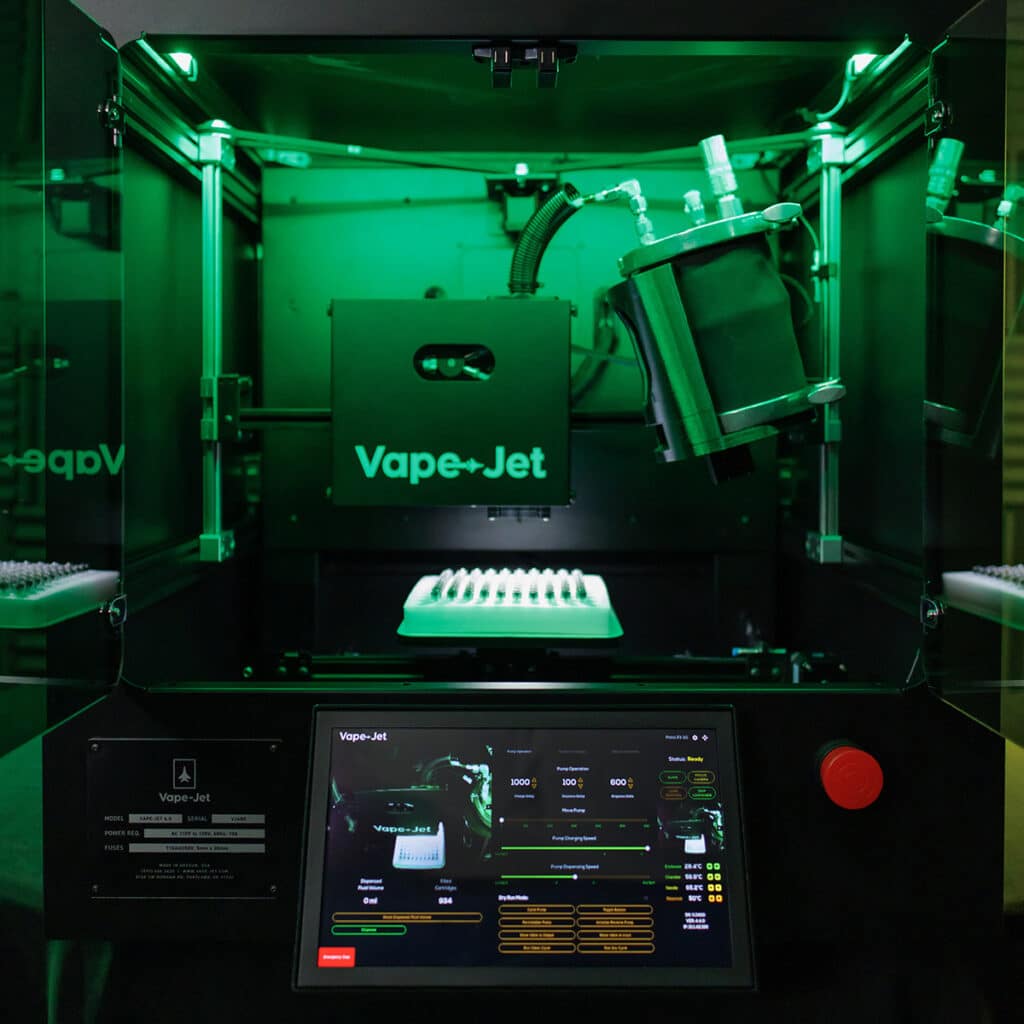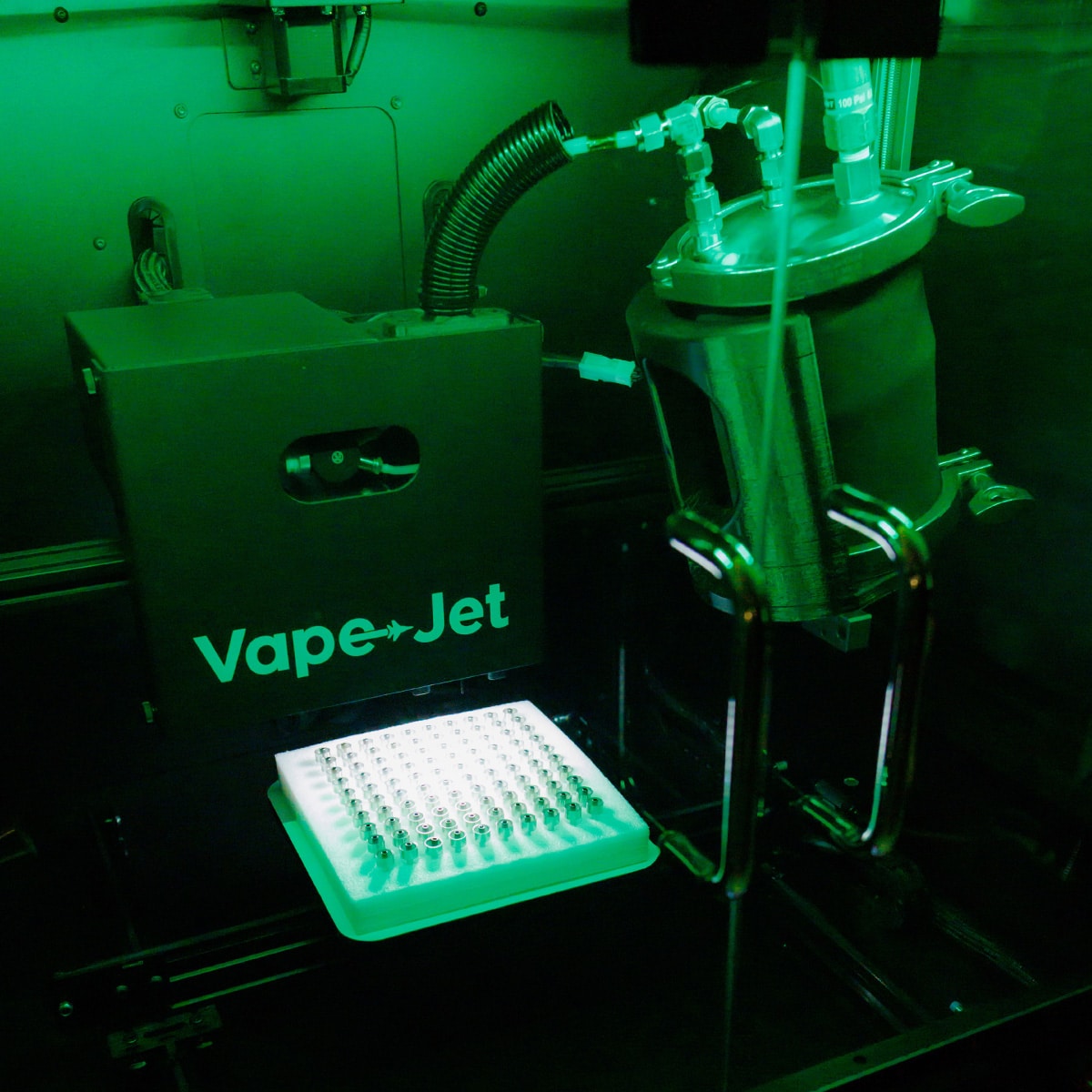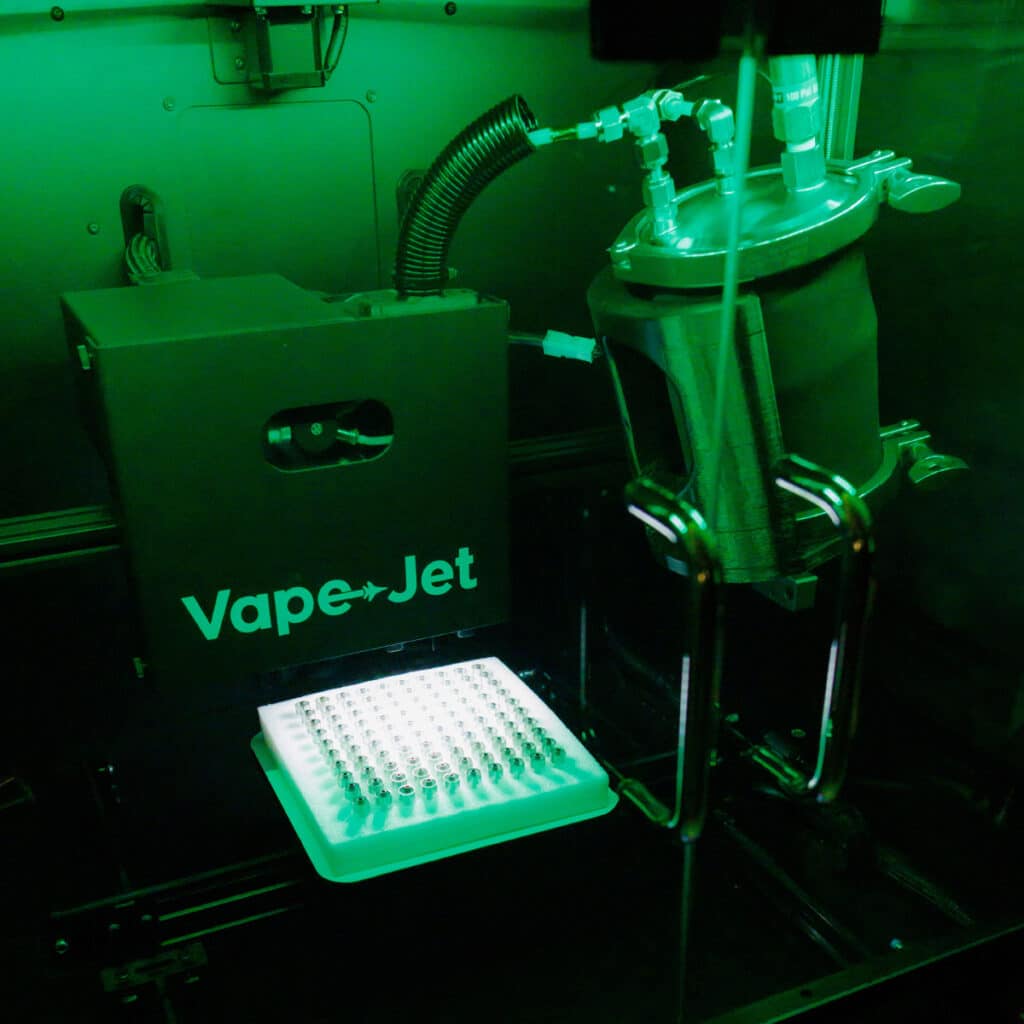 Like the idea of obliterating subpar production standards? So do we. Keep the conversation going by signing up for our monthly Re:Fill newsletter to get early access to company updates, product releases, and other exciting announcements. While you're at it, follow us on Facebook, Instagram, and Linkedin for updates, friendship, and cats.